BWW Review: St. Petersburg Opera Presents Meredith Willson's THE MUSIC MAN at the Palladium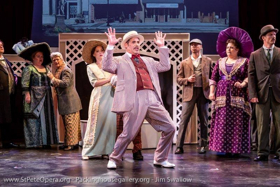 They don't make 'em like they used to. I thought of that tired but true line while watching St. Petersburg Opera's production of Meredith Willson's 60 year old musical, THE MUSIC MAN, at the Palladium. The show's old fashioned, yes, a snapshot of the Midwest nearly a hundred years ago: created simultaneously with the birth of rock n roll, nothing could be further from the music of Chuck Berry and Buddy Holly than the tunes in Meredith Willson Land. The iconic musical tells its story cleanly and smartly with some pretty swell songs. (Willson was quite the composer; did you know that he also penned the holiday standard, "It's Beginning to Look a Lot Like Christmas"?) THE MUSIC MAN is not as ho-hum hokey as Willson's other big hit, the tedious Unsinkable Molly Brown, which is obviously not my favorite musical (let her sink), and it does have a nice array of quirky, but not too quirky characters and a collection of songs that should be part of the Great American Songbook. "Till There Was You," later a popular song by the Beatles, would garner more money from the Fab Four than the actual musical would make. But the good ol' days that we hear about only go so far; give me the complexity of Next to Normal any day. So no, they don't make 'em like they used to, which is not necessarily a bad thing.
But as an example of pure American musical theatre, with an emphasis on the pure, it gets no better than THE MUSIC MAN. In 1958, it beat out upstart newcomer West Side Story for the Best Musical Tony Award and made Robert Preston and Barbara Cook stars. The tale of swindler Harold Hill who wants to pull a fast one over the denizens of River City, Iowa, still resonates in an era of political hucksters who keep telling us, as Harold does, that we're in Trouble (with a capital T). But there's no real trouble behind their bluster; there's only an opportunity to grab a fast buck. Harold electrifies the town with excitement by selling the idea of creating a boys marching band, but he really just wants to skip town with the pre-paid money. But what if love gets in his way; what will happen to his scam now?
If you have ever wondered what THE MUSIC MAN's original cast would be like if it had starred Howard Keel as Harold Hill instead of Robert Preston, then wonder no more. Because the SPO production stars Peter Kendall Clark as Harold, who is more a sturdy leading man Keel than a light humored, fast-talking wily man like Preston. Clark, obviously more comfortable with opera than musical theatre, sings powerfully and is an imposing presence onstage. But he is also miscast. We need a true snake oil salesman and used car dealer-like con man. Clark comes across stodgy, stilted and anchored rather than energetic, fun and infectiously likable. There is no joy of deception here, no sense of play as the character turns River City upside down. It's all very leaden rather than breezy and easy. It doesn't help that Clark's Act 2 wardrobe makes him look like a Southern plantation owner, not the slickest confidence man in musical theatre history. On top of this, his microphone didn't work all the time, and the audience had difficulty understanding some of his lines.
Molly Mustonen, who was memorable as Nellie in SPO's South Pacific two years ago, makes for a lovely Marian the librarian. Her singing voice is exquisite, and all thoughts of the Beatles evaporate during her stirring "Till There Was You." Her "My White Knight" was also splendid, although for some reason the song wasn't mentioned in the musical numbers section of the program. We just miss some of the layers in Marian's relationship with Harold.
Olivia Sargent is the epitome of loveliness as the mayor's daughter, Zaneeta. With her long blonde locks, she has a damsel in distress look about her; you could easily see her as Johanna in Sweeney Todd. We get to witness so many shadings, dimensions, in her character, a young women wanting to break free and enjoy the company of a young man (the equally strong David M. Bevis). And when she dances in the marvelous group numbers, the audience can't help but watch her stand out from the rest.
When we think of THE MUSIC MAN, usually we think of Harold Hill. But here, we think of the grand ensemble that makes up the citizens of River City in such songs as "Iowa Stubborn," "Ya Got Trouble," "Wells Fargo Wagon," and "Shipoopi." The dance ensemble is really the show-stealer here, with kudos going to Alyssa Elrod, Hailey Hendrickson, Casey Hicks, Laura McKenna, Dominic Reatini, Dereck Seay, Erick Ariel Sureda, Miranda Wolf, and the always entertaining Katie Miesner.
Lucas Levy is loads of fun as Marcellus Washburn, and Becca McCoy is a force to be reckoned with as Eulalie Mackecknie Shinn. McCoy's celebrated booming voice shook the rafters of the Palladium (no one is going to sleep through this production). Paula Broadwater does a fine job as Mrs. Paroo, and Daren Kelly makes for a delightfully cantankerous Mayor Shinn. But all of the adult actors are overshadowed by the children. Grace Kane makes for a darling Amaryllis. And Jackson Orchard as the lisping Winthrop is a born star. He has so much poise and confidence that it's hard to imagine that he's only ten years old. His "Gary, Indiana" brought down the House.
One of THE MUSIC MAN's most interesting numbers, "Rock Island," has been singled out by some as the grandfather of hip-hop with salesmen rapping the lyrics on a train. It's interesting to think about, but I doubt 21 Savage or Kodak Black look at THE MUSIC MAN as an early influence. But the group of traveling salesmen here make their mark early on: Cory Allman, Dereck Seay, Zach Twitter, Andrew Emery, Samuel Hall, and Jeffrey M. Lukas.
Best of all in the cast is the barbershop quartet that wander in and out of the show like a quasi-Greek Chorus. Songs like "Ice Cream/Sincere," "It's You," and "Lida Rose," with their heavenly harmonies, never sounded so incredible. These four individuals (Matthew Krob, Adam Cannedy, George Slotin, and Branch Fields) are so good that perhaps the show should be retitled The Music Men.
Director-choreographer Deanna Dys has guided a strong, well-paced production, but some of her choices remain in the head-scratching department. For instance, there is a "horse" and carriage that emerge from the audience during "Wells Fargo Wagon" that does not belong in this show. This very bizarre two-men-under-a-sheet equine is something that should be in a Monty Python routine, not the title wagon of one of musical theatre's most famous group numbers. It's funny, but endearingly misguided.
Warren K. Sodt's set is functional yet underwhelming. Glenn A. Breed's costumes are hit and miss. (I'm still trying to figure out what circus Eulalie's wardrobe was taken from.) Maggie D. Harris-Caudill's wigs suit the cast well. Keith Arsenault's lighting captures the mood of Meredith Wilson's world perfectly without ever being obtrusive. Projections on a back screen work well sometimes, but mostly seem superfluous.
The powerful, driving SPO orchestra, under the baton of conductor Mark Sforzini, is the best in the area. Special mention must be made of violinist Jeffrey Smick; Gil Katz on bass; David Tagliarini on the clarinet, flute and piccolo; Peter BarenBregge on tenor sax (as well as clarinet); Joseph Beverly on the bass clarinet and clarinet; David Mason on baritone sax (as well as clarinet); trumpeters Rob Smith, Kenneth Brown, and Perry Labdmeyer; Dwight Decker on trombone; and Kelsey Brannon on drums. They've never sounded better.
THE MUSIC MAN runs through July 8th.