BWW Review: Spectacular RINALDO by Handel at Carnegie with Bicket and the English Concert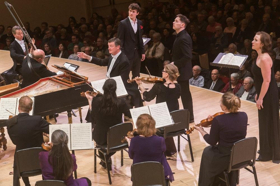 Just about the most spectacular opera event of the season so far arrived at Carnegie Hall Sunday afternoon, with the English Concert and Harry Bicket making their annual foray into Handel territory, with a superb RINALDO.
The opera is, unquestionably, a patchwork of hits loosely strung into an outrageous plot but, well, who cares when the cast and ensemble is this good? And while it was written in 1711--Handel's first opera written in Italian for London and a big success--one couldn't find a more urgent performance in town, even though it was semi-staged in formal garb, without a sparrow, dragon or mountain citadel in sight.
Carnegie had played host to the opera's New York premiere--in 1971--with mezzo Beverly Wolff as Rinaldo; the opera was also the Met's first foray into Handel, back in 1984, where the great Marilyn Horne sang the title role to much acclaim.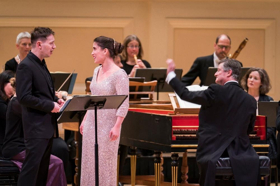 Times have changed and the role usually goes to a countertenor these days and the concert (the Concert concert?) was in luck in lassoing one of the best, Iestyn Davies, just recently on Broadway in FARINELLI AND THE KING. He used his light, reedy voice superbly to fill in some details on the character, a great warrior during the First Crusade. He grew increasingly impressive as the afternoon went on, particularly in the bravura duet with the sorceress Armida (the splendid soprano Jane Archibald, in dazzling form), in a 'can-you-top-this?' coloratura battle. By the time the battle scene takes place near the end, his amazing aria, "Or la tromba," was a triumph, accompanied by a quartet of virtuoso trumpets.
Archibald grabbed hold of the stage from her entrance and never let go. She used her voice like a lightning storm, illuminating the unstable nature of her character, who falls in and out of love on a dime, and is ready to take revenge on anyone who appears to slight her powers (she'd feel at home in Washington these days). I was gobsmacked by her gorgeous scena, with the aria "Dunque i lacci...," when she is spurned by Rinaldo and can't decide whether to pursue his love him or kill him.
Equally enthralling was soprano Joelle Harvey as Almirena, daughter of Goffredo and beloved of Rinaldo, with her sweet, flexible voice quite delectable from her first appearance, egging Rinaldo on to war in "Combatti da forte," to one of the opera's most famous arias, "Bel piacere" (recycled from Handel's earlier AGGRIPINA), filled with varying rhythms and accents, when she has been rescued from Armida's grasp. In the pants role of Goffredo (head of the Crusader army), mezzo Sasha Cooke took a rather ungrateful role and made it work, with her rich, honeyed voice. Her best moment (for me) was her ripely sung "Sorge nel petto" ("I feel pleasure in my breast") in Act III.
Davies' Rinaldo wasn't the only countertenor on stage--and the three singers couldn't have been more different from one another. Jakub Jozef Orlinski has been on my radar since I first heard him in LA CALISTO at Juilliard, with a richer countertenor sound that's quite alto-like. He didn't disappoint here as Eustazio, brother of Goffredo, with numerous places to show off his plangent voice; I was particularly taken with his entrance from the audience at the start of Act II ("Siam prossimi al porto") and Act III's "Di Sion nell'alta sede" ("Honor and valor alone will be seen in Sion"). The third countertenor (a new act in the making?) was James Hall, with a lovely soprano-like voice in three smaller roles: Araldo, Donna and a Christian Magician.
Last of the principals was bass-baritone Luca Pisaroni, a regular at the Met and, it appeared, a favorite of the audience, in the role of Argante. He is the villain of the piece, who can't quite make up his mind where his love or loyalties lie. He made a stunning entrance with "Sibillar gli angui d'Aletto," though it took quite a while for his voice to warm up and lose its wooliness. He made a fine foil for Armida in their fiery Act III duet, "Al trionfo del nostro furore," combining angry coloratura and rapture. It was, indeed, a triumph, with a notable backup by the ensemble's wonderful oboes.
In fact, one can't say enough about the splendors of the English Concert under Bicket. At every turn, it seemed, they brought more colors and virtuosity to the music than we have any right to expect, whether in grand solos or the most minor phrase. A few notables among them were Tom Foster on harpsichord (in a spectacular solo that Handel wrote for himself to perform), Tabea Debus on recorder, oboes Katharina Spreckelsen and Hannah McLaughlin, bassoonist Alberto Grazzi, violin leader Nadja Zwiener and violist Alfonso Leal del Ojo.
Finally, there are the storied acoustics of Carnegie Hall, where even a smallish ensemble like this, which takes up less than half the stage, can fill the house with glorious sound.
Related Articles View More Opera

Stories