BWW Review: MN Opera's Memorable THE FIX Composes Requiem for the American Dream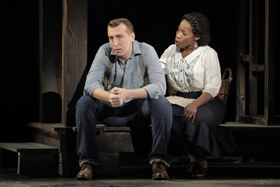 This past weekend at the Ordway Center, MN Opera unveiled their World Premiere The Fix in tribute to the All-American sport and spirt of baseball. The story created through the company's New Works Initiative by Eric Simonson, who wrote the libretto and also directed the production, was accompanied by composer Joel Puckett. With glowing nostalgia, the 1919 White Sox under Charles Comiskey's ownership and headed by baseball great Shoeless Joe Jackson, sought to "fix" the 1919 World Series, which disappointed baseball fans across America.
The opera opens to a scene under the bleachers of Comiskey Park-a magical setting, especially for those who admire baseball. Scenes glide smoothly sometimes incorporating vintage advertising that would be viewed when at a baseball game in that era, whether the White Sox locker room, a lawyer's office, Shoeless Joe's house or a New York speakeasy. In each scene, Shoeless Joe's presence underscores the unfolding action, and this baseball wonder maintained a lifetime batting average of .350, which still ranks him as one of the greatest players in the game's history.
Born in rural Greenville, South Carolina, Joe grew up working for the mills in a family that made $1.25 per hour, which left scant time for schooling, and he grew up basically illiterate. His wife Katie often read for him while baseball management refused to let her assist Joe in any contract signings. In 1919, baseball players, disgruntled with their treatment by management, tried to wager for better playing terms. Often owners, such as Comiskey, refused to pay them for parsimonious reasons, and treat the players fairly. Unhappy players became easy targets for gamblers and high rollers who offered increased monetary reimbursement, even if considered gambling or "under the table."
In MN Opera's The Fix, the production plays as as ode to the high and lows of American sports . Lighting by Robert Wierzel accompanied by Scenic Designer Walt Spangler, the technical assists, under Simonson's direction become their own characters in this contemporary opera. Timothy Myers conducts a live orchestra to grand effects.
To center the opera, Shoeless Joe played by Joshua Dennis and his wife Katie, an exquisite Jasmine Habersham create a believable couple's chemistry. An engaging Dennis maintains his likable persona with exposed vulnerabilities providing a heartfelt emotion to the evening. Supporting ball players and cast members including Arnold "Chick" Gandil (Wei Wu), Claude "Lefty" Williams (Sidney Outlaw), Charles "Swede" Risberg (Christian Sanders) along witha host of other masterful singers who in the end, either misuse or try to avert the scandal for the rebranded Black Sox.
While the !919 White Sox generated the "greatest baseball scandal" ever, the eight players were eventually acquitted, however, the reigning Baseball Commissioner banned the Black Sox Eight from the great All-American game for life. In more recent history, the exceptional Pete Rose continues to fight for reinstatement from his lifetime baseball ban for gambling on games he played in. Several other illegal schemes often rock the sports world, both college and professional---one that involved the New England Patriots in "deflategate," a controversy where super star quarterback Tom Brady suffered suspensions.
Ultimately, the outcome of the opera has been known for almost 100 years. The gambling scandal and payoffs prove noteworthy a century later because of the current news in business, politics and sports, all worth revisiting in this artful presentation. Shoeless Joe Rose from poverty to live his dream-an American dream-with unabashed talent that had him rise to a flawless performance in the 1919 World Series with a .375 batting average. Has this American Dream vanished in 2019? What might The Fix engender and inspire today? This world premiere opera tackles a compelling issue in one entertaining evening, which reflects on how a remarkable and vulnerable talent, Shoeless Joe, was originally a disenfranchised person and taken advantage of in the early 20th century. This premise offers a glimpse of the disparities between poverty, wealth and the American Dream, and how that could be achieved in 1919 and 100 years later.
Perhaps The Fix underscores a belated requiem for Shoeless Joe---because his heavier than normal, tobacco stained bat named Black Beauty, entered into the Baseball's Hall of Fame for a time, while he, the player, remained banned for life. On opening night, a father and his twelve year old son shared these moments together, and then discussed the future of gambling and sports, and the how the opera opened up these discussions. The young man sat enthralled for the entire tow act opera, and left with a smile after the crowd rose for a standing ovation.
MN Opera's exceptional world premiere "The Fix" deserves expanding to other cities or venues as this true story represents a microcosm of what can happen when management and players fail to respect each other-- a poetic requiem for the American Dream of living out a person's passion and talent free from corruption, misanthropy and racism in a country, as the fans and players sing in the opera, also calledl the "Land of the Free" and the "Home of the Brave."
MN Opera presents the World Premiere THE FIX at the Ordway Center in St. Paul through March 24. For further information on performance schedule or tickets, please visit: www.mnopera.org