BWW Review: L'ITALIANA IN ALGERI at Santa Fe Opera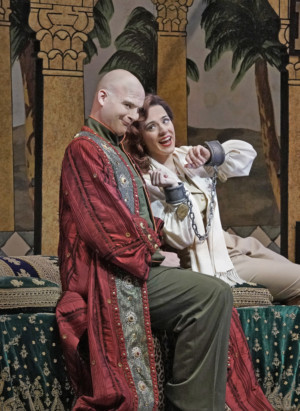 L'ITALIANA IN ALGERI (THE ITALIAN GIRL IN ALGIERS) is a comedic romp that stars a diva with a low voice. Daniela Mack follows a long list of famous mezzo-sopranos and contraltos who held their audiences spellbound while they sang and even decorated Gioachino Rossini's already florid score.
The 21-year-old Rossini wrote his L'ITALIANA IN ALGERI in 1813 for the Teatro San Benedetto in Venice. Santa Fe Opera's stage director Shawna Lucey, saw to it that the opera's comedy was at least as amusing on July 25, 2018. Lucey revived a fondly-remembered production by the late Edward Hastings that Santa Fe Opera had first presented in 2002. Unlike many directors of Rossinian comedies, Lucey used amusing choreography more than the actual jokes and pranks we often see in IL BARBIERE DI SIVIGLIA (THE BARBER OF SEVILLE) AND LA CENERENTOLA (CINDERELLA).
L'ITALIANA IN ALGERI opened with a man running around the outer areas and into the center of the theater with a lighted propeller airplane on a pole while the orchestra played its well known overture. Eventually, a larger plane flew low across the stage, the back of which was open to the mountains and the setting sun. Then we understood that the plane made an emergency landing just off stage. Meanwhile, the stage itself was a closed book that eventually opened to show Robert Inness Hopkins' life-sized cut-outs of an exotic Algerian palace in the 1920s.
The Bey's army, his slaves, Italian prisoners, and government officials all wore colorful costumes with intriguing designs created by David C. Woollard. Only Isabella and her "uncle" Taddeo wore contemporary Italian dress. Duane Schuler's lighting provided color and shadow that pointed out the hilarity of the situations and emphasized the moods of the main characters.
Elvira, the wife of Mustafà, the Bey or ruler, realizes that her husband no longer loves her. Mustafà enters and sang of his wish for a more spirited companion in "Già d'insolito ardore nel petto agitare" ("Already my heart beats ardently"). He thinks he might like an Italian girl whom he will marry when he finds another husband for the overly possessive Elvira. He hopes his Italian slave Lindoro will marry Elvira, but the slave dreams only of the aviatrix, Isabella, who is his true love. To encourage Lindoro to take Elvira, the Bey's soldiers appear with full length cut outs of the lady that they handle as though they were participants in a synchronized swimming exercise.
Portrayed by former Santa Fe Opera (SFO) apprentice Jack Swanson, Lindoro sings of Isabella in "Languir per una bella" ("Longing for a Beauty"). Swanson, who was an admirable Candide at Los Angeles Opera, showed an amazing ability to sing Rossini's coloratura runs while maintaining understandable diction. His character was a credible young gentlemen, charming and energetic. Musically, he sang with pastel tenor colors and never missed so much as a grace note. Apprentice soprano Stacey Geyer was an outstanding Elvira with glorious high notes.
Scott Connor was Mustafà, the Bey, and the center of all humor as he accepted unearned compliments and showed what only he thought were masculine charms. He even tweeted to his supposed swooning fans. His is a flexible bass voice that can sing both patter and coloratura with ease and artistry.
Argentine mezzo Daniela Mack completed this opera's trio of leading characters. Since the opera was updated from 1805 to the 1920s, she was a liberated woman who flew her own plane and landed it in an area of Algeria that had been invaded by the Turkish army. Mack cut a sexy, charismatic and energetic figure on stage. Her fast but clean coloratura was impressive, especially at the extremes of her range. She sang with a lean tone and dark vocal colors that made her voice unique. Her lowest notes were somewhat monochromatic but her sound was never generic.
Former SFO apprentice Susanne Hendrix was a saucy Zulma whose facial expressions told the story of her problems with the Bey's regime. Craig Verm, also a former SFO apprentice, was a stentorian Haly who rendered his aria "Le femmine d'Italia" ("The Women of Italy"), with panache.
Former apprentice, Patrick Carfizzi, who will sing the Sacristan in TOSCA at the Met next year, was a hysterically funny Taddeo who sang with a well-rounded Italianate sound. Santa Fe Opera audiences have seen this artist mature as he grew from an apprentice with a resonant voice to a leading artist who can take on larger roles with ease.
Conductor Corrado Rovaris never let the slightest bit of slack tension into the pit as he kept the pacing brisk. He allowed the singers the room they needed to breathe, however, and they responded with elegant performances. After a great deal of scheming and horseplay, Isabella, The Italian Girl, and her friends managed to leave Algeria for their beloved Italy in a hot air balloon. Patrons waiting at length to leave the parking lot probably wished the opera provided hot air balloon service back to town. Future performances of THE ITALIAN GIRL IN ALGIERS can be seen on August 3, 9, and 17.
Photo of Scott Connor as the Bey and Daniela Mack as Isabella by Ken Howard for Santa Fe Opera.

Related Articles View More Opera

Stories