Review: Exciting Goerke and Nezet-Seguin Change Dynamic of Met's ELEKTRA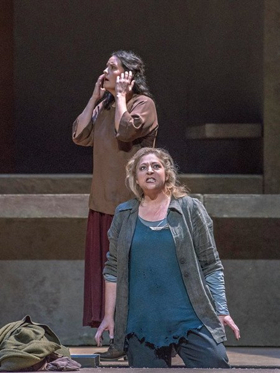 When Christine Goerke took on the title role in the Met's revival of Richard Strauss's masterwork ELEKTRA--the final work of director Patrice Chereau--she wasn't so much competing with Nina Stemme, who sang the premiere of the production last spring, but with herself. Six months before this version first came to Lincoln Center, Goerke performed the role in concert with the Boston Symphony at Carnegie Hall and blew the roof off. She was a transfixing, sensational presence that you just couldn't keep your eyes off.
Now, the Met's production belongs to her and it's a different ball game--both for the singer and the production, now under the baton of the Met's new whip-smart music director, Yannick Nezet-Seguin. While I seemed in a minority in finding the Chereau vision overly drab--the sets by Richard Peduzzi, the costumes by Caroline de Vivaise--it no longer mattered as much; now, there was more life both on stage and in the pit than one could have hoped for.
For Goerke, this was a very different Elektra from her Carnegie Hall portrayal--justifiably so--more in keeping with this director's intent, yet tirelessly building, scene by scene, note by note, to the catharsis I've come to expect from this opera. Yes, she took a physical approach to the role in these two different performances but they couldn't have been more different in their effect.
While she may seem to be more talk and less action, the Met's Elektra cannot be ignored. When the blackout arrived 100 or so minutes after the opera began, she has bared her soul, and voice, and left us cheering. Of course, no small part of the evening's success belongs to Nezet-Seguin, whose taut control over the score--and the great Met orchestra--was nothing short of miraculous.
Another performance of major stature came from soprano Elza van den Heever as Chrysothemis, Elektra's sister, who is not just a simpering foil for her sibling--as she is often portrayed--but a woman who wants more than just revenge for her father's murder. In her soaring, lyric voice, we hear her longing for a richer life, a fuller life and the joy of finding that her brother, Orest, is still alive and ready to carry out the revenge of the House of Atreus. The scenes between van den Heever and Goerke worked beautifully.
In her Met debut, mezzo Michaela Schuster sang with rich voice and increasingly evil intent. By the time she (mistakenly) rejoices at Orest's death, she has turned into the completely despicable character that the sisters always claimed she was, though it was mostly kept hidden from us, and we (truly) rejoice at her murder. As Orest, bass Mikhail Petrenko is a stalwart presence, calmly and coolly carrying through the murder of his mother and her lover, Aegisth, fascinating to watch, if not always to hear.
Tenor Jay Hunter Thomas, as Aegisth, didn't know what hit him when Orest came in for the kill, straining his voice as in a death knell, while bass Kevin Short provided able support as Orest's companion. Director Chereau used the Overseer of the servants (Susan Neves) and the five maids (Tichina Vaughn, Maya Lahyani, Andrea Hill, Kelly Cae Hogan and Lisa Gwyn Daltirus) like nails on a blackboard, irritating us as a warning us that something is coming--and it is no going to be pleasant.
###
Additional performances of the Met's ELEKTRA will take place on March 9, 12, 17matinee and 23. Curtain times vary: complete schedule here. Running time is approximately 1 ¾ hours.
Tickets begin at $25; for prices, more information, or to place an order, please call (212) 362-6000 or visit www.metopera.org. Special rates for groups of 10 or more are available by calling (212) 341-5410 or visiting www.metopera.org/groups.
Same-day $25 rush tickets for all performances of Elektra are available on a first-come, first-served basis on the Met's Web site. Tickets will go on sale for performances Monday-Friday at noon, matinees four hours before curtain, and Saturday evenings at 2pm. For more information on rush tickets, click here.