BWW NewsBreak: Five Minutes in Heaven with Superstar ANNA NETREBKO, the Met's Next Salome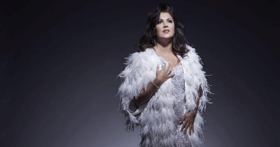 The traffic in midtown Manhattan was its usual horror at lunchtime last Friday--and Anna Netrebko was stuck in it. She was on the way to Cipriani 42nd Street, across from Grand Central Station, where the Metropolitan Opera Guild was celebrating the soprano at its 84th Annual Luncheon, which also supports its education programs. Slightly flustered because of her late arrival, she looked ravishing and was filled with apologies. (She was on the arm of her husband, tenor Yusif Eyvazov.)
Still, the singer, who has dual Russian and Austrian citizenship and lives in Vienna and New York, made some time to talk to me about her voice, her roles and what lies ahead--and, by the way, to be absolutely charming and laugh prodigiously in between her serious discussions about her voice and career.
Has the change in her voice over the last few years surprised you--how different it is?. I asked her. Not that long ago, you were this bel canto-nista, I say to her, and all of sudden you're Elsa [in Wagner's LOHENGRIN] and Lady Macbeth. "I started changing the direction of my voice about 10 years ago, slowly, little by little, adding the roles that are a little heavier but ones that I feel are good for my voice. And, of course, I had to develop my technique to support the changes for these new roles, because," she explained, "to sustain them is very hard."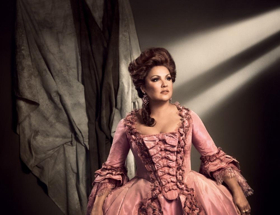 "I felt even before my baby, that I could do much more with my voice than what I was doing," she continued. (Her son Tiago is now 10.) "If felt that my voice could handle much bigger music than what I was singing. Actually, after the baby was born, my repertoire seemed too tired to me and I wanted to develop a new direction.
"I'm happy that I did it because my technique has improved and I feel much more secure about my singing in general. I can do things that I couldn't do before--like a pianissimo on the high notes, which I didn't have before I developed my breathing."
Netrebko, while known for her sense of humor, is very serious about her music and still sees a teacher when she's preparing a new role: For the last 10 years or so, she has been working with Daniel Sarge, her vocal coach, who has helped her with the transition into what she refers to as "slightly heavier roles" in the dramatic repertoire, which has included, besides Lady Macbeth, Verdi's Leonora in IL TROVATORE and the title role, this year at the Met, in AIDA. (Her next role debut at the Met is Cilea's Adriana Lecouvreur.) But don't call her a "dramatic soprano" or even a "spinto soprano": simply "soprano" will do nicely for her.
Which of her roles in the most "fun" for her--the one she can't wait to get on stage and perform, I ask. She hedges on that. "I love all of them; but they are very, very difficult, taking a lot from me. You may have noticed that I no longer do eight performances in the run of an opera--I only do five. I found eight was taking too much out of me--not only vocally but also emotionally. I don't want to burn myself out in this repertoire, which is so demanding.
"My next big new role is going to be Leonora in LA FORZA DEL DESTINO, with Tony [Sir Anthony] Pappano at Covent Garden. I look forward to that." (Clearly, Covent Garden is looking forward to that as well; citing a change in her vocal direction, she dropped out of two consecutive opening productions in the British capital, FAUST and NORMA, also dropping the latter from the Met's 2017 opening night.)
What about Brunnhilde--when are you going to do that?, I ask her half-jokingly, referring to the recent addition of Wagner to her repertoire, with LOHENGRIN'S Elsa.)
She laughs. "Brunnhilde, no. I don't think so." I say to her that I'm not so sure--that sometimes she seems ready to blow everyone off the stage. She says, thank you, but she shakes her head no and laughs. "It's a question of what you like, what you feel and if you are smart enough to prepare this role." When choosing roles, she says she always follows her intuition--and can always tell whether or not she will be able to sing a role--and whether she likes a particular work or not. Still, she considers choosing a new role to be a risk, whether she can pull it off when it comes time to perform it on stage.
"I know some sopranos who can sing everything and they're wonderful. Montserrat Caballe--she did almost everything because her technique was amazing. With that wonderful pianissimo," she says, marveling at skill of the recently deceased Spanish soprano.
I mention Birgit Nilsson--who did Aida and Tosca (roles Netrebko has done successfully quite recently), but also Brunnhilde and Elektra--and that I didn't think I heard an Elektra in her voice right now. "Elektra, no," she says very assuredly, "but Salome is coming." How soon? I press her. "Soon--within just a few years."
I mention that Caballe, who she admires, found Salome very congenial for her--and that I hoped it would be for her as well. "I think so too," she says graciously. (Also watching the development of her Salome, I'm sure, is Peter Gelb, the Met's general manager, who arrived at the luncheon from the dress rehearsal of CARMEN, and would mention during his salute to her that she'll be doing Salome at the Met.)
If anyone present needed a reminder of Netrebko's star-power, the proceedings presented a marvelous video of highlights of the career of "Amazing Anna" so far, from her debut in Moscow at the Mariinsky theatre as Susanna in LE NOZZE DI FIGARO when she was 22, under the tutelage of Valery Gergiev. (She took a job as a cleaning lady at the theatre in order to be able to hear rehearsals.) The clips showed her performances in operas by Verdi, Tchaikovsky, Prokofiev and many others of her great successes.
The event was hosted by Richard J. Miller, Jr., President of the Metropolitan Opera Guild, and Winthrop Rutherfurd, Jr., Chairman of the Guild's Board of Directors. Mezzo Denyce Graves--currently in MARNIE at the Met--spoke about the Opera Guild's educational efforts and tenor Joseph Calleja--currently in the Met's TOSCA--added his perspective on the joys of performing with Netrebko.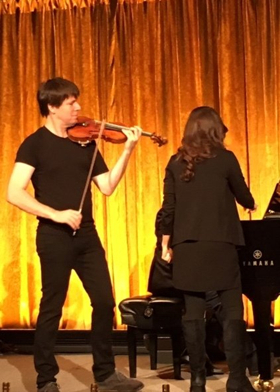 Finally, the afternoon's entertainment was provided by the show-stopping violinist Joshua Bell, who performed several pieces associated with operas in the Met's repertoire: The "Meditation" from Massenet's THAIS, a Sarasate arrangement for violin and piano from Bizet's CARMEN, and a violin and soprano arrangement of Puccini's "Quando m'en vo"--better known as "Musetta's Waltz" (from LA BOHEME) with the charming Larisa Martinez.
Netrebko closed the proceedings with some brief, sometimes irreverent remarks--including the suggestion that the Guild change its next event to a dinner rather than a luncheon, so that everyone could go out partying afterwards. (However, Guild President Miller noted it would remain a luncheon.)
Related Articles View More Opera

Stories