Willie Nile to Sub for Dramarama During LIGHT OF DAY WINTERFEST '19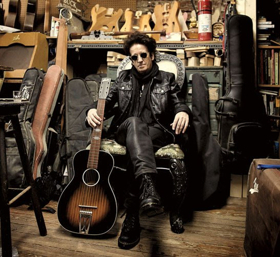 Willie Nile, one of a small handful of artists to have performed at every Light of Day WinterFest since its 2000 launch to fight Parkinson's Disease through the awesome power of music, has stepped up again on the eve of the 2019 edition to help an ailing fellow musician who's also a longtime participant.
Nile, already on board for four events in three different cities (Montclair, NJ; Asbury Park, NJ; and Philadelphia) during LIGHT OF DAY WINTERFEST '19, has volunteered to fill in with his full band for pioneering alt-rock band Dramarama as the headliner for the January 18 "Friday Night Live" event at the House of Independents, 572 Cookman Ave, in Asbury Park, NJ. Also on the bill are The Grip Weeds and the Easy Outs. Doors open 7 p.m.; Show 7:30 p.m. Tickets on sale NOW at www.houseofindependents.com
John Easdale, leader of Dramarama, has announced "to all our friends and the extended Light of Day family" that he now needs to stay home in Los Angeles under doctor's orders:
"Unfortunately, an unexpected diagnosis and my need for urgent medical attention has arisen and is forcing us to cancel this year's Light of Day show on January 18 at House of Independents," said Easdale. "We are completely disappointed and truly regret any inconvenience this may cause. Willie Nile and his great band have been gracious enough to agree to perform in our place that evening. We thank them and sincerely hope that you support them as you would Dramarama. I'm fully expecting to recover quickly and look forward to Dramarama's future Light of Day appearances. Thank you so much for your continued support."
With a goal of pushing its 19-year total past $5.5 million in its ongoing battle against Parkinson's disease, the 10-day LIGHT OF DAY WINTERFEST 2019, presented by the Asbury Park Press, S.A.T. TONIGHT and will bring over 150 music acts to 30 venues in two New Jersey cities, New York City, Philadelphia, and Rockland County, NY, January 11-21, following a holiday season European tour.
In 2018, Light of Day WinterFest raised enough money to catapult its 18-year cumulative total past the $5 million mark. Light of Day WinterFest 2019 is expected to push the 19-year total past $5.5 million. The festival has gained international notoriety for surprise performances by Bruce Springsteen in 11 of its 18 years, including his most recent appearance, in 2015.
Beyond Asbury Park, LIGHT OF DAY WINTERFEST 2019 will include shows in North Jersey (Jan. 11 in Montclair), Philadelphia (Jan. 12 @ World Café Live), New York City (Jan. 16 @ The Cutting Room) and Rockland County, NY (Jan.13 @ Penguin Rep Theatre in Stony Point). Those lineups are listed below. They are the culmination of a worldwide series of shows that began as a one-day event in Asbury Park and grew in the U.S. to a 10-day festival in the New Jersey/New York/Philadelphia metropolitan area.
Willie Nile's gem-filled catalog encompasses blazing rock 'n' roll, thoughtful folk-rock, intimate acoustic balladry and even an album of Bob Dylan covers. And while it's hard to think of many recording artists who are doing some of their best work this far into their careers, Nile continues to seek out new creative challenges and conquer new musical territory. He's amassed an enthusiastic international fan base along the way that includes such admirers as Bruce Springsteen, with whom he's guested onstage on several occasions, and Pete Townshend, who personally requested him as the opening act on the Who's historic 1980 U.S. tour. The list of avowed Nile fans also includes Bono, Lou Reed, Paul Simon, Ian Hunter, Graham Parker, Jim Jarmusch, Little Steven and Lucinda Williams, who once remarked, "Willie Nile is a great artist. If there was any justice in this world, I'd be opening up for him instead of him for me." Willie is one of the few artists to have participated in Light of Day every year since the beginning.
Related Articles View More Music

Stories