Wet Ink Ensemble Releases Wet Ink: 20, Album Celebrating 20th Anniversary, On Carrier Records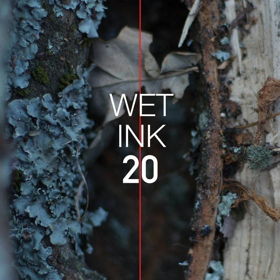 On Friday, September 15th, 2018, Wet Ink releases Wet Ink: 20 on Carrier Records, the group's first full-length album focused on works for sinfonietta, featuring the 28 musicians of the Wet Ink Large Ensemble. The release celebrates Wet Ink's 20th Anniversary, and highlights the ethos of innovation through collaboration that has guided the work of Wet Ink throughout the ensemble's history. The album includes works by Wet Ink's four acclaimed composer members Alex Mincek, Sam Pluta, Kate Soper, and Eric Wubbels alongside music by Katherine Young and Anthony Braxton.
Wet Ink: 20 is a collection of work rooted in an interconnected community of contemporary music - a synthesis of the performance practice developed in the "band" atmosphere of Wet Ink's core septet of composer-performers, and of over a decade of multifaceted work with the frequent collaborators of the Wet Ink Large Ensemble, a collection of 28 renowned NYC-based new music performers whose breadth of experience ranges from performances with the International Contemporary Ensemble (ICE) and Yarn/Wire to Peter Evans Ensemble and the Evan Parker Electroacoustic Octet. Wet Ink: 20 includes Eric Wubbels's Auditory Scene Analysis, Part I (2014), featuring Erin Lesser (flute); Katherine Young's like a halo (2014); Sam Pluta's Portraits/Self Portraits (2011), featuring Josh Modney (violin) and Peter Evans (trumpet); Anthony Braxton's Composition No. 56 (1976); Kate Soper's The Ultimate Poem is Abstract (2016, rev. 2017), featuring Soper herself as soprano soloist; and Alex Mincek's Chamber Concerto (2013).
The album begins with Eric Wubbels's Auditory Scene Analysis, Part I, a work for 18 players, narrator and electronic sound written for the Wet Ink Large Ensemble that deals with the perceptual dynamics of complex sonic scenarios in a large instrumental format. The piece begins with an explosive passage for solo flute that showcases Wet Ink flutist Erin Lesser's extraordinary power and control of extended techniques. As this first large section of the piece continues, the flute is joined by others in, Wubbels writes, "a series of highly virtuosic solos that gradually accumulate, masking and 'overpainting' one another chaotically, eventually blacked out altogether by white noise. As the narrator (Kate Soper) begins to speak, the piece tips over onto the vertical axis, examining the 'integration of simultaneous auditory components,' exploring fused sonorities, virtual instruments, and 'unparseable' auditory chimeras."
Katherine Young's like a halo, for prepared violin, soprano, alto sax, horn, harp, and piano, takes a highly specific and delicate overpressure technique on the violin as its impetus. Young writes, "using a lot of care and a very slow bowing technique on the lowest string of a radically detuned violin, you can make a quiet popping sound. The attack and body of the sound is noisy, but there is a little halo of pitch surrounding it. This sound recalled to me an optical effect referred to as a halo that occurs when white light gets split up and redirected by water in the air. This refraction causes it to change direction and move toward and away from the observer, creating the effect of a halo around the shadow of the observer's head due to resonant effects." The sextet negotiates ever-shifting musical terrain as "white noise textures get thrown into contact with crystallized gestures that redirect the sound into different pitch and timbral profiles."
Sam Pluta's Portraits/Self-Portraits for violin soloist and large ensemble was written for Wet Ink and Josh Modney in 2010. It is a dynamic work that draws on Pluta's incredible breadth of experience as an improviser and innovator in live electronics performance. This recording features Josh Modney on the violin solo part and Peter Evans on trumpet. Pluta writes, "Portraits/Self-Portraits is a re-imagining and re-orchestration of the sounds and processes found on sum and difference, an album of improvised music that I made in 2010 with Peter Evans and Jem Altieri. The music is largely derived from improvisations on the album, but instead of being duo improvisations of electro-acoustic music, it is now compositions for large ensemble."
Anthony Braxton's Composition No. 56 for creative orchestra is an introspective work that layers richly lyrical notated material with extended sections of solo, duo, and ensemble improvisation. The piece hovers at the nexus of composition and improvisation, highlighting the philosophy of creative music-making that has made Braxton such a profoundly influential figure in today's hybridized contemporary music culture.
Kate Soper's The Ultimate Poem is Abstract, for soprano and large ensemble, features Soper as soprano soloist and texts by Wallace Stevens, among others. The piece highlights the versatility of the Wet Ink Large Ensemble musicians as textures shift from laser focused extended techniques to sections of lushly orchestrated cantabile. Soper writes, "A voice rises through a cloud of quotations, leaving abstract musical texture behind to reclaim speech and expressivity in Wallace Stevens' intractable poem. But although the voice within this poem, like the voice of the soprano within the ensemble (and perhaps like the nattering voice inside the composer's head), can describe, question, and categorize, it ultimately longs most of all, with only occasional flickering success, to experience."
Alex Mincek's Chamber Concerto was commissioned by the French Ministry of Culture for Ensemble Linea as a companion piece to Ligeti's Kammerkonzert, and given its US premiere by the Wet Ink Large Ensemble. Though it shares the instrumentation of Ligeti's famous work, Chamber Concerto is distinctly Mincek, expanding the language developed in works like Number May Be Defined, Pendulum VII, and String Quartet No. 3, "lift-tilt-filter-split" in a large ensemble context. Written in four movements, Mincek's work is true to its title, demanding great sensitivity, coordination, expressive range, and ferocity from every musician in the ensemble.
About Wet Ink
For 20 years, the Wet Ink Ensemble has been programming and presenting concerts of adventurous new music at the highest level in New York City and around the world. Wet Ink has collaborated with a broad range of renowned artists, from Evan Parker to George Lewis to Peter Ablinger, and is equally committed to promoting the works of young and underrepresented composers, from today's most promising emerging voices to the next generation of artists. Wet Ink is co-directed by a core septet of world class composers, improvisers, and interpreters that collaborate in band-like fashion, writing, improvising, preparing, and touring pieces together over long stretches of time. These directors are Erin Lesser (flutes), Alex Mincek (saxophone), Ian Antonio (percussion), Eric Wubbels (piano), Josh Modney (violin), Kate Soper (voice), and Sam Pluta (electronics).
The Wet Ink Large Ensemble is a group of extraordinary New York City musicians that come together to play the world's most exciting and innovative music. The ensemble's far-ranging experience includes a critically acclaimed portrait concert of Anthony Braxton, lauded as "Dense, wild, yet artfully controlled" (The New York Times), a run of outdoor performances of Arnold Schönberg's Erwartung (the first ever fully-staged opera production in Times Square), a retrospective of the work of the AACM composers at The Kitchen in 2008, and the release of Alex Mincek's Torrent (Sound American), selected as one of the Best Albums of 2017 by The New York Times and The Nation.
Wet Ink: 20 Track List
1. Eric Wubbels: Auditory Scene Analysis, Part I (2014)
Erin Lesser, flute; Kate Soper, narrator
2. Katherine Young: like a halo (2014)
3-4. Sam Pluta: Portraits/Self Portraits (2011)
I. Jem Altieri with a Ring Modulator Circuit
II. Peter Evans with Analysis/Resynthesis and other Live-Processing Techniques
Josh Modney, violin; Peter Evans, trumpet
5. Anthony Braxton: Composition No. 56 (1976)
6. Kate Soper (Text by Wallace Stevens): The Ultimate Poem is Abstract (2016, rev. 2017)
Kate Soper, soprano
7-10. Alex Mincek: Chamber Concerto (2013)
Wet Ink Large Ensemble
Erin Lesser, flutes*
Karisa Antonio, oboe
Bill Kalinkos, clarinet (1, 3-4, 6-10)
Eileen Mack, clarinet (1, 7-10)
Sara Schoenbeck, bassoon
Alex Mincek, saxophone (1, 3-6), conductor (2)*
Ryan Muncy, saxophone (2)
Laura Weiner, horn (3-4, 6, 7-10)
Nicolee Kuester, horn (2)
Peter Evans, trumpet (3-5)
Gareth Flowers, trumpet (1, 6)
Weston Olencki, trombone
Dan Peck, tuba
Ian Antonio, percussion (1, 3-6)*
Russell Greenberg, percussion (1, 5, 6)
Lucie Vitkova, accordion
Jacqueline Kerrod, harp
Laura Barger, piano (3-4, 6), keyboard (1)
Ning Yu, Hammond B3 organ, harpsichord (7-10)
Julia Den Boer, piano (1, 7-10), celesta (7-10)
Josh Modney, violin (1-10)*
Marina Kifferstein, violin (1, 6-10)
Carrie Frey, viola
Mariel Roberts, cello
Gregory Chudzik, contrabass
Sam Pluta, electronics*
Kate Soper, voice*
Eric Wubbels, conductor (1, 3-4, 6-10), piano (2, 5)*
*Wet Ink Co-Directors
Recorded by Ryan Streber at Oktaven Audio, Mt Vernon, New York
Mixed by Sam Pluta at CHIME Studios, Chicago, IL
Mastered by Matt Mehlan at The Studio, Chicago, IL
Related Articles View More Music

Stories
More Hot Stories For You