Troublesome Hollow Releases New Album, 'Old School'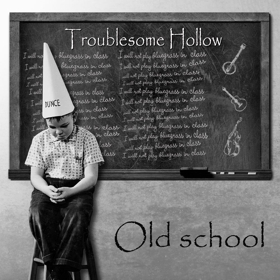 The latest album by Troublesome Hollow is aptly titled "Old School." With help from a few friends, the East Tennessee-based trio combines traditional-style bluegrass with just enough Americana to be comfortably familiar to mountain music purists, while still sounding fresh.
Indeed, this 17-track album is both old and new, combining originals, covers and traditional tunes, including one that dates back more than two centuries-an instrumental (banjo solo) version of "Star Spangled Banner," plucked with patriotic care, by Troublesome Hollow's Tim White.
"I thought it would be a neat twist to do it with just a banjo," White said. "We're not trying to get political, but we're all country boys and we swell with pride, when we hear that song. When you play it at a slow pace, it's more reflective. It gives you time to really think about what the lyrics mean, even though we're not singing on this version."
"Old School" is Troublesome Hollow's fifth release, and their first in 18 years. Formed in 1976, the band broke up in 1990, when guitarist Donnie Ollis moved to South Carolina and his bass-playing brother, Garry, decided to take a break from music. White went on to become host of the nationally syndicated public television concert series "Song of the Mountains" and "The Tim White Bluegrass Show" on radio. However, the trio remained friends and four years ago decided to reunite, much to the delight of their fans.
The first cut on the new album, "Forever More," is one of the band's most popular tunes at shows. Written by Garry Ollis, it is a mid-tempo, broken-love song, with Steve Thomas sitting in on fiddle and mandolin, as he does on several of the newer songs on the album.
"Steve is a great musician who has worked with a lot of pickers over the years," White said. "He has played with the Osborne Brothers, Jim and Jesse McReynolds, Mel Tillis and a lot more. We're real fortunate to him on the album."
Love, death, religion and money are among the subjects covered on the album. The classic gospel song "Working on a Building" is sung in a bellowing style by Garry "Bear" Ollis. "The Penny Song" is a sad one, about growing up poor, while "Worrisome, Oh Worried Me" takes a more humorous look at being broke.
"We jokingly dedicate that one to musicians, because it's about having trouble paying your bills," White said. "It about struggling to make ends meet, which a lot of people can relate to."
Arguably, the two most unusual songs on the album were first recorded by Troublesome Hollow in the early 1990s but were previously available just on cassette. "Five Pounds of Possum" and "Possum on the Run" might not win accolades from vegetarians, but almost anyone raised in the mountains will surely crack a knowing smile, listening to the two tunes about a common dietary staple among country folk. It is worth noting that veteran fiddle and mandolin player Tim Laughlin and dobro player Tim Harkleroad are featured on both "possum" songs.
"Old School" by Troublesome Hollow will be available May 12 on iTunes, Amazon, CDBaby and Spotify. More information about the band is available at www.TroublesomeHollow.com, Facebook and Twitter.