The Messthetics Announce Spring and Summer Tour Dates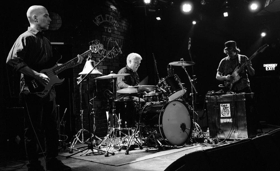 The Messthetics are an instrumental trio featuring Brendan Canty (drums), Joe Lally (bass), and Anthony Pirog (guitar). The trio will continue to tour throughout the spring and summer, including performances at the Coachella Valley Music & Arts Festival, Primavera Sound, and the David Lynch-curated Festival of Distruption.
Brendan Canty and Joe Lally were the rhythm section of the band Fugazi from its inception in 1987 to its period of hiatus in 2002. This is the first band they've had together since then. Anthony Pirog is a jazz and experimental guitarist based in Washington, D.C. One half of the duo Janel & Anthony, he has emerged as a primary figure in the city's out-music community.
Released in March 2018, the trio's debut includes nine songs recorded at Canty's practice space. It's a snapshot of a band dedicated to the live ideal, where structure begets improvisation.
THE MESSTHETICS ON TOUR
4.11.19 - San Diego, CA @ Casbah $
4.13.19 - Indio, CA @ Coachella Valley Music & Arts Festival
4.15.19 - Tucson, AZ @ Club Congress
4.16.19 - Phoenix, AZ @ Rebel Lounge
4.17.19 - Los Angeles, CA @ Zebulon
4.20.19 - Indio, CA @ Coachella Valley Music & Arts Festival
4.21.19 - Santa Barbara, CA @ Velvet Jones $
4.22.19 - San Francisco, CA @ The Chapel $
4.23.19 - Sacramento, CA @ Harlow's $
4.24.19 - Reno, NV @ Jub Jub's
5.10.19 - Washington, DC @ 930 Club %
5.17.19 - Brooklyn, NY @ Festival of Distruption
5.22.19 - Torino, IT @ Spazio 211
5.23.19 - Bologna, IT @ Locomotiv Club
5.24.19 - Roma, IT @ Evol
5.25.19 - Livorno, IT @ The Cage Theatre
5.26.19 - Savona, IT @ Raindogs
5.27.19 - Bern, CH @ Dachstock
5.29.19 - Angouleme, FR @ La Nef
5.30.19 - Nimes, FR @ This is Not a Love Song
6.01.19 - Barcelona, ES @ Primavera Sound
6.02.19 - Pau, FR @ Melies
6.03.19 - Bordeaux, FR @ BT59 w/ Shellac
6.05.19 - Tampere, FI @ Klubi
6.08.19 - Amsterdam, NL @ Paradiso
6.09.19 - Paris, FR @ Villette Sonique
6.20.19 - Calgary, AB @ Sled Island Festival
6.21.19 - Portland, OR @ Polaris Hall
6.22.19 - Olympia, WA @ Capitol Theater
6.23.19 - Seattle, WA @ Vera Project
6.25.19 - Port Townsend, WA @ Cellar Door
6.26.19 - Vancouver, BC @ Fortune Sound Club
7.09.19 - Baltimore, MD @ Metro Gallery
7.10.19 - Philadelphia, PA @ PhilaMOCA
7.11.19 - Jersey City, NJ @ Monty Hall
7.13.19 - Portland, ME @ Space
7.14.19 - Allston, MA @ Great Scott
7.15.19 - Portsmouth, NH @ Press Room
7.16.19 - Montreal, QC @ La Sala Rosa
7.17.19 - Ottawa, ON @ 27 Club
7.18.19 - Toronto, ON @ Great Hall
7.19.19 - Rochester, NY @ Bug Jar
7.20.19 - Woodstock, NY @ Colony
7.21.19 - Asbury Park, NJ @ Asbury Park Yacht Club
9.27.19 - Dana Point, CA @ Ohana Festival

$ w/ Craig Wedren
% w/ Ex Hex