The Cringe Release New Song Today, Album Out 4/19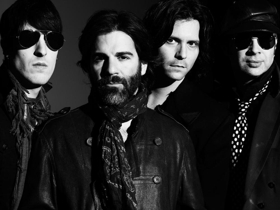 New York based band The Cringe have released their latest song "I Can't Take It No More" via New Noise Magazine. The track appears on their sixth studio album, Everywhere You've Never Been, out April 19. Prior to the release, The Cringe will join Tesla for dates in April. See below for full tour dates. Listen and share "I Can't Take It No More" here.

"This single is one part of a larger piece of work wherein each song on Everywhere You've Never Been represents, or more accurately evokes, the feelings, visions, people and places of different cities around the world. 'I Can't Take It No More' is the New York City track on the album. Being a New York City based band we crafted this song around the the city we love and call home notwithstanding all of the pressure, stress, and angst that comes along with being a New Yorker." - The Cringe

Having spent much of the last three years touring in support of rock legends like Mötley Crüe, Alice Cooper, Tesla, and Ratt, The Cringe have emerged with their sixth studio album, Everywhere You've Never Been. Known for his work with Linkin Park, Eve 6 & more, Don Gilmore has returned to produce his second consecutive album with the New York based rockers. The album was recorded at the legendary Power Station @BerkleeNYC.

Everywhere You've Never Been is comprised of 13 unique tracks, each inspired by a different city from the band's travels. Without straying away from the band's familiar rock roots, this album manages to tap into some new and exciting sounds and moods not previously captured on past albums.

Notable cuts include "Smoke 'Em If You Got 'Em," which was co-written and features guest vocals by Austin legend, Bob Schneider. "Time Is Moving On," opens up with pounding drums and edgy guitars and never lets up, providing an energetic and vibrant track to help set the tone early on the album. Strong driving backbeats and thoughtfully constructed yet moody guitar arpeggios have always been a staple to the more timeless sounding tracks the band has churned out, and "If I Say That You Want Me," doesn't disappoint. Slow and steady, you can feel the energy build from the very onset of the droning guitar riff until "I Can't Take It No More," gives way to an explosive confluence of tension meeting mid tempo burner.
Related Articles
View More Music

Stories
More Hot Stories For You