Street Pharmacy Announce THE GREAT WELLAND MIGRATION TOUR 2018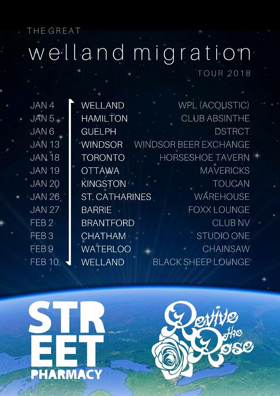 It's no secret that Street Pharmacy wears its hometown on its sleeve with pride. Their love-hate-love relationship with Welland, Ontario has been well documented in songs like In This Town and Degenerate. Not to mention, the ridiculous amounts of references to regionally significant locations peppered throughout frontman Ryan Guay's lyrics. "I write what I know and I know Welland" he said in regards to what inspires him to bring pen to the page.
The band first gained recognition for its bizarre yet charming discourse in Niagara Regional imagery and landmarks in 2006 when their music was featured in the documentary film MsC: The Movie by Welland-native and Jackass-inspired Peter Guzda. "It was a film about a bunch of bored kids trying to make their own fun in what seems like a very neglectful world. I could and still do relate to that outsider mentality and I was moved enough to write that song" Guay stated of the song "In This Town."
In the years following, Street Pharmacy would shut down Bridge 13, a regional landmark that separates Welland's east and west side, bringing the youth community together for their seminal independent music video "Welcome 2 tha Street Pharmacy" as well as a full scale concert. In 2009 they dedicated their first internationally-aired live performance on Much Music's disBAND saying "This one's for Welland" before smashing into their most commercially successful song to date "Stone, Bricks & Mortar," which would go on to reach and hold the number one spot on Much's UR11 program - a show completely determined by viewer voting.
"Our documentation of small town life and mindset has carried us over the last decade" said bassist Jesse Robitaille. "Welland is not too dissimilar of any small town in Southern Ontario, or anywhere for that matter. Every kid grows up bored and disenfranchised by the task of growing up in what seems like an isolated community with a narrow view of what is deemed an acceptable occupation by their elders. Welland is a rustbelt diamond in the rough; a hot bed of youth culture so bored that they've been forced to forge their own path no matter how daunting the creative task may seem."
With that same hometown spirit, Street Pharmacy is embarking on their first regional tour in several years cheekily dubbed The Great Welland Migration Tour this January and February. The tour will cover 13 Southern Ontario stops, mostly smaller ones with the exception of Hamilton, Ottawa and Toronto, and will be taking along Welland's Revive the Rose as their tour support. "The boys in RTR were my students while I was a substitute teacher at my old high school. Here we are years later. Watching them continue to carry the torch of Welland music, even taking a name inspired by our hometown makes me proud to have been in anyway a part of helping them to find their own musical narrative" Guay commented. He also mixed their newest single "Nine to Five" released earlier this year. "Ontario is where we live and we are proud to be a product of its rich musical scene for the past decade."
Ontario fans can find Street Pharmacy and Revive the Rose at the dates below. This will be the first chance for Street Pharmacy fans to hear the upcoming single "Roaming Souls" live.
Tour Dates:
Jan 4 - WPL - Welland, ON
Jan 5 - Club Absinthe - Welland, ON
Jan 6 - Dstrct - Guelph, ON
Jan 13 - Windsor Beer Exchange - Windsor, ON
Jan 18 - Horseshoe Tavern - Toronto, ON
Jan 19 - Mavericks - Ottawa, ON
Jan 20 - Toucan - Kingston, ON
Jan 26- Warehouse - St. Catherines, ON
Jan 27 - Foxx Lounge - Barrie, ON
Feb 2 - Club NV - Brantford, ON
Feb 3 - Studio One - Chatham, ON
Feb 9 - Chainsaw - Waterloo, ON
Feb 10 - Black Sheep Lounge - Welland, ON