Singer-Songwriter Tony Lucca To Release New Album Tomorrow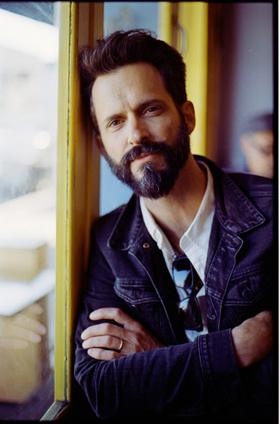 Nashville-based singer-songwriter Tony Lucca is flexing his Americana muscles on his forthcoming new album,Ain't No Storm, which he will be releasing on March 29, 2019. Ain't No Storm reads like a who's who of East Nashville notables: Ken Coomer produced the record at his studio, Cartoon Moon, great Nashville players like Michael Webb, Ted Pecchio, and Joe Garcia lent their talents - and even Patrick Sweany stopped in for a cameo on "Room With A View." Replete with songs borne of his admiration for Nashville's rich history - the town's creative community ultimately fueled Lucca's return to the studio and inspired the new album - Ain't No Storm finds Lucca embracing with reverence the process and craft of songwriting and taking his time (more than two years) to get it right.

"In Nashville when you visit, people say, 'Anything I can do for you, just let me know,'" Lucca says. "And then you move here, and you realize those arms really are wide open and those people aren't full of sh*t. They really do want you to be part of the community here."

Lucca brought a workman-like mentality to songwriting in his new hometown, writing or co-writing "daily and diligently," spending years honing his craft. "I just took up songwriting as a full-time occupation, figured I'd make another record when I felt compelled to," Lucca says. He eventually developed a songwriter residency at Midtown venue The Local, all the while touring the country. Over those formative years at the beginning of Lucca's Act II, the songwriter again found himself falling in love with the purity of it all. "It was restorative for me on the creative side," Lucca says. "It was also educational as I really tuned into the creative community and Nashville rhythm." He eventually found a home with Demolition Publishing, which boasts one of Music Row's more notable rosters of both young and established writers.

Lucca's admiration and respect for Nashville's songwriting community, it turns out, was mutual. After moving to Nashville, he quickly found his calendar consumed with co-writes from old and new friends alike. Those include Driver Williams, tour-mate turned co-writer and "Nashville treasure" Gabe Dixon, and the Grammy-nominated Billy Montana ("Sage wisdom - bit of a mentor," Lucca says of Montana).

Throughout that process, Lucca began "salting away" the songs that really reached out and grabbed him. "Those songs that make me sit in an empty room with an acoustic guitar and go, 'Yeah, I'd be playing this song right now even if nobody were listening,'" Lucca says. He found the songs that "started to feel like my expression - how I want to channel my creative energy," as he says. "It took my whole career to get to the point where I just went into the studio and, as Ray Charles said, 'Make it do what it do.'"
Lucca continues, "This is about as honest an album as I could ever make. There were very few takes of each song even recorded. Most of the vocals were recorded right along with the acoustic guitar. There was minimal editing and very few overdubs." The combination of meticulously crafting songs and freewheeling in the studio led to a record that is ready to announce Lucca as a force not just for his vocals, but also for his voice. It's a record that delicately balances the eternal optimism of a man drawn to put newness out to the world with the road-worn realism of a man who weathered the storm ever-so-slightly more than it weathered him.

Lucca's career is a long and noteworthy one that spans some of the country's greatest music scenes - from his hometown Motown mecca of Detroit, to the hills of Hollywood, to the borough of Brooklyn. It includes stints in some of the shiniest environments, from his early years in the "Mickey Mouse Club" alongside future pop stars like Justin Timberlake and Christina Aguilera, to his top-three finish on the second season of NBC's "The Voice." But for Lucca, and for his music, Nashville just makes the most sense and is the best fit.

Lucca plans to tour in support of Ain't No Storm (see confirmed tour dates below; more to be announced at a later date). In the lead up to the album's release in March, Lucca performed at the annual City Summit Gala in Los Angeles on February 24, 2019. This year's event honorees and speakers included Colin Farrell, Les Brown, Kevin Harrington, Randy Jackson, and Mario Lopez.

Tony Lucca Tour Schedule:
3/29/19 - Clearwater, FL - Arthur Murray Dance Centers Clearwater
4/1/19 - Nashville, TN / True Music Room @ Cambria Hotel (album release show)
4/11/19 - Charleston, SC / The Royal American
4/23/19 - New York, NY / Rockwood Music Hall (w/Dan Rodriguez)
4/24/19 - Philadelphia, PA / World Cafe Live (w/Dan Rodriguez)
4/25/19 - Vienna, VA / Jammin' Java (w/Dan Rodriguez)
4/26/19 - Boston, MA / City Winery Haymarket (w/Dan Rodriguez)
4/27/19 - Schenectady, NY / Mad Jack Brewing @ The Van Dyck
4/28/19 - Basking Ridge, NJ / Ross Farm
5/6/19 - Nashville, TN / True Music Room @ Cambria Hotel
5/9/19 - Columbus, OH / Rumba Cafe
5/29/19 - 6/2/19 - Kill Devil Hills, NC / Pat McGee's Down The Hatch
9/6/19 - Evanston, IL / SPACE


www.tonylucca.com
Photo credit: Ernie Halter
Related Articles
View More Music

Stories
More Hot Stories For You