Sarah Shook & The Disarmers Share Skateboarding Music Video For NEW WAYS TO FAIL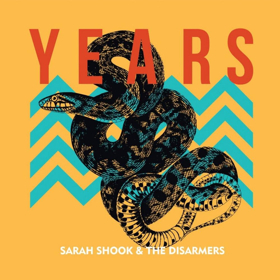 If you think you can't skateboard to a country song, you're dead wrong, as proven by the new Sarah Shook & The Disarmers music video for "New Ways to Fail," now playing via FADER.
"It's all new territory for us, this director in Chicago hit us up with this rad idea for a music vid and we told her to go for it. A huge undertaking and a cast of super cool humans, I'm feelin' super grateful. Far as I know a skateboarding themed country music video hasn't been done before lol." -Shook
Their album YEARS is out now on digital, CD, and vinyl LP.
Sarah Shook & the Disarmers are on tour in the U.S. and Europe for the rest of the year:
7/13/2018 Hi Dive Denver CO
7/14/2018 OP
Rockwell
Park City UT
7/16/2018
Beauty Bar
Las Vegas NV
7/17/2018 Casbah San Diego CA
7/18/2018 The Echo Los
Angeles
CA
7/19/2018 Bottom of the Hill San Francisco CA
7/20/2018 Sierra Nevada Brewing Company Chico CA
7/21/2018
Wildwood
Music Festival Willamina OR
7/22/2018 7 Devils Brewing Co. Coos Bay OR
7/23/2018 Volcanic Brewery Pub Bend OR
7/24/2018
Mississippi Studios
Portland OR
7/25/2018
Tractor Tavern
Seattle WA
7/26/2018 The Bartlett Spokane WA
7/28+29 Calgary Folk Fest Calgary AB, Canada
7/31/2018 Live from the Divide Bozeman MT
8/19/2018 Elk Creek Café + Aleworks Millheim PA
8/20/2018 Abilene Bar and Lounge Rochester
NY
8/21/2018
Mohawk Place
Buffalo NY
8/22/2018 Summer in the City Cleveland OH
8/23/2018 The
Parliament
Room at
Otus Supply
Ferndale MI
8/24/2018 BeMo's Bar Bay City MI
8/25/2018 Horseshoe Tavern Toronto ON
8/26/2018 Purple Fiddle Thomas WV
8/31/2018 The Radio Room Greenville SC
9/1/2018 Eddie's Attic
Decatur
GA
9/2/2018 Muddy Roots Cookeville TN
9/8/2018 Hopscotch Music Festival
Raleigh
NC
9/12/18 Pearl Street
Tavern
Washington
DC
9/13/18 Baby's All Right Brooklyn NY
9/14/18
Great Scott
Boston MA
9/15/18 Cafe Nine New Haven CT
9/16/18 Johnny Brenda's Philadelphia PA
9/22+23/18
Bristol
Rhythm & Roots Reunion
Bristol
TN
9/29/2018 Devils Backbone Hoopla Roseland VA
10/2/2018
123 Pleasant Street Morgantown WV
10/3/2018 Ace of Cups
Columbus
OH
10/4/2018
Pioneer
Indianapolis IN
10/5/2018 The sty Barn Spring Green WI
10/6/2018
Cactus Club
Milwaukee WI
10/7/2018
Turf Club
St. Paul MN
10/8/2018 Showboat Saloon Wisconsin Dells WI
10/9/2018 Raccoon Motel Davenport IA
10/10/2018
Knuckleheads
Saloon Kansas City MO
10/11/2018 Off Broadway St. Louis MO
10/12/2018 Willie's Locally Known Lexington KY
11/2/18 Deventer NL Burgerweeshuis
11/3/18 Groningen NL Take Root
11/4/18 Breda NL ROOTZZ 2018
11/5/18 London UK Old Blue Last
11/7/18
Barcelona
ES Rocksound
11/8/18 Zaragoza ES Rock & Blues
11/9/18 Madrid ES Boite Live
Video credits:
Directed by Hannah Welever
Color by Edwin Metternich at Framestore Chicago
Skate decks by Plan B Skateboards
Related Articles View More Music

Stories
More Hot Stories For You