SPEEDY ORTIZ Announces New Album + Tour Dates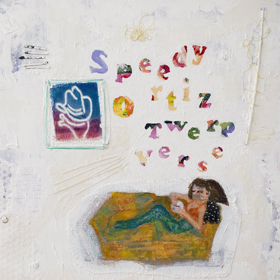 Today Speedy Ortiz announces its new full-length album and first release in two years. In the Fall of 2016, Speedy Ortiz went to Brooklyn's Silent Barn to record what they thought would be their third LP, but following election day they knew they had to change course. "The songs on the album that were strictly personal or lovey dovey just didn't mean anything to me anymore--that's not the kind of music I've found healing or motivating in the past few years, and I was surprised I'd written so much of it," explains front person Sadie Dupuis. "Social politics and protest have been a part of our music from day one, and I didn't want to stop doing that on this album." So the band scrapped the album they made, Dupuis wrote more songs over the course of four months, and Speedy Ortiz created the urgent, taught, and pointedly witty Twerp Verse, out April 27th on Carpark. See below for album art (which Dupuis made herself, as she has done for all of the band's previous releases) and tracklisting.
Speedy Ortiz also shares the first single "Lucky 88," alongside its music video today. A reflection on how Dupuis feels her previous political role models and protectors now provoke distrust, "Lucky 88" expresses optimism that space can be made for more radical agendas and socialist voices. "For the video, we wanted something evil, glossy, cynical, and camp," Dupuis explains. "Our director Emily Yoshida came up with a concept that addresses our reliance on technology and apps that's so absorbing, it's hard to engage with the outside world, even when it is literally being consumed by slime (and, hello, global warming, melting ice, coral bleaching, impending heat death, make no mistake, it IS being consumed by slime)." Listen to the song and watch the music video now via NPR Music.
With Sadie Dupuis on guitars, vocals, and synths, supporting guitarist Andy Molholt (of psych pop outfit Laser Background) now joins Speedy Ortizveterans Darl Ferm on bass and Mike Falcone on drums. See below to find a show near you and catch them on tour.
On Twerp Verse, which was mixed by Omaha legend Mike Mogis (Bright Eyes, Rilo Kiley) and mastered by Grammy-nominated engineer Emily Lazar (Sia, Haim, Beck), Speedy Ortiz accelerate the band's idiosyncrasy through the wilderness of Dupuis' heady reflections on sex, lies and audiotape while adding surprising textures like Linn drums and whirled guitar processing to their off-kilter hooks. Dupuis, whose electropop solo project Sad13 debuted in 2016 shortly after her own move to Philadelphia, has become more instinctive in her songwriting-her home-recorded demos mirrorTwerp Verse's songs in a closer way than any other Speedy record. The band's camaraderie and crate-digging is evident, with diffuse reference points like Squeeze, Hop Along, Prince, Paramore, and Brenda Lee being sucked into the band's chaos. Even when Dupuis sings of alienation and political weariness, the pop maelstrom swirling around her provides a defiantly charged, mussed-but-hooky optimism.
"You need to employ a self-preservational sense of humor to speak truth in an increasingly baffling world," says Dupuis on the album title Twerp Verse. "I call it a 'twerp verse' when a musician guests on a track and says something totally outlandish - like a Lil Wayne verse - but it becomes the most crucial part. I like 'twerp' as a diss, but in this meaning, the twerp is doing a service--shaking things up by being bold, not complacent, never silent." Now as public pushback against the old guards reaches a fever pitch - in the White House, Hollywood and beyond - the band fires shots in disillusioned Gen Y theme "Lucky 88," and casts a side-eye towards suitors-turned-monsters in the cold-blooded single "Villain." Closing track "You Hate The Title" is a slinky traipse through the banality of this current moment in patriarchy - in which survivors are given the mic, but nitpicked over the timbre of their testimonies. Tuned smartly to the political opacity of the present, Twerp Verse rings clear as a bell.
Tracklisting
1. Buck Me Off
2. Lean In When I Suffer
3. Lucky 88
4. Can I Kiss You?
5. Backslidin'
6. Villain
7. I'm Blessed
8. Sport Death
9. Alone with Girls
10. Moving In
11. You Hate The Title
Tour dates
3/13-16/18 - Austin, TX - SXSW
4/21/18 - Lansing, MI - Stoopfest
5/3/18 - Hamden, CT - Space Ballroom
5/5/18 - Washington, DC - Black Cat
5/7/18 - Norfolk, VA - Charlie's American Cafe
5/8/18 - Durham, NC - The Pinhook
5/9/18 - Atlanta, GA - The Masquerade - Purgatory
5/10/18 - Nashville, TN - The High Watt
5/12/18 - Chicago, IL - Subterranean
5/13/18 - Detroit, MI - El Club
5/14/18 - Toronto, ON - The Legendary Horseshoe Tavern
5/15/18 - Montreal, QC -La Vitrola
5/17/18 - Brooklyn, NY - Music Hall of Williamsburg
5/29/18 - Lakewood, OH - Mahall's
5/30/18 - Louisville, KY - Zanzabar
6/1/18 - Little Rock, AR - Stickyz Rock'n'Roll Chicken Shack
6/2/18 - Austin, TX - Barracuda
6/3/18 - Dallas, TX - Club Dada
6/5/18 - Phoenix, AZ - Rebel Lounge
6/6/18 - San Diego, CA - Soda Bar
6/7/18 - Los Angeles, CA - The Echo
6/9/18 - Oakland, CA - Starline Social Club
6/10/18 - San Francisco, CA - Cafe Du Nord
6/12/18 - Portland, OR - Doug Fir Lounge
6/13/18 - Seattle, WA - The Vera Project
6/14/18 - Boise, ID - Neurolux
6/16/18 - Denver, CO - Larimer Lounge
6/17/18 - Omaha, NE - Reverb
6/19/18 - St. Louis, MO - Blueberry Hill's Duck Room
6/20/18 - Indianapolis, IN - The Hi-Fi