Postmodern Jukebox to Launch International Tour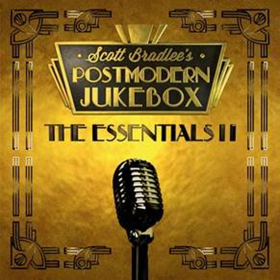 In the two years since the release of its best-selling compilation album The Essentials, Postmodern Jukebox has grown from a viral sensation to a worldwide phenomenon. Founder and mastermind Scott Bradlee has taken his offbeat vision of gramophone music for a smartphone world and transformed it into a throwback empire, with celebrity guests alongside world class vocal talent and a touring show that has thrilled music lovers of all generations across six continents.
With The Essentials II set for release on November 2 via Concord Records and Postmodern Jukebox Records, the ensemble has launched an international tour that will take them through the UK, Iceland, Portugal, Spain, France, Italy, Israel and across the United States and Canada. (See below for full tour listings).
The Essentials II charts the astounding growth and time-warping sensibilities of PMJ, collecting 18 more favorites from the group's era-colliding mash-ups. There's a heavy metal anthem twisted into Motor City soul, a '90s boy-band earworm refitted with angelic doo-wop harmonies, the Biebs and Britney turned black and white, even a sad clown turning a party-girl anthem into a melancholy ballad.
"The Essentials II gives a hint of things to come," he says. "When PMJ started, we were known for viral hits and being timely. Over time I've begun to think of PMJ differently, as an amazing platform where we don't need to do things just for attention anymore, we can just put out great music. I take more chances on the arrangements and the casting, and we've covered bigger or more interesting songs. We're still uncovering aspects of Postmodern Jukebox. You learn as you go; that's just part of being an artist."
TRACK LISTING FOR THE ESSENTIALS II:
1. Black Hole Sun starring Haley Reinhart
2. Heroes starring Nicole Atkins
3. Closer starring Kenton Chen
4. What Is Love starring Casey Abrams
5. Perfect starring Mario Jose, India Carney & Dave Koz
6. Timber starring Robyn Adele Anderson & The Tee Tones
7. Crazy Train starring Jennie Lena
8. Dream On starring Morgan James
9. Juicy starring Maiya Sykes
10. Love Yourself starring Sara Niemietz
11. All About That Bass (Cast Version) starring Haley Reinhart, Morgan James & Ariana Savalas
12. Thriller starring Wayne Brady
13. Chandelier starring Puddles Pity Party
14. Crazy starring Casey Abrams & Hannah Gill
15. The Final Countdown starring Gunhild Carling
16. Toxic starring Melinda Doolittle
17. MMMBop starring Kenton Chen, Mario Jose, Luke Edgemon and Matt Bloyd
18. Nothing Else Matters starring Caroline Baran
POSTMODERN JUKEBOX TOUR DATES:
| | | | | |
| --- | --- | --- | --- | --- |
| 11/1/2018 | Lexington | MA | | Cary Hall |
| 11/2/2018 | Great Barrington | MA | | The Mahaiwe Theatre |
| 11/2/2018 | Las Vegas | NV | | Terry Fator Theatre |
| 11/3/2018 | New Bedford | MA | | Zeiterion Performing Arts Center |
| 11/3/2018 | Las Vegas | NV | | Terry Fator Theatre |
| 11/4/2018 | Las Vegas | NV | | Terry Fator Theatre |
| 11/5/2018 | North Bethesda | MD | | Music Center at Strathmore |
| 11/5/2018 | Las Vegas | NV | | Terry Fator Theatre |
| 11/6/2018 | Richmond | VA | | The National |
| 11/7/2018 | Norfolk | VA | | Chysler Hall Theatre |
| 11/8/2018 | Las Vegas | NV | | Terry Fator Theatre |
| 11/9/2018 | Storrs | CT | | Jorgensen Center for the Performing Arts |
| 11/9/2018 | Las Vegas | NV | | Terry Fator Theatre |
| 11/9/2018 | Reykjavik | | ICELAND | Harpa-Eldborg |
| 11/10/2018 | Las Vegas | NV | | Terry Fator Theatre |
| 11/10/2018 | Bethelhem | PA | | Zoellner Arts Center |
| 11/11/2018 | Newton | NJ | | Newton Theatre |
| 11/11/2018 | Las Vegas | NV | | Terry Fator Theatre |
| 11/12/2018 | Braga | | PORTUGAL | Grande Auditorio-Forum Braga |
| 11/13/2018 | Madrid | | SPAIN | La Riviera |
| 11/13/2018 | Rocky Mountain | VA | | Harvester Performance Center |
| 11/14/2018 | Barcelona | | SPAIN | Razzmatazz |
| 11/15/2018 | New Orleans | LA | | The Joy Theatre |
| 11/16/2018 | Memphis | TN | | The Orpheum Theatre |
| 11/17/2018 | Oklahoma City | OK | | Tower Theatre |
| 11/18/2018 | Liege | | BELGIUM | Le Forum |
| 11/20/2018 | Warrington | | UK | Parr Hall |
| 11/21/2018 | Guildford | | UK | G Live |
| 11/21/2018 | Tucson | AZ | | Rialto Theater |
| 11/22/2018 | Warwick | | UK | Arts Centre |
| 11/23/2018 | Thousand Oaks | CA | | Kavli Theatre |
| 11/24/2018 | Long Beach | CA | | Terrace Theatre |
| 11/24/2018 | Warford | | UK | Colosseum |
| 11/25/2018 | Lancaster | CA | | Lancaster Performing Arts Center |
| 11/25/2018 | Reading | | UK | Hexagon |
| 11/26/2018 | Leicester | | UK | De Montfort Hall |
| 11/27/2018 | Eureka | CA | | Arkley Center for the Arts |
| 11/27/2018 | Bexhill On Sea | | UK | De La Warr Pavillion |
| 11/28/2018 | Southampton | | UK | O2 Guildhall |
| 11/29/2018 | Bellingham | WA | | Mount Baker Theatre |
| 11/29/2018 | Tilburg | | NETHERLANDS | Poppodium 013 |
| 11/30/2018 | Portland | OR | | Arlene Schnitzer Concert Hall |
| 12/1/2018 | Vancouver | BC | | The Vogue Theatre |
| 12/2/2018 | Seattle | WA | | Paramount Theatre |
| 12/2/2018 | Utrecht | | NETHERLANDS | Tivoli Vredenburg |
| 12/3/2018 | Paris | | FRANCE | Salle Pleyel |
| 12/4/2018 | Lyon | | FRANCE | Bourse Du Travail |
| 12/5/2018 | Redding | CA | | The Cascade Theatre |
| 12/6/2018 | Grenoble | | FRANCE | La Belle Electrique |
| 12/6/2018 | San Francisco | CA | | Warfield |
| 12/8/2018 | Palm Desert | CA | | McCallum Theatre for the Performing Arts |
| 12/8/2018 | Nice | | FRANCE | Theatre Lino Ventura |
| 12/9/2018 | Varese | | ITALY | Teatro Apollonio |
| 12/10/2018 | Trieste | | ITALY | Politeama Rossetti |
| 12/11/2018 | Zagreb | | CROATIA | Tvornica Kulture |
| 12/12/2018 | Belgrade | | SERBIA | Stark Arena |
| 12/14/2018 | Skopje | | MACEDONIA | Macedonion Philharmonic |
| 12/16/2018 | Tel Aviv | | ISRAEL | Hanger 11 |
| 1/22/2019 | Greensboro | NC | | Caroline's Theatre of Greensboro |
| 1/23/2019 | Atlanta | GA | | Cobb Energy Center |
| 1/24/2019 | Raleigh | NC | | Duke Energy Center at Maymandi Concert Hall |
| 1/25/2019 | Charleson | SC | | Charleston Music Hall |
| 1/26/2019 | Augusta | GA | | Miller Theatre |
| 1/29/2019 | Erie | PA | | Mary D'Angelo Performing Arts Center |
| 1/30/2019 | Youngstown | OH | | Stambaugh Auditorium |
| 1/31/2019 | New Philadelphia | OH | | Kent State University of Tuscarawas |
| 2/1/2019 | Detroit | MI | | The Fillmore |
| 2/2/2019 | Notre Dame | IN | | University of Notre Dame |
| 2/6/2019 | Minneapolis | MN | | State Theatre |
| 2/8/2019 | Effingham | IL | | Effingham Performance Center |
| 2/9/2019 | Kohler | WI | | Kohler Memorial Theater |
| 2/10/2019 | Joliet | IL | | Rialto Square Theatre |
| 2/12/2019 | Dubuque | IA | | Five Flags Center |
| 2/13/2019 | Omaha | NE | | Holland Performing Arts Center |
| 2/14/2019 | Manhattan | KS | | McCain Auditorium |
| 2/15/2019 | Wichita | KS | | Orpheum Theatre |
| 2/16/2019 | Pittsburg | KS | | Bicknell Family Center for the Arts |
| 2/19/2019 | Buffalo | NY | | Riviera Theatre |
| 2/20/2019 | Geneva | NY | | The Smith |
| 2/21/2019 | New York | NY | | Beacon Theatre |
| 2/22/2019 | Troy | NY | | Troy Music Hall |
| 2/23/2019 | Atlantic City | NJ | | Borgata |
| 2/24/2019 | Philadelphia | PA | | The Met |
| 2/27/2019 | Ottawa | ONT | CANADA | Centre Point Theatre |
| 2/28/2019 | Toronto | ONT | CANADA | Roy Thomson Hall |
| 3/1/2019 | Montreal | QC | CANADA | Mtelus |
| 3/2/2019 | Birmingham | | UK | O2 Academy Birmhingham |
| 3/5/2019 | Winnipeg | MB | CANADA | Burton Cummings |
| 3/7/2019 | Saskatoon | SK | CANADA | TCU Place |
| 3/8/2019 | Calgary | AB | CANADA | Jack Singer Concert Hall of the Arts |
| 3/10/2019 | Edmonton | AB | CANADA | Winspear Centre |
| 3/12/2019 | Vancouver | BC | CANADA | The Vogue Theatre |
| 3/13/2019 | Bremerton | WA | | Admiral Theatre |
| 3/14/2019 | Spokane | WA | | The Fox Theatre |
| 3/17/2019 | Mesa | AZ | | Mesa Arts Theatre |
| 4/5/2019 | Ft. Collins | CO | | Lincoln Center |
| 4/6/2019 | Parker | CO | | Parker's Arts |
Related Articles View More Music

Stories