Postmodern Jukebox Announces Fall 2021 Tour Dates
cking off in September, The Grand Reopening Tour will bring PMJ back to thrill music-starved audiences in the U.S., Canada, the U.K., Australia, New Zealand and Europe.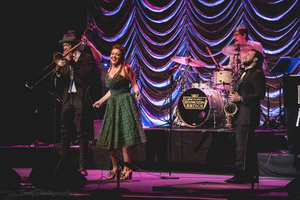 Early last year, pop-jazz phenomenon Postmodern Jukebox set out to celebrate a new-millennium Roaring 20s, promising audiences across the country and around the world "the most sensational '20s party this side of The Great Gatsby."
Well, we all know what happened next. Just seven dates into the Welcome to the Twenties 2.0 Tour, PMJ creator Scott Bradlee pulled the tour off the road and made the decision to postpone the remaining dates - many of them sold out - as a global pandemic took its toll, silencing live music for more than a year.
This fall, the wait is finally over and Postmodern Jukebox, the time-twisting musical collective known for putting "pop music in a time machine," are set to make the '20s roar again! Kicking off in September, The Grand Reopening Tour will bring PMJ back to thrill music-starved audiences in the U.S., Canada, the U.K., Australia, New Zealand and Europe, performing some of modern music's biggest hits in the classic styles of bygone eras. PMJ will make a stop at the State Theatre in Easton on Thursday, October 21st.
OCTOBER 2021 TOUR DATES
08 OCTOBER
FRIDAY
MUNHALL
Carnegie Homestead Music Hall | Munhall, PA, USA
09 OCTOBER
SATURDAY
LANCASTER
Steinman Hall - Ware Center | Lancaster, PA, USA
10 OCTOBER
SUNDAY
PORTSMOUTH
The Music Hall | Portsmouth, NH, USA
11 OCTOBER
MONDAY
PORTLAND
State Theatre - Portland | Portland, ME, USA
13 OCTOBER
WEDNESDAY
NORTHAMPTON
Academy Of Music | Northampton, MA, USA
14 OCTOBER
THURSDAY
BEVERLY
Cabot Theatre | Beverly, Massachusetts, USA
15 OCTOBER
FRIDAY
YORK
Strand Theatre | York, PA, USA
16 OCTOBER
SATURDAY
RAHWAY
Union County Performing Arts Center | Rahway, NJ, USA
17 OCTOBER
SUNDAY
HUNTINGTON
The Paramount | Huntington, New York
19 OCTOBER
TUESDAY
NEW YORK CITY
Town Hall | New York, NY, USA
21 OCTOBER
THURSDAY
EASTON
State Theatre - Easton | Easton, PA, USA
22 OCTOBER
FRIDAY
ATLANTIC CITY
Borgata | Atlantic City, NJ, USA
23 OCTOBER
SATURDAY
WILMINGTON
Grand Opera House | Wilmington, DE, USA
24 OCTOBER
SUNDAY
NORTH BETHESDA
Music Center For Strathmore | North Bethesda, MD, USA
26 OCTOBER
TUESDAY
ROCHESTER
Kodak Center | Rochester, NY, USA
27 OCTOBER
WEDNESDAY
PLATTSBURGH
The Strand | Plattsburgh, NY, USA
28 OCTOBER
THURSDAY
TROY
Troy Music Hall | Troy, NY, USA
29 OCTOBER
FRIDAY
NEW HAVEN
College Street Music | New Haven, CT, USA
NOVEMBER 2021 TOUR DATES
01 NOVEMBER
MONDAY
WINNIPEG
Burton Cummings | Winnipeg, MB, Canada
02 NOVEMBER
TUESDAY
SASKATOON
TCU Place | Saskatoon, SK, Canada
03 NOVEMBER
WEDNESDAY
CALGARY
Jack Singer | Calgary, AB, Canada
04 NOVEMBER
THURSDAY
EDMONTON
River Cree Entertainment Center | Edmonton, AB, Canada
06 NOVEMBER
SATURDAY
VANCOUVER
The Centre | Vancouver, BC, Canada
09 NOVEMBER
TUESDAY
BREMERTON
Admiral Theatre | Bremerton, WA, USA
10 NOVEMBER
WEDNESDAY
EUGENE
Hult Center | Eugene, OR, USA
11 NOVEMBER
THURSDAY
GRASS VALLEY
Center For The Arts | Grass Valley, CA, USA
12 NOVEMBER
FRIDAY
REDDING
Cascade | Redding, CA, USA
13 NOVEMBER
SATURDAY
CHICO
Laxson Auditorium | Chico, CA, USA
14 NOVEMBER
SUNDAY
SANTA ROSA
Luther Burbank Center For The Arts | Santa Rosa, CA, USA
16 NOVEMBER
TUESDAY
SAN DIEGO
Humphrey's By The Bay | San Diego, CA, USA
17 NOVEMBER
WEDNESDAY
SAN LUIS OBISPO
Fremont | San Luis Obispo, CA, USA
18 NOVEMBER
THURSDAY
COSTA MESA
Segerstorm Concert Hall | Costa Mesa, CA, USA
19 NOVEMBER
FRIDAY
THOUSAND OAKS
Kavli Theatre | Thousand Oaks, CA, USA
20 NOVEMBER
SATURDAY
MESA
Mesa Performing Arts Center | Mesa, AZ, USA
21 NOVEMBER
SUNDAY
TUCSON
Rialto Theatre | Tucson, AZ, USA
24 NOVEMBER
WEDNESDAY
MIDLAND
Wagner Noel PAC | Midland, TX, USA
26 NOVEMBER
FRIDAY
LUBBOCK
Buddy Holly Hall | Lubbock, TX, USA
27 NOVEMBER
SATURDAY
AUSTIN
Paramount Theater | Austin, TX, USA
28 NOVEMBER
SUNDAY
HOUSTON
House Of Blues | Houston, TX, USA
30 NOVEMBER
TUESDAY
DALLAS
Majestic Theatre | Dallas, TX, USA
DECEMBER 2021 TOUR DATES
01 DECEMBER
WEDNESDAY
LAFAYETTE
Heymann Performing Arts Center | Lafayette, LA, USA
02 DECEMBER
THURSDAY
SHREVEPORT
The Strand Theatre | Shreveport, LA, USA
03 DECEMBER
FRIDAY
BROKEN ARROW
Broken Arrow PAC | Broken Arrow, OK, USA
04 DECEMBER
SATURDAY
OXFORD
Ford Center | Oxford, MS, USA
05 DECEMBER
SUNDAY
CONWAY
Reynolds Performance Hall | Conway, AR, USA
08 DECEMBER
WEDNESDAY
DUBUQUE
Five Flags Center | Dubuque, IA, USA
09 DECEMBER
THURSDAY
WAUKEGAN
Genesee Theatre | Waukegan, IL, USA
10 DECEMBER
FRIDAY
CARMEL
The Palladium | Carmel, IN, USA
11 DECEMBER
SATURDAY
SPRINGFIELD
Gillioz Theatre | Springfield, MO, USA
12 DECEMBER
SUNDAY
CEDAR RAPIDS
Paramount Theatre | Cedar Rapids, IA, USA
FEBRUARY 2022 TOUR DATES
15 FEBRUARY
TUESDAY
DARWIN
Playhouse Theatre | Darwin NT, Australia
16 FEBRUARY
WEDNESDAY
PERTH
Astor Theatre | Perth WA, Australia
18 FEBRUARY
FRIDAY
ADELAIDE
Norwood Theatre | Adelaide SA, Australia
19 FEBRUARY
SATURDAY
MELBOURNE
Hamer Hall Arts Centre Melbourne | Melbourne VIC, Australia
20 FEBRUARY
SUNDAY
HOBART
Wrest Point Entertainment Centre | Hobart TAS, Australia
22 FEBRUARY
TUESDAY
NEWCASTLE
The Civic | Newcastle NSW, Australia
24 FEBRUARY
THURSDAY
WOLLONGONG
Anita's Theatre | Wollongong NSW, Australia
24 FEBRUARY
THURSDAY
TORONTO
Roy Thomson Hall | Toronto, ON, Canada
25 FEBRUARY
FRIDAY
SYDNEY
Sydney Coliseum Theatre | Sydney NSW, Australia
26 FEBRUARY
SATURDAY
CANBERRA
Llewellyn Hall | Canberra ACT, Australia
28 FEBRUARY
MONDAY
TOOWOOMBA
Empire Theatre | Toowoomba QLD, Australia
MARCH 2022 TOUR DATES
03 MARCH
THURSDAY
JOLIET
Rialto Square Theatre | Joliet, IL, USA
03 MARCH
THURSDAY
BRISBANE
Queensland Performing Arts Centre | Brisbane QLD, Australia
04 MARCH
FRIDAY
SHEBOYGAN
Stefanie H. Weill Center | Sheboygan, WI, USA
04 MARCH
FRIDAY
GOLD COAST
HOTA
05 MARCH
SATURDAY
05 JUNE
SUNDAY
PRIOR LAKE
Mystic Lake Casino | Prior Lake, MN, USA
08 MARCH
TUESDAY
DAVENPORT
Adler Theatre | Davenport, IA, USA
08 MARCH
TUESDAY
CHRISTCHURCH
Isaac Theatre Royal | Christchurch, New Zealand
09 MARCH
WEDNESDAY
MADISON
Orpheum Theatre | Madison, WI, USA
10 MARCH
THURSDAY
WELLINGTON
Michael Fowler Centre | Wellington, New Zealand
11 MARCH
FRIDAY
TAURANGA
Addison Theatre | Tauranga, New Zealand
11 MARCH
FRIDAY
ST. CHARLES
The Arcada Theatre | St. Charles, IL, USA
12 MARCH
SATURDAY
SHIPSHEWANA
Blue Gate Theatre | Shipshewana, IN, USA
13 MARCH
SUNDAY
CLEVELAND
Agora Theatre | Cleveland, OH, USA
15 MARCH
TUESDAY
NORTH TONAWANDA
Riviera Theatre | North Tonawanda, New York, USA
16 MARCH
WEDNESDAY
ERIE
Mercyhurst College | Erie, PA, USA
17 MARCH
THURSDAY
GLENSIDE
Keswick Theatre | Glenside, PA, USA
23 MARCH
WEDNESDAY
CONCORD
Capitol Center For The Arts - Chubb Theatre | Concord, N.H., USA
24 MARCH
THURSDAY
NEW BEDFORD
Zeiterion Arts Center | New Bedford, MA, USA
24 MARCH
THURSDAY
VILNIUS
Congress Hall | Vilnius, Lithuania
25 MARCH
FRIDAY
RIGA
Palladium | Riga, Latvia
26 MARCH
SATURDAY
TALLINN
Alexela Concert Hall | Tallinn, Estonia
27 MARCH
SUNDAY
TURKU
Turun Konserttitalo | Turku, Finland
27 MARCH
SUNDAY
BALTIMORE
Hippodrome - at France-Merrick Performing Arts Center | Baltimore, MD, USA
28 MARCH
MONDAY
TAMPERE
Tampere Hall | Tampere, Finland
29 MARCH
TUESDAY
AUGUSTA
Miller Theatre | Augusta, GA, USA
29 MARCH
TUESDAY
HELSINKI
Kulttuuritalo | Helsinki, Finland
30 MARCH
WEDNESDAY
ATLANTA
Symphony Hall | Atlanta, GA, USA
31 MARCH
THURSDAY
CHARLESTON
Charleston Music Hall | Charleston, SC, USA
31 MARCH
THURSDAY
STOCKHOLM
Nalen Stora Salen | Stockholm, Sweden
APRIL 2022 TOUR DATES
02 APRIL
SATURDAY
JACKSONVILLE
Florida Theatre | Jacksonville, FL, USA
03 APRIL
SUNDAY
ORLANDO
Dr. Phillips Center | Orlando, FL, USA
03 APRIL
SUNDAY
GOTHENBURG
Tradgar | Gothenburg, Sweden
04 APRIL
MONDAY
MALMO
Moriskan | Malmö, Sweden
05 APRIL
TUESDAY
CLEARWATER
Ruth Eckerd Hall | Clearwater, FL, USA
06 APRIL
WEDNESDAY
COPENHAGEN
Amager Bio | Copenhagen, Denmark
06 APRIL
WEDNESDAY
NAPLES
Hayes Hall | Naples, FL, USA
07 APRIL
THURSDAY
FT. PIERCE
Sunrise | Fort Pierce, FL, USA
07 APRIL
THURSDAY
VEJLE
Vejle Musikteater | Vejle, Denmark
08 APRIL
FRIDAY
FT. LAUDERDALE
Parker Playhouse | Ft Lauderdale, FL, USA
09 APRIL
SATURDAY
MIAMI
Miami Dade | Miami, FL, USA
09 APRIL
SATURDAY
ESCH-SUR-ALZETTE
Rockhal | Esch-sur-Alzette, Luxembourg
11 APRIL
MONDAY
ZURICH
Volkhaus | Zürich, Switzerland
12 APRIL
TUESDAY
BRUSSELS
Ancienne Belgique | Brussels, Belgium
12 APRIL
TUESDAY
IRMO
Harbison Theatre | Irmo, SC, USA
13 APRIL
WEDNESDAY
FRANKFURT
Zoom | Frankfurt, Germany
13 APRIL
WEDNESDAY
DURHAM
Durham Perf. Arts Center | Durham, NC, USA
14 APRIL
THURSDAY
CHARLOTTE
Knight Theater | Charlotte, NC, USA
14 APRIL
THURSDAY
UTRECHT
TivoliVredenburg | Utrecht, Netherlands
15 APRIL
FRIDAY
DEN HAAG
Paard | Den Haag, Netherlands
15 APRIL
FRIDAY
KNOXVILLE
Tennessee Theater | Knoxville, TN, USA
16 APRIL
SATURDAY
CHATTANOOGA
The Walker Theatre | Chattanooga, TN, USA
19 APRIL
TUESDAY
DUBLIN
Vicar St | Dublin, Ireland
23 APRIL
SATURDAY
GATESHEAD
Sage | Gateshead, UK
24 APRIL
SUNDAY
LIVERPOOL
Philharmonic Hall | Hope Street Liverpool L1 9BP United Kingdom
25 APRIL
MONDAY
CAMBRIDGE
Corn Exchange | Cambridge, UK
27 APRIL
WEDNESDAY
MANCHESTER
Albert Hall | Manchester, UK
28 APRIL
THURSDAY
GLASGOW
Barrowland | Glasgow, UK
29 APRIL
FRIDAY
NOTTINGHAM
Rock City | 8 Talbot Street Nottingham NG1 5GG United Kingdom
30 APRIL
SATURDAY
LEEDS
O2 Academy | Leeds, UK
MAY 2022 TOUR DATES
01 MAY
SUNDAY
EDINBURGH
Usher Hall | Edinburgh, UK
03 MAY
TUESDAY
GUILDFORD
G Live | Guildford, UK
04 MAY
WEDNESDAY
BOURNEMOUTH
Pavilion Theatre | Bournemouth, UK
06 MAY
FRIDAY
CARDIFF
Tramshed | Cardiff, UK
06 MAY
FRIDAY
FAIRBANKS
Hering Auditorium | Fairbanks, AK, USA
07 MAY
SATURDAY
BRISTOL
O2 Academy | Leeds, UK
08 MAY
SUNDAY
NORTHAMPTON
Derngate | Northampton, UK
09 MAY
MONDAY
BIRMINGHAM
Symphony Hall - | Birmingham, UK
09 MAY
MONDAY
VICTORIA
Royal Theatre | Victoria, BC, Canada
10 MAY
TUESDAY
NANAIMO
The Port Theatre | Nanaimo, BC, Canada
11 MAY
WEDNESDAY
IPSWICH
Corn Exchange - Ipswich | Ipswich, UK
12 MAY
THURSDAY
MARGATE
Winter Gardens | Margate, UK
13 MAY
FRIDAY
SOUTHEND
Cliffs Pavilion | Southend-on-Sea, UK
14 MAY
SATURDAY
OXFORD
O2 Academy | Leeds, UK
15 MAY
SUNDAY
LONDON
Palladium | Riga, Latvia
16 MAY
MONDAY
NORWICH
UEA | Norwich, UK
18 MAY
WEDNESDAY
LILLE
Theatre du Casino Barriere | Lille, France
19 MAY
THURSDAY
PARIS
Olympia | Paris, France
20 MAY
FRIDAY
DEAUVILLE
Casino de Deauville | Deauville, France
21 MAY
SATURDAY
ANTWERP
De Roma | Antwerpen, Belgium
22 MAY
SUNDAY
COLOGNE
Kantine | Cologne, Germany
28 MAY
SATURDAY
BORDEAUX
Theatre Femina | Bordeaux, France
29 MAY
SUNDAY
AIX-EN-PROVENCE
Le 6MIC | Aix-en-Provence, France
30 MAY
MONDAY
CALUIRE
Le Radiant | Caluire-et-Cuire, France
JUNE 2022 TOUR DATES
02 JUNE
THURSDAY
PADOVA
Parco Della Music | Padova, Italy
03 JUNE
FRIDAY
MILAN
Circolo Magnolia | Milan, Italy
07 JUNE
TUESDAY
GENEVA
Alhambra | Geneva, Switzerland
08 JUNE
WEDNESDAY
ITHACA
State Theatre | Ithaca, NY, USA
08 JUNE
WEDNESDAY
MUNICH
Technikum | Munich, Germany
09 JUNE
THURSDAY
BERLIN
Metropol Theater | Berlin, Germany
10 JUNE
FRIDAY
HAMBURG
Markthalle | Hamburg, Germany
11 JUNE
SATURDAY
GDANSK
Starey Manez | Gdańsk, Poland
12 JUNE
SUNDAY
KRAKOW
Studio | Kraków, Poland
14 JUNE
TUESDAY
WARSAW
Stodola | Warsaw, Poland
15 JUNE
WEDNESDAY
WROCLAW
A2 | Wrocław, Poland
16 JUNE
THURSDAY
PRAGUE
Roxy | Prague, Czechia
17 JUNE
FRIDAY
PILSEN
Mestanska Beseda | Pilsen, Czechia
18 JUNE
SATURDAY
SYCHROV
Sychrov Castle | Sychrov, Czechia
19 JUNE
SUNDAY
LINZ
Posthof | Linz, Austria
21 JUNE
TUESDAY
VIENNA
WUK | Vienna, Austria
22 JUNE
WEDNESDAY
BRATISLAVA
Majestic Music Club | Bratislava, Slovakia
23 JUNE
THURSDAY
BUDAPEST
Budapest Sportarena | Budapest, Hungary
29 JUNE
WEDNESDAY
SOFIA
A2 - Sofia | Sofia, Bulgaria
Show time is 7:30PM. Tickets are $75/$50/$40 and go on sale to State Theatre Members on Wednesday, May 19th at 10:00AM and to the general public on Friday, May 21st at 10:00AM. Tickets and memberships can be purchased 24 hours a day at www.statetheatre.org. State Theatre Memberships begin at $75 for one year. For questions or to purchase through the Box Office, phone calls can be placed during the temporary Box Office hours of Monday thru Friday 10AM to 3PM (610.252.3132). As of this time, the Box Office remains closed for in person purchasing.
"I'm grateful to be able to create and collaborate with so many talented people, and playing live to a theater full of music fans is something that we've all really missed," says Bradlee. "We're fortunate to have so many incredible fans worldwide that have enabled PMJ to become a global touring act, and we're looking forward to bringing outstanding talent and classic sounds to every corner of the globe once more. It's a Grand Reopening, but it's also a Grand Reunion - not just for our talented cast and crew, but also for PMJ and fans of classic, 'Old School' entertainment."
As always with PMJ's dazzling live shows, The Grand Reopening Tour will feature an ensemble of multi-talented singers and musicians bringing Bradlee's generation-spanning arrangements alive night after night. The core ensemble is often joined by surprise guests to make each concert unique and unpredictable - making for one of the most thrilling live music experiences of this and any other time period. MusicInsight.com put it quite simply in the Before Times: "Go see Postmodern Jukebox. Stop whatever you're doing, right now, and go see them!"
Over the past decade, Postmodern Jukebox has grown from a viral phenomenon into a worldwide juggernaut, amassing more than five million subscribers on their YouTube channel, growing from Bradlee's tiny apartment in Astoria, Queens, to a Los Angeles studio befitting the bandleader's increasingly ambitious vision. Most recently, PMJ reimagined the beloved theme from Friends via the evolution of music styles throughout the 20th century - beginning in the Hot Jazz 1920s and climaxing in the 90s with a guest appearance by original "I'll Be There For You" performers, The Rembrandts.
Meanwhile, Concord Records has released two Essentials compilations featuring PMJ classics from American Idol alum Haley Reinhart's torch song rendition of Radiohead's "Creep" to actor-comedian Wayne Brady's Cab Calloway-inspired version of Michael Jackson's "Thriller." In 2018, Bradlee told his incredible story in his memoir, Outside the Jukebox: How I Turned My Vintage Music Obsession Into My Dream Gig.
Since embarking on a touring career in 2014, PMJ has performed on bigger and bigger stages as they've traversed the globe, including memorable shows at Radio City Music Hall in New York City. As the Houston Press proclaimed, "Scott Bradlee's project has turned into a worldwide phenomenon in quite a small amount of time, having sold out shows in more than 60 countries around the world - and rightly so."
For a band so deeply rooted in Jazz Age aesthetics - though their time warps have touched on virtually every major trend in popular music, from doo-wop to Motown to hair metal -the coming of another twenties was obviously a symbolic milestone. Ironically, the original Roaring 20s was itself ushered in by a worldwide flu pandemic.
"It's crazy how history repeats itself," Bradlee says, "and it's striking that people back then reported the same feelings - everybody was beyond tired of being cooped up by themselves after weathering a long pandemic. They just wanted to get out there and dance and party and see each other again. Music has served such a valuable function of inspiring us and reminding us of our shared humanity throughout history, and there's simply no substitute for gathering together to experience such a powerful force live."