Kid Koala Announces FLOOR KIDS Original Video Game Soundtrack + Tour Kicks Off This Spring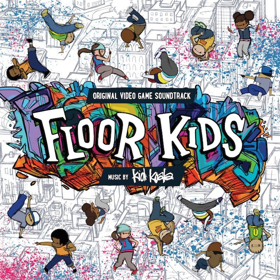 Visionary scratch DJ and producer Kid Koala (aka Eric San) announces the Floor Kids Original Video Game Soundtrack set for release on April 27th via Arts & Crafts. The album features 42 tracks and 71 minutes of original instrumental hip-hop and break music from the award-winning video game Floor Kids, adding another dimension to the universe of multimedia projects San has created over a twenty-year career.
An original concept by award-winning animator bboy JonJon and Kid Koala, Floor Kidshas captured the essence of what makes "breaking" an artform unlike any other.
Kid Koala
scores a timeless journey across every era of the break, cycling through silky '70s funk, thumping '80s 808s, granular '90s 12bit hip-hop, and 00's synth funk. The soundtrack is available now for preorder in limited edition 2LP gatefold vinyl and digital formats. Floor Kids is being celebrated for defining a new intersection of hip-hop and gaming. Building on the same pillars of community and creativity, Floor Kids is a reverential testament to break culture, redrawing the blueprint of body-rocking expression by dancing outside the lines. Floor Kids has already garnered several awards for the game's interactive gameplay, innovative control system, and vibrant animation. Now, Kid Koala's soundtrack is getting its due, most recently earning Best Game Audio at Indie Prize. "I was just trying to score to JonJon's drawing style," San says of the soundtrack. "His characters and animation have such a distinctive dusted sketch style. I wanted the music to illuminate this universe and match the energy of a battle. Once I saw the sketches of all the game venues, it was on!" Kid Koala has toured with the likes of Radiohead, Beastie Boys, Arcade Fire, A Tribe Called Quest, and DJ Shadow. He has contributed to film scores and soundtracks forShaun Of The Dead, Scott
Pilgrim
vs. The World, Baby Driver, and composed music forAdult Swim, Cartoon Network, Sesame Street, and the National Film Board of Canada. Kid Koala will hit the road on April 26th in support of the soundtrack with the Vinyl Vaudeville: Floor Kids Edition, a special expanded version of his road-tested variety show, including a traveling arcade. See below for a full date listing. Floor Kids by MERJ Media is currently available on the Nintendo
Switch
system and will be launching on more platforms in the near future. In other news, Kid Koala's 2017 ambient epic Music To Draw To: Satellite, featuring Emilíana Torrini, is currently nominated for the JUNO Award for Electronic Album of the Year.
TOUR DATES
Vinyl Vaudeville: Floor Kids Edition
4/26: Montreal, QC @ Corona Theatre
4/27: Toronto, ON @ Mod Club Theatre
4/28: Detroit, MI @ El Club
4/29: Milwaukee, WI @ Turner Hall Ballroom
4/30: Minneapolis, MN @ The Cedar Cultural Center
5/3: Seattle, WA @ Neumos
5/4: Vancouver, BC @ Venue
5/5: Portland, OR @ Mississippi Studios
5/7: San Francisco, CA @ The Independent
5/8: Los Angeles, CA @ The Regent Theater
5/10: Santa Fe, NM @ Meow Wolf
5/12: Austin, TX @ 3TEN ACL
5/13: Dallas, TX @ AT&T Performing Arts Center
5/15: Durham, NC @ Motorco Music Hall
5/16: Washington, DC @ Union Stage
5/17: Philadelphia, PA @ Johnny Brenda's
5/18: Brooklyn, NY @ Elsewhere Hall
5/19: Boston, MA @ The Sinclair
Additional Dates:
2/12 - Atlanta GA - Ferst Center *
2/13 - Atlanta GA - Ferst Center *
2/16 - Birmingham AB - UAB's Alys Stephens Center *
2/17 - Birmingham AB - UAB's Alys Stephens Center *
2/19 - Calgary AB - Studio Bell/National Music Centre **
3/16 - Taipei, Taiwan - Taiwan International Festival of Arts *
3/22 - Knoxville TN - Big Ears Festival ***
3/23 - Knoxville TN - Big Ears Festival ***
3/24 - Knoxville TN - Big Ears Festival ***
3/25 - Knoxville TN - Big Ears Festival (DJ)
4/13 - Nashville TN - Oz Arts Nashville ***
4/14 - Nashville TN - Oz Arts Nashville ***
4/17 -
Chicago
IL - Art
Institute
of
Chicago
***
4/18 -
Chicago
IL - Art
Institute
of
Chicago
*** * - Nufonia Must Fall Live
** - Music To Draw To
*** -
Satellite
Turntable Orchestra