Jade Bird's New Single UH HUH Premieres Today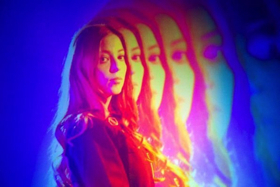 "Uh Huh," the new single from breakout singer, songwriter and performer Jade Bird, is out today on Glassnote Records. Listen to "Uh Huh" here.
Of the song, Jade says, "I think this song shows a whole other side to me and is a new shade to my music and songwriting. I wanted to record the song live with my band to capture the energy we have when we perform it on stage. I have always been obsessed with that raw, band-in-a-room sound, and I am so happy with the result. It's got an attitude that is a big part of who I am and what I write about."
Additionally, Jade confirms new shows with Brandi Carlile at the end of this month. The dates lead into her first official headlining tour this fall, which will include stops at Los Angeles' Troubadour, New York City's Bowery Ballroom, Chicago's Lincoln Hall and more. See below for details.
Jade, who is currently in the studio working on her debut full-length, continues to receive widespread critical acclaim for her 2017 EP Something American, as well as songs "Lottery," and "Furious."
"...channeling the storytelling of Americana-country godmothers like she sold her cold tea-sipping English soul to the devil for some of distilled Loretta Lynn essence. However, despite obvious comparisons to country queens, she's got that dry-as-hell humor and animal-cry growl of heartbreak, which can boil up to explosion and back down to a sweet whisper in one chorus...which places her firmly in the lineage of power-chord wielding solo female icons like Alanis Morissette, Liz Phair, Fiona Apple and more."-Paper Magazine
"With multifaceted potential, there's no telling
where this Bird will land."-NPR's Morning Edition
"...an English songwriter with a country-rock streak and a furious
rasp when she gets riled..."-The New York Times
"Jade Bird is serious about being a feminist role model"-Refinery29
Born in Hexham, U.K., Jade's early life was spent mainly in flight with both parents in the army. One of life's few constants proved to be the influence of strong working women. At first via her mother and grandmother, who largely raised her, but later the female role models within the musical subcultures Jade become obsessed with: from empowering country heroines like Loretta Lynn to iconic alternative songwriters like Patti Smith; Alanis Morisette's Jagged Little Pill was a similar early touchstone, as well as current influences including Haim and Christine and the Queens. Jade spoke with Noisey about the influence of these and other women on her music.
JADE BIRD LIVE
August 21-San Luis Obispo, CA-Fremont Theatre*
August 22-Saratoga, CA-Mountain Winery*
August 24-Jacksonville, OR-Britt Festival Fairgrounds*
August 25-Bend, OR-Les Schwab Amphitheater*
August 31-Portland, OR-Doug Fir Lounge
September 1-Vancouver, BC-Biltmore Cabaret
September 2-Seattle, WA-Bumbershoot Festival
September 6-San Francisco, CA-The Chapel
September 7-West Hollywood, CA-Troubadour
September 8-San Diego, CA-Casbah
September 9-Phoenix, AZ-Valley Bar
September 12-Salt Lake City, UT-Kilby Court
September 16-Kansas City, MO-recordBar
September 18-Dallas, TX-Club Dada
September 19-Austin, TX-Antone's Nightclub
September 20-Houston, TX-White Oak Music Hall (Upstairs)
September 22-23-Franklin, TN-Pilgrimage Music & Cultural Festival
September 22-23-Indianapolis, IN-Holler on the Hill 2018
September 25-Charlotte, NC-The Fillmore Charlotte
September 26-New York, NY-Bowery Ballroom
September 27-Boston, MA-Brighton Music Hall
September 28-Washington, DC-Rock & Roll Hotel
September 29-Philadelphia, PA-The Foundry at The Fillmore
October 2-Toronto, ON-The Horseshoe Tavern
October 3-Ferndale, MI-The Magic Bag
October 5-Davenport, IA-Triple Crown Whiskey Bar & Raccoon Motel
October 6-Minneapolis, MN-Fine Line Music Café
October 7-Chicago, IL-Lincoln Hall
*with Brandi Carlile
Listen on Vevo here:
photographer credit: Kate Moross