ITZHAK Documentary Scheduled For Theatrical Release in NYC This March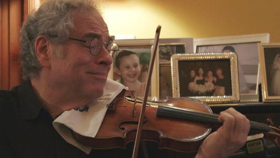 ITZHAK, a documentary centered around multi-talented musician Itzhak Perlman, will have a theatrical release in both Los Angeles and New York City this March. The film, directed by Alison Chernick and presented by Greenwich Entertainment, is also scheduled to be released nationwide at a later date.
From Shubert to Strauss, Bach to Brahms, Mozart to...Billy Joel, Itzhak Perlman's violin playing transcends mere performance to evoke the celebrations and struggles of real life; "praying with the violin," says renowned Tel Aviv violinmaker Amnon Weinstein. Alison Chernick's enchanting documentary looks beyond the sublime musician to see the polio survivor whose parents emigrated from Poland to Israel, and the young man who struggled to be taken seriously as a music student when schools saw only his disability. Itzhak himself is funny, irreverent and self-deprecating, and here his life story unspools in conversations with masterful musicians, family and friends, and most endearingly his devoted wife of 50 years, Toby. Itzhak and Toby's lives are dedicated to their large, loving, Jewish family in NYC and their continual support of young musicians.
Itzhak Perlman is a Grammy and Emmy Award-winning classical musician, highly revered for his work as a violinist and conductor.Born in Tel Aviv, Israel, on August 31, 1945, Itzhak Perlman was a prodigious talent on the violin, appearing on The Ed Sullivan Show as a teen and studying at the Juilliard School. He went on to become one of the world's most renowned classical musicians and collaborated with an array of talents, going on to work as a conductor as well. His wife, Toby, has established the Perlman Music Program.
As charming and entrancing as the famous violinist himself, ITZHAK is a portrait of musical virtuosity seamlessly enclosed in warmth, humor, and above all, love.
Related Articles View More Music

Stories