Country Music Takes Over Berry for the Inagural Big Country Festival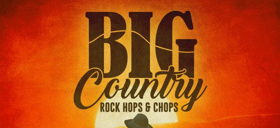 Country Music will be taking over Berry on the South Coast of NSW on Saturday 11 May 2019 for the inaugural Big Country Festival.
Situated in the Shoalhaven Coast wine region on the spectacular NSW South Coast, Berry is a two hour drive or train trip from Sydney surrounded by award-winning restaurants, wineries and gorgeous beaches and in May next year, the town will light up with performances from some of Australia's biggest and best country music stars on stage at the Berry Showground for 11 hours of non-stop rock, hops and chops.
Set to be the biggest country entertainment event the region has seen, Big Country is proud to announce Lee Kernaghan, The McClymonts, Travis Collins, Sunny Cowgirls, The Wolfe Brothers and Caitlyn Shadbolt as well as locals Chalkie White, Kevin Sullivan and Liam Maihi will headline the inaugural event.
General Public tickets to Big Country go on sale from Moshtix at midday on Thursday, 15 November. Limited, reduced price Early Bird tickets are available from midday on Tuesday, 13 November and can be accessed by registering here.
As well as world class performances, Big Country will feature a ton of fun for all the family including great local food options and a wide range of tipples at the Craft Beer Corner as well as some of Australia's best bull riders vying for the Big Country Buckle.
Buy a Bale are proudly presenting the Little Country Kids mini-festival, which will have plenty to keep little ones entertained with free children's activities including face painting, jumping castles, arts and craft and more.
Lee Kernaghan reinvigorated Australian country music in the 1990's, synthesising traditional country themes with his own brand of rural rock and images of an evolving regional culture. Songs like The Outback Club, Boys from The Bush, Hat Town, She's My Ute and Australian Boy are now modern day anthems for a generation of Australians living and working on the land.
Lee has sold over two million albums in Australia with releases including Outback Club, Three Chain Road, 1959, Hat Town, Rules Of The Road, Electric Rodeo, New Bush, Ultimate Hits, Spirit Of The Bush, Planet Country, Beautiful Noise and Spirit Of The Anzacs all achieving platinum or multi-platinum status.
Lee Kernaghan has had a staggering 38 #1 chart hit songs over his career and has been awarded 38 Golden Guitars and has been named Hit Maker of the Decade, twice, in 2001 and 2011. This accolade is in recognition of Lee having more chart hits in Australia than any other country music artist in the world. He is a four-time ARIA Award winning artist and in 2015 he was presented with the Australian Record Industry Award for Outstanding Achievement.
Since the release of their debut EP in 2006, sisters Brooke, Sam & Mollie - The McClymonts - have established themselves as Australia's number one country group with over a quarter of a million album sales, two gold albums, 22 chart-topping singles and a reputation for being one of the most exciting touring acts in country music. They are 13-time Golden Guitar Award winners including the 2018 'Album of the Year' for their best-selling album Endless. They have also won 2 ARIA Awards, an APRA Award, 3 Country Music Channel Awards and were awarded Global Artist of the Year by the U.S Country Music Association in 2011.
Their 2017 album Endless saw the girls hit #1 on the ARIA Country Album chart for the 4th time in a row and undertake the highly successful 'Endless' national tour. Endless has so far delivered 3 #1 singles, House, Don't Wish It All Away and Like We Used To and was nominated for an ARIA Award for Country Album of the Year.
In 2017, Travis Collins took home not only his first Golden Guitar but a total of three: Male Artist of the Year, Single of the Year (Just Another Girl) and APRA AMCOS Song of the Year (Call Me Crazy). Two months later, he was also awarded three CMC Awards: Australian Video of the Year, Male Artist of the Year, and CMC Oz Artist of the Year. As well-known for his masterful guitar playing and powerhouse vocals as he is for his depth of song-writing and high energy live performances, Travis continues to go from strength to strength with his most recent solo album, Hard Light, producing three #1 songs and charting in the ARIA Top 20 all-genre charts.
Australia's favourite country duo, Sunny Cowgirls, never fail to deliver a cutting-out party to remember. Farm girls born-and-bred, Sophie and Celeste Clabburn burst onto the scene with their breakout debut album Little Bit Rusty in 2005. Since then, the 9 time Golden Guitar nominees have been entrancing audiences with their irresistible celebrations of mateship, hard work, and life and love in the Australian bush. They've performed everywhere from the Deni Ute Muster and Tamworth to the Gympie Muster and CMC Rocks, collaborated with Sara Storer and Adam Brand, and released 7 studio albums, a live CD, and two DVDs.
Sunny Cowgirls' most recent outing, Here We Go, debuted at No. 1 on the iTunes Country Albums Chart. Add to that more than a little sly, winning humour - not to mention the sisters' exquisite, trademark vocal harmonies - and it's easy to see why the Sunny Cowgirls have long been the authentic voice of rural Australia.
A lot has happened since The Wolfe Brothers burst into millions of lounge rooms around the nation in mid 2012 when they were voted into second place in the final of the prime time television show Australia's Got Talent. Since those weekly prime time TV performances in 2012, they have toured the USA, recorded an album in Nashville, worked with one of Nashville's most sought after producers, Luke Wooten, on their first 3 albums and came full circle with their newest album release, Country Heart, recording it in Sydney with Aussie producer, Matt Fell.
The Wolfe Brothers are undoubtedly one of the hardest working bands in the business and are now in their 6th year of touring Australia with Lee Kernaghan and are also headlining their own shows all over the country. Fast becoming one of the hottest live bands in the country the group is showing no signs of slowing down. They are currently on the road promoting their 4th studio album, Country Heart, which was released in March 2018 and has been nominated for Best Country Album in this month's ARIA Awards. Their last 11 singles have all hit #1 on the country charts in Australia and all 4 Wolfe Brothers' albums have debuted at #2 on the ARIA Country chart.
The Wolfe Brothers continue to strive to deliver the best shows and the best albums they can to their fans. They are most comfortable performing live and anyone who has seen them perform will confirm that this is a band that gives 110%.
Since coming 5th on the national reality TV show 'X Factor' in 2014, Caitlyn Shadbolt has released a self-titled EP and her debut album Songs On My Sleeve (May 2017) and been lauded as 'one to watch'
Songs On My Sleeve saw Caitlyn venture to all parts of the world, including Bali, LA and Nashville to collaborate with some of the world's best songwriters & producers. Upon release of the album, this Gympie girl's creation hit #1 on the ARIA Country Album chart, #1 iTunes Country Album chart and impacted the Top 10 on iTunes Main/All Genre chart.
The first single, My Break Up Anthem, held the #1 National Country Airplay Chart for over 8 consecutive weeks and became the 2nd most played song on Country Radio in 2017 (held out of the top spot only by Sam Hunt's monster hit). Caitlyn's second single, Bad, impacted the Top 5 National Country Airplay chart and was performed at the Australian Commercial Radio Awards 2017. As we enter 2019, Caitlyn will launch into the year with a new album on the way.
Chalkie White was one of Australian music's best kept secrets, touring regional Australia for 20 years - playing with a level of anonymity that echoes his personality, until 2018 that is. This life on the road has produced a seasoned, experienced singer-songwriter that is making big noise in the country music scene and who can now add ARIA #1 Australian Country Album to his resume. White is an artist whose understated nature, matched with the authenticity of his music, has most certainly struck a chord with Aussie audiences.
White released his #1 ARIA Australian Country Album My Song Isn't Written Yet in April 2018. The singles New Day, Gingerbread Man and BYO all found top 10 chart spots on country radio. White has taken the album on the road making fans across the country as he shares his journey with music lovers everywhere.
From forensic police crime scene investigator to singer-songwriter, Kevin Sullivan, graduated at the 2018 CMAA Senior Academy of Country Music Course with flying colours. His debut album, Belonging, debuted at No. 2 on the Charts and it's first single, Outback Australia, was nominated as Single of the Year and Kevin as Independent Male Vocalist of the Year at the Mildura Country Music Awards.
Kevin has played music and performed all his life, headlining at the iconic Birdsville Races and this year, the Gympie Music Muster, EKKA in Brisbane as well as the Murrumbidgee, Kiama, Mildura and Ballina Country Music Festivals.
Liam Maihi is a talented self-taught musician from the South Coast of New South Wales whose journey began just up the road at Shoalhaven High School. 23-year-old Liam began singing and learning guitar at an early age and a member of the Talent Development Program and School Spectacular while still at school.
Liam has part Maori heritage but has not yet met his brothers and sisters back in New Zealand. He hopes one day to travel there and meet them face-to-face.
The Shoalhaven offers an impressive array of accommodation to choose from, and with camping available onsite, there are options for everyone. Head to big-country.com.au/shoalhaven for all the details.
The event organiser, Jack Stewart, said that Pink Salt Productions are excited to be bringing a festival of this scale to the Shoalhaven. He added "We've been to countless festivals all over the country and we can't wait to bring this experience to the area we've grown up in with an incredible lineup packed with country music royalty and plenty of rising stars"
Photos, bios and artwork can be downloaded from here.
Media Accreditation for the 2019 Big Country Festival will open in February, 2019.
Big Country is proudly supported by Shoalhaven Tourism.
For further information and to access limited, reduced price Early Bird tickets, go to big-country.com.au and register for the Big Country Newsletter.
General Public tickets to Big Country go on sale from Moshtix at midday on Thursday, 15 November.