Drums Of Illumination Winter Solstice Peace Concert Announced At TNC, Today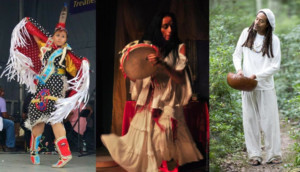 Alessandra Belloni, Artistic Director, has gathered a remarkable group of vocalists/dancers/percussionists for a new version of "Drums of Illuminiation," a joyous uniting of three great cultures: the powerful Native American, the fiery African, and the passionate Southern Italian, for a journey back in time into a world of ritual drumming, vocals, and trance dances. Special guests are Murielle Borst, Josephine Tarrant and Kevin Tarrant of the SilverCloud Singers and Dancers (Native American) and Kevin Nathaniel (African percussion).
Ms. Belloni remarks: "This special concert is inspired by the need to bring LIGHT, during the SOLSTICE, in this time of DARKNESS and to remind the audience that we are ALL ONE and must be united to win over racism, violence and separation." Link to Drums of Illumination Sample Video http://youtu.be/ekDfEYvluDw
The Cast:Alessandra Belloni - artistic director, voice, percussion, ritual dance. Vinnie Scialla percussion, drum set Giuseppe De Falco - Neapolitan singer SilverCloud Singers, Kevin Tarrant, director - lead vocals, pow wow drum Murielle Borst - vocals, drums Josephine Tarrant - vocals and dance Kevin Nathaniel - African ritual drumming, imbira, vocals Francesca Silvano, Peter de Geronimo - dancers Artistic Director Alessandra Belloni has gathered a remarkable group of percussionist/vocalists/dancers for a new version of "Drums of Illumination," noting that its purpose is "to invoke World Peace, thus showing that we are all one following the beat: the pow wow drum, the Italian tambourine, the Brazilian pandeiro or timbale, and African drums. All will send good vibrations into the air as a collective ritual of purification."
Outfitted with an extensive complement of exotic percussion instruments, tambourine virtuoso AlessandraBelloni and the Silvercloud Singers have enjoyed a long collaboration celebrating and exploring the rhythmic similarities between Southern Italian and other cultures by blending various percussion instruments. With music both ancient and new, they create a bridge between ancient rituals and modern rhythms into a vibrant musical tapestry. The repertory will include: Tarantellas from Southern Italy, including the authentic Pizzica Tarantata This healing trance dance from Puglia was used as music and dance therapy to cure the mythical bite of the tarantula. Tarantellas have been used as healing trance therapy and musical exorcism, dating back to the ancient Greek rites of Dyonisus; Healing chants and drumming in honor of the Black Madonna; Work chants and original songs to honor the Goddess of Love and the Sea, written by Belloni; African healing music, ritual drumming, chants and trance rhythms as well as original compositions by Kevin Nathaniel, a virtuoso of the African Imbira and Checkere from the Yoruba tradition; Native American ritual singing and drumming from different nations and tribes across North America, such as the Round Dance, the 49niners and the spectacular Hoop Dance.
Tambourine virtuoso/singer/dancer/actress Alessandra Belloni is renowned in her field and travels worldwide to perform group and solo concerts in theaters, universities, and international percussion festivals. She is Artistic Director/Leading Performer of I Giullari di Piazza, an ensemble of musicians/vocalists/dancers that specializes in authentic Southern Italian music and theater events, dating back to the 13th century. She is the author of the new book "Healing Journeys with the Black Madonna," to be released in March 2019 by Inner Traditions, No 1 on Amazon news releases under Folk Dancing.
Belloni is a REMO artist and designer of her signature series of Italian tambourines; she is also author of the book & DVD "Rhythm is the Cure," published by Mel Bay.
The only artist in the world who specializes in Southern Italian tambourines combined with singing and dance, Belloni was selected as one of the best percussionists in the world by DRUM! Magazine, and has been acclaimed in The New York Times, Los Angeles Times, featured in Modern Drummer and Percussive. She has been invited to appear in percussion festivals in London, Brazil, Poland, France, Italy, Australia, Rome, and throughout the U.S.
Murielle Borst, Artistic Director of The SilverCloud Singers and Dancers, also distinguished herself in her one-woman show "More Than Feathers and Beads," which was nominated for a Rockefeller grant and selected to participate in the Global Indigenous Theater Festival in Sydney Australia, as well as several venues in NYC. She has completed six books in her fantasy series, "The Star Song Carriers." Borst and Belloni, "soul sisters" who share the same energy and spiritual beliefs, first collaborated in 1992 on I Giullari di Piazza's "Earth, Sun and Moon," commissioned by Lincoln Center and performed for years in NYC and on tour.
The SilverCloud Singers and Dancers is an intertribal Native American troupe weaving the traditional with the contemporary Native American song and dance. Founded in 1991, the company is named in tribute to Josephine Mofsie Tarrant, mother of the founding directors.
The singers come from many tribes, and many parts of the U.S. and Canada. They have appeared in numerous Pow-Wows across the continent as well as in tours to Europe. Kevin Nathaniel has devoted himself to the healing music of Africa.
A longtime devotee of mbira, kalimba, polyphonic circle singing, drum, dance meditation, and yoga, this world-traveled music healer shares the musical medicine of the ancient, the now, and the beyond. Kevin Nathaniel has worked with shamans, channels, doctors, healers, mystics, and medicine people from Africa, Asia, South and North America, and has performed at healing music festivals and ceremonies the world over.
Don Hackman, writing in the Los Angeles Times, found that "Alessandra Belloni and "Tarantata: Dance of the Ancient Spider" is a revelation, utterly fascinating." Drum Magazine noted that "Italian-born virtuoso Alessandra Belloni is established as a unique phenomenon, not just a percussionist, but also an actress, lecturer, entertainer, and healer."
Jon Pareles of The New York Times, reviewing an I Giullari di Piazza show, remarked that "Ms. Belloni sang in an exultant voice. The songs blazed with an age-old momentum."
For more information, please visit these links: www.alessandrabelloni.com
Related Articles
View More Dance

Stories
More Hot Stories For You