Creative Independent & Northside Festival Present World Premiere of Solo Performance by Kiani Del Valle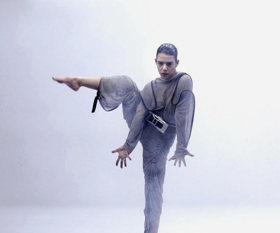 The Creative Independent and Northside Festival are pleased to present the world premiere of Catacoustic Flesh, a solo performance by dancer, choreographer, and music video director Kianí Del Valle.
The performance will be held on June 9 as part of Hildegard Month at National Sawdust. In honor of Benedictine abbess, mystic, and composer Saint Hildegard von Bingen, Hildegard Month aims to celebrate the contribution of women and gender non-binary artists to music, past and present. Catacoustic Flesh is a work based on the symbiotic relationship between sound and the movement of the human body. Exploring the possibilities of both choreography inspired by music and music inspired by movement, this performance seeks to offer a mode of dance that can both lead and mislead the audience. Shifting from rhythmic loops and magnetic outbursts to hypnotic drone-states, the foundation draws from the concepts of aura, resonance, rhythm, texture, and pattern to create an experience that engages disorientation as a productive force. The piece not only explores the body as a sound instrument, but also immerses viewers dimension where sound and movement are the predominant language of communication. The performance questions the role of the unconscious in the layers that make up the self, resulting in a dance that functions much like an instrument or band, with movement as the singer, or storyteller. As the piece evolves, a common language is created distorting the idea of question and answer. For ticketing information, please visit
nationalsawdust.org
Born and raised in San Juan, Puerto Rico, Kianí Del Valle has danced professionally in San juan, NYC, Montreal, Los Angeles, London and Berlin. Her trajectory includes training in schools and companies such as Balleteatro de Nana Hudo (Puerto Rico), Andanza Contemporary Dance School (Puerto Rico), Alvin Ailey American Dance Theater (New York), Dance New Amsterdam (New York), Sasha Waltz and Guest (Berlin), and Matanicola (Berlin).
After receiving formal dance training, Del Valle established her own independent, conceptual movement practice. Working across mediums, Del Valle has founded her own Berlin-based dance company, KDV Dance Ensemble; presented solo work at The Serpentine Galleries (London), The Getty Museum (Los Angeles), Dance Theater Workshop (New York), and the Barbican Centre (London); choreographed music videos for Floating Points, Dirty Projectors, Matthew Dear, Kasper Bjørke, and Brandt Brauer Frick; and gone on tour with British singer Emika. In February of 2018, Del Valle made her directorial debut with a series of three interconnected music videos for Simian Mobile Disco's latest album, Murmurations, which featured the voices of Deep Throat Choir, a London-based all-female singing collective. For further information, visit
kianidelvalle.net
Pictured: Kianí Del Valle's, Catacoustic Flesh. World premiere at National Sawdust on June 9th. Courtesy of the artist.