BWW Review: FALL FOR DANCE Celebrates 15th Anniversary at New York City Center
In a time when so much feels shallow and temporary, it's a joy to come back to something warm and familiar. In this case, that sweet nostalgia came from the 15th anniversary of the celebrated Fall for Dance Festival at the New York's historic City Center. With five different programs featuring a variety of choreographers and dancers, Fall for Dance is the best representation of dance we have in the modern world; not only does each piece reveal something new, but it shows us the parts of ourselves we don't often show to the world.
On the evening of October 3rd, Program 2 began with Pam Tanowitz Dance's "New Work for Goldberg Variations". A company known for evolving modern dance vocabulary and standards, this piece was no different. The dancers, an ever-changing kaleidoscope of color and movement, unexpectedly sprung through the air with impressive height and strength, redefining the grounded quality of legacy modern companies.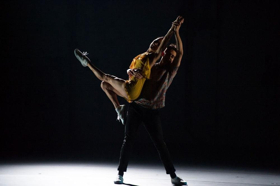 "Sleep Well Beast", a World Premiere duet by Justin Peck & Patricia Delgado followed, bringing their passion and athleticism front and center. Donning sneakers and a casual vibe, the pair's movement style was purposefully simple; clean, sharp, and fully realized. Where one ended, the other began, and it was a joy to behold.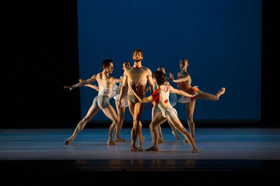 The World Premiere of "Inner Voices" by Gemma Bond Dance was up third, featuring dancers from both American Ballet Theatre and New York Theatre Ballet. An exploration of the physical and self, the dancers moved through the space with remarkable precision, their lines cutting through the air with complete expression. Of particular note was Catherine Hurlin, who danced with such ferocious speed; it was stunning.
But the final piece of the night, Paul Taylor's "Promethean Fire" brought the evening's air of nostalgia full circle. An unequivocal light in the modern dance world, this piece holds the expectations of a past time and brings it all to the surface. As different spatial formations configured and re-configured over and over again, the repetition took on a new rhythm each time, filling the room with memories of past experiences.
Don't miss out - Fall for Dance is at City Center for one more week!
Photo Credit: Paula Lobo
Related Articles View More Dance

Stories