BWW Review: Don't Bother, Me, I Can't Cope, a NEW YORK CITY CENTER ENCORES! OFF CENTER Production with Direction and Choreography by Savion Glover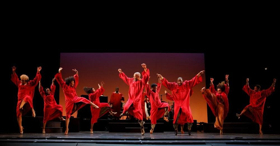 New York City Center Encores! is celebrating its 25th season in 2018. Part of the roster of concert productions of American musicals is Encores! Off-Center, founded in 2013 to present productions during the summer. On the evening of July 27th, a sassy and spirited rendering of "Don't Bother Me, I Can't Cope" delighted a sold-out house of theater and dance lovers. The show premiered at the Ford's Theatre in Washington, D.C. in 1971 before moving to Philadelphia and then New York City where it ran for over 1,000 performances, earning four Tony Award nominations including Best Musical, Best Original Score, and Best Book of a Musical. The show won an Outer Critics Circle Award for Best Musical, as well as a Grammy Award for Best Score from an Original Cast Show Album. That production was conceived and directed by the first African-American woman to direct on Broadway, Vinnette Carroll.
The Encores! Off Center production, under the deft direction of Tony-Award winning Savion Glover who also did the choreography, presented a talented cast singing and dancing the message of race politics in America with power and poignancy. Although the original production dates from the 1970s, the 2018 version injected sly references to Trayvon and to Rosanne that would have been funny if it had not underscored the fact that racial discrimination and stereotyping are still with us.
The message notwithstanding, the show is also an exuberant celebration of African-American culture and community. An excellent onstage orchestra provided live music, a welcome addition to any production. With music and lyrics Micki Grant and additional musical arrangements by Annastasia Victory, we were treated to a mélange of gospel, jazz, soul, calypso, and rock. An all-too-brief tap number with three dancers showed that The Tap Dance Kid still more than has his chops, but the choreography throughout the show in various styles was equally superb. Glover's bio online notes that "Don't Bother Me is a homecoming of sorts for Glover-his mother and aunts toured with the show in the '70s. From his childhood to today's Off-Center audience, Don't Bother Me, I Can't Cope is as relevant as ever."
The fact that the cast had a mere 10 days of rehearsals belies the polished end result. As explained in the Playbill, "This production is being presented as a concert performance in which the actors may be performing with their scripts in hand." However, only two of the lead characters had scripts, and then only in a few scenes toward the end. The use of scripts was not intrusive at all and served to remind the audience of how quickly Encores! performances are put together.
Encores! resumes in 2019, honoring the 75th anniversary of City Center with "Call Me Madam", "I Married an Angel", and "High Button Shoes". For more information, visit https://www.nycitycenter.org/About/our-programs/encores/
Photo courtesy of City Center
Related Articles
View More Dance

Stories
Sondra Forsyth is a member of Dance Critics Association. A former ballerina, she founded Ballet Ambassadors in New York City and was the Artistic Director (read more about this author...)