Review: Nederlands Dans Theater 2 takes New York City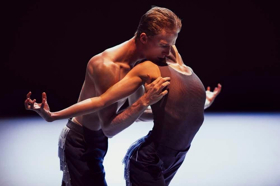 I was thrilled to be in attendance on January 16, 2019 for NDT2's opening night at New York City Center Theater. This is a young company, one would think that it is the junior company to Nederlands Dans Theater. Actually, it is a vibrant, professional company of worth. The dancers are some of the best in the world, regardless of age, brought together in this company from many parts of the world. It was exciting to be in the audience to witness this talent in action.
First on the program was mutual comfort, choreographed by Edward Clug, that had its world premiere on March 19, 2015. Music for this work is by Milko Lazar - PErpeTuumOVIA. Décor and costumes were also by Clug with lighting by Tom Visser. This contemporary ballet opened with the extraordinary dancing of Tess Voelker, so my smiles began. She is lithe and strong. Voelker was joined by Adam Russell-Jones and Kyle Clarke, then by Thalia Crymble, all beautiful dancers who kept us riveted throughout their sometimes-quirky interactions with each other.
Sad Case, choreography and costumes by Sol Leon and Paul Lightfoot, NDT's Artistic Director, created in 1998 is a work for five dancers. The program notes describe this piece: "Surprising and earthly movements on Mexican mambo music show a continual search for the tension between satirical and classical moments." The energy and the expressiveness of the dancers: Fay Van Baar, Amanda Mortimore, T Lobach, Surimu Fukushi, and Boston Gallacher kept the interest high, while the musicality of Sad Case takes over. I was especially impressed with Fukushi whose personality is particularly magnetic.
Marco Goecke's creation for NDT2, Wir sagen uns Dunkles, that premiered in November 2017, begins in the studio with encounters between the choreographer and the dancers. The music by, Franz Shubert; Placebo; Rights Management (UK) Ltd.; and Alfred Schnittke stimulate these encounters. Goecke was also responsible for décor and costumes with lighting by Udo Haberland. The men's bare chests coupled with all eleven dancers rippling expressions of hands, arms, and chests whether in solos, duos, or other groupings gave a remarkable energy to the work. Again, it was the performers whose intensity was compelling.
To close the evening was Sh-Boom with choreography, costumes, and décor by Leon and Lightfoot, created in 1994. This was a fun, theatrical series of vignettes to songs from 1929 to 1954. Fukushi opened the ballet dancing more with his facial expressions and amazing eyes than his big technique. (That would show up later). To describe this ballet, Francisco Goya is quoted in the program: "The dream of reason produces monsters. Imagination deserted by reason creates impossible, useless thoughts. United with reason imagination is the mother of all art and the source of all its beauty." There is both humor and irony as different people from different backgrounds conduct themselves and relate to each other. The ten dancers brought joy via this vehicle.
NDT2 will be performing at New York City Center through January 19, 2019.
Photo credit: Rahi Rezvani