BWW Dance Review: Naharin's Virus at the Joyce Theater, July 18, 2018.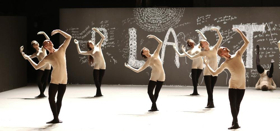 When the lights went on for the curtain call of Ohad Naharin's Naharin's Virus, a production of Israel's Batsheva Dance Company's Young Ensemble, the audience went bananas, not to mention oranges, apples, and grapefruits.
That after being called every imaginable name from the stage, with the exception of "mother fers."
What other Middle Eastern company could get away with that without audience members writing impassioned letters to The New York Times, complaining of being assaulted with such filth as "pussy grabbers," "assholes," "abortions," "scumheads"?
That's because they all have a double meaning.
When you first enter the Joyce Theater you encounter a fluttering white air sock. Is it supposed to represent a crucifix?
A man on top of the stage, supposedly attired in a suit, greeted us with such witticisms as "You expect atmosphere," "You are in a different world,' "You are sitting in a row," etc. If you looked at the program you could see that Naharin supposedly adapted the Peter Handke play, "Offending the Audience". But for all the supposed smut, it was plain stupid. Handke or not.
A female dancer dressed in a beige body suit, with what looks like black boots enters and starts scribbling on the wall. But wait. There is some writing already on the wall: ATEM.
That's Hebrew for "you" (m. plural).
My Hebrew is fluent. I knew that.
To the right of the Hebrew word is the French "vous," or is it you?
The female dancer is still drawing a line. Later we will see the word PLASTELINA.
But wait, that's a Polish word. My Polish is quite good. Something to do with clay?
Or maybe it's an anagram for Palestina? But that has two ls.
Palestina: "from Latin Palestina (name of a Roman province), from Greek Palaistine (Herodotus), from Hebrew Pelesheth "Philistia, land of the Philistines." Revived as an official political territorial name 1920 with the British mandate."
So it's you (meaning us) and the Palestinians? And clay?
This is a harbinger, just in case you didn't get it.
You look again at the dancer's costume. Perhaps it's me, but I could see that in a Bob Fosse show. Did anyone who saw this feel the same? I could see her performing Steam Heat. All she lacked was the hat.
More dancers enter. They jump, they discombobulate. Sometimes the music is loud, sometimes not. What's the word? Palestina? "Does that mean Palestine?", someone whispers to another.
And the whispering becomes a bit too loud at times, just like the music from a variety of composers, even if softens every now and then, especially when it's Samuel Barber. That was him, wasn't it?
The dancers scream every now and then. One of the female dancers tells us that her mother beat her when she was a young girl and she enjoyed it. What's that got to do with the dance? Or is she a masochist?
Naharin, who created Gaga, which emphasizes the sensation and rhythms of dance, is trying to marry his choreography and his politics. But somehow it just doesn't all jive, which the dancers do to an extreme. Is this just another example of German Tanztheater? There's a subtext going on here. Are we really all sheads as we've been told? Are we the people who despise the Palestinians, take away their rights, push them out of Israel? Does the frenetic crowd onstage represent those who oppress or those are oppressed? Is that why they insult with filthy language?
I am not a political commentator, but this combination can either be impressive, or just leave you feeling depleted and tired. What's the point? No matter how hard you try and push, politics can influence dance, but to present them for over an hour in such a jagged, cutting way does not help your production. Others may like it, but in the end it's just a scene of mass confusion. Why are these people doing this?
Because the choreographer told them so, that's why.
Photo © Ascaf.
Related Articles View More Dance

Stories