Trinity Church Wall Street Presents 'Total Embrace: Bernstein at 100,' and More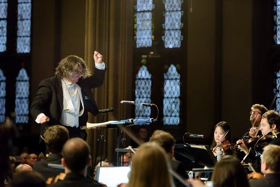 This spring, Trinity Church Wall Street's "indispensable and unmissable" (New York Times) array of free, ambitious musical offerings, many of which are professionally filmed, streamed live and available on-demand, turns to a celebration of the centennial of iconic New York composer and conductor Leonard Bernstein. "TOTAL EMBRACE: Leonard Bernstein at 100" will showcase a wide-ranging selection of Bernstein's music, as well as that of related composer-conductors including Lukas Foss, Gustav Mahler, Pierre Boulez, Aaron Copland, and Trinity's Director of Music, Julian Wachner, one of Lukas Foss's protégés. The celebration launches during the April and May Concerts at One series in St. Paul's Chapel, and concludes with a three-concert finale in Trinity Church (May 31-June 2). With a special emphasis on lesser-known and vocal compositions, the concerts will feature resident contemporary music orchestra NOVUS NY and a roster of North America's leading instrumental and vocal soloists, all under Wachner's direction. Pianist Lara Downes makes a guest appearance, performing the complete cycle of LB Anniversaries - works she has commissioned from living composers in tribute to Bernstein. In many of the concerts NOVUS NY will be joined by the Grammy-nominated Choir of Trinity Wall Street, with Trinity's semi-professional choir Downtown Voices and the Trinity Youth Chorus also joining for the finale on June 2.
Trinity's Bernstein celebration puts a particular emphasis on the composer-conductor's relationship to Gustav Mahler, featuring all of Mahler's song cycles for voice and orchestra. The Bohemian giant was a predecessor of Bernstein as conductor of the New York Philharmonic, and Bernstein was in large part responsible for raising the profile of Mahler's symphonies through his many performances and recordings, firmly establishing all of them in the standard repertoire of orchestras around the country. Other repertoire highlights include Bernstein's orchestral song cycle for six singers, Songfest; Arias and Barcarolles in its orchestral version; Halil:
Nocturne
for solo flute; and Serenade after Plato's
Symposium
for solo violin and orchestra. The three-concert finale emphasizes larger-scale works, including Mahler's
Symphony
No. 4, the final symphony of the "Wunderhorn" series (May 31). On the same program is Wachner's Gaudé: an LB
Anniversary
for Large Orchestra, a tribute to Bernstein and a nod to his own series of occasional pieces he called Anniversaries. The LB Anniversaries commissioned by pianist Lara Downes from a variety of composers engage with the same theme. Rounding out the May 31 program is Aaron Copland's Connotations, commissioned by Bernstein for the opening of Lincoln Center; during Bernstein's tenure with the New York Philharmonic, Copland's works were programmed more than those of any other living composer. For the Saturday grand finale of TOTAL EMBRACE, The Choir of
Trinity
Wall Street,
Trinity
Youth Chorus,
Downtown
Voices and NOVUS NY performing psalm settings by Bernstein, Lukas Foss, and Wachner. Folded into the programming for the TOTAL EMBRACE series is the culmination of Trinity's multi-season MASS REIMAGININGS commissioning project. With a particular emphasis on outstanding female composers, characteristic of much of Trinity's programming, Mass settings to be performed include the world premiere of Sarah Kirkland Snider's Mass for the Endangered and an encore performance of Paola Prestini's Imaginary World of Wild Order: A Mass, the latter on a program with "Meditations" from Bernstein's own theatrical contribution to the genre. World premieres of Jonathan Newman's Mass and Wachner's Epistle Mass will also be performed, along with the first of the project's commissions, Daniel Felsenfeld's Astrophysical Mass. Leading up to the TOTAL EMBRACE concerts, St. Paul's Chapel-which marked the 250th anniversary of its opening last season-will host a week-long festival to inaugurate itsnewly restored and relocated Noack three-manual pipe organ, beginning on February 19 with the annual American Guild of Organists President's Day Conference. Performers include many of the world's leading concert organists, most of whom have had a previous relationship with
Trinity
or the original version of this renovated instrument. Organists Peter Sykes, L. Frederick Jodry V, Nathan Laube, Katelyn Emerson, Paul Jacobs, Duo Majoya, and
Peter Krasinski
(accompanying the silent film Speedy starring Harold Lloyd) all participate in the inaugural week festivities, while "Pipes at One"performers throughout the spring include Daniel Brondel, David Hurd, Patrick Allen, Janet Yieh, Daniel Hyde, Renée Anne Louprette, James Kennerley, Donald Meineke, Kent Tritle, Michael Hey, Forrest Eimold performing with trumpeter Eric Berlin, and Trinity's own Avi Stein, who curates the series. Trinity's celebrated "Bach at One" series also continues throughout the spring, featuring Bach Cantatas performed by The Choir of
Trinity
Wall Street and
Trinity
Baroque
Orchestra. At the end of the season in June,
Trinity
returns to the Time's Arrow Festival begun last fall, focusing on the complete works of Austrian serialist Anton Webern. In keeping with the signature juxtaposition of early and modern music which is the trademark of the series, the fall Time's Arrow concerts presented Webern's works along with a sampling of the early contrapuntal composers whose direct descendant he considered himself to be, while the June concerts focus on the later composers he inspired, including Ligeti, Babbitt, Lutos?awski, Heinz Holliger, Christopher Rouse, and more. Works by composer Marti Epstein, whom Wachner credits with sparking his own interest in Webern, are also featured on three of the programs. As in the earlier installment of Time's Arrow, NOVUS NY will anchor the majority of performances, joined for the finale by The Choir of
Trinity
Wall Street and
Downtown
Voices. Special guests
Sandbox
Percussion will perform the first concert of the series on June 18. Rounding out Trinity's spring schedule, in March Wachner and The Choir of
Trinity
Wall Street travel to
Washington
D.C.'s
Kennedy
Center to perform the multimedia D.C. premiere of American composer Julia Wolfe's Anthracite Fields along with Bang on a Can All-Stars, reprising their Grammy-nominated account of the Pulitzer Prize-winning oratorio in which historic photomontages help recall Pennsylvania's coal-mining past. The Los
Angeles
Times calls Anthracite Fields a "riveting" work "that gives powerful expression to the consequences of labor and the American labor movement." More info is available
here
. Finally, on March 4 the
Trinity
Youth Chorus under the direction of Melissa Attebury joins the
Trinity
Baroque
Orchestra for a Compline Lenten Concert performance of J.S. Bach's Tilge, Höchster, meine Sünden, and makes a special appearance at
Queens College
in Britten's War
Requiem
on May 19. Trinity's semi-professional adult chorus
Downtown
Voices under the baton of Stephen Sands performs works by Howells, Martin and Rheinberger in their spring concert on March 11. Both ensembles join The Choir of
Trinity
Wall Street in the finale of the TOTAL EMBRACE festival, and
Downtown
Voices appears in the finale of Time's Arrow Part Two as well.
About Trinity Church Wall Street
Trinity Church Wall Street is a growing Episcopal community that seeks to serve and heal the world by building neighborhoods that live Gospel truths, generations of faithful leaders, and sustainable communities. The mission is grounded in Trinity's core values: faith, integrity, inclusiveness, compassion, social justice, and stewardship. Trinity is located in the heart of Manhattan's Financial District, where it has created a dynamic home for music. Serving as director of Trinity's music program-as well as principal conductor of The Choir of Trinity Wall Street, the period-instrument Trinity Baroque Orchestra, and contemporary-music ensemble-in-residence NOVUS NY-Julian Wachner also oversees all liturgical, professional and community music programming at Trinity Church and St. Paul's Chapel. Music at Trinity ranges from large-scale oratorios to chamber music, and from intimate a cappella singing to jazz improvisation. Many concerts at Trinity are professionally filmed and streamed live and available on-demand at www.trinitywallstreet.org/videos. Performances by The Choir of Trinity Wall Street and Trinity Baroque Orchestra under the direction of Julian Wachner can be heard each Monday at 1pm on WWFM The Classical Network, www.wwfm.org.
Photo: Julian Wachner conducts NOVUS NY (photo: Peter Adamik)