The New American Songbook Orchestra Celebrates Diverse, NYC-Based, Emerging Composers With #ComeTogether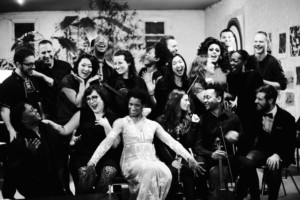 In 2018, the idea for #ComeTogether was sparked. Much of the inspiration for this project stems from an incomplete American Songbook-many voices are missing and stories are unheard. In lieu of our current political climate, we are deeply struck by the hostility aimed at dividing our country and turning Americans against one another. Art is and always has been a uniting force. NASO's weapons of choice: word and melody.
#ComeTogether is the first step towards seeking out a collection of fresh, pioneering, and innovative American songs in musical theater and classical music. We are delighted to present the works of eight (8) new artists who are emerging in their own ways. We share these stories through the talents of some of Broadway's and New York's finest singers and musicians.
March 17, 2019 marks the New American Songbook Orchestra's inaugural performance. We hope to see you there to share in the start of our awesome journey!
New American Songbook Orchestra
Conducted by Michael A. Ferrara
Program featuring composers: Joseph Trefler, Troy Anthony and Sukari Jones, Melissa Modifer, Josh Henderson, Blake Allen, Nina Young, Steve Marzullo, and Matt Gould
Cast includes: Aisha Jackson [Frozen (2018), Waitress (2016), Beautiful: The Carol King Musical (2014)], Andrew Mayer [Natasha Pierre and the Great Comet of 1812 (2016), Hello Girls (2018), Prince of Egypt: the Musical], Lindell O. Carter [Les Contes de Hoffmann, La Bohème, Die Zauberflöte], Forest VanDyke [Burning Man: the Musical (2015), My Brightest Diamond (2014), King's Quest III: To Heir is Human (2006)], Nichole Turner [Jerry Springer: the Opera (2018), The Book of Mormon (2011), Ghost the Musical (2013)], and Liz Lang [La Traviata (2018), Semele (2016)].
March 17, 2019 | 7:30pm
St. Peter's Chelsea (346 W 20th St, New York, NY)
$20 suggested donation at the door
https://newamericansongbook.org/
New American Songbook Orchestra's mission is to rejuvenate American vocal and orchestral music to date, in effect, re-examining the cornerstones of American ideology. We aim to promote true American ideals-inclusion, diversity, and our melting-pot culture-through the performance of American music from musical theater, jazz, film and classical genres. With diverse musicians of all backgrounds, ethnicities, sexual identities, and genders, we hope to inspire a movement of social acceptance. "Be the change you want to see in the world" --Gandhi