Parthenia Viol Consort Presents MUSIC WITH HER SILVER SOUND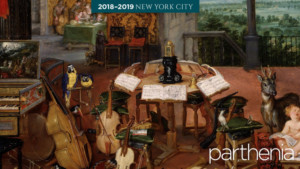 Parthenia, New York's premiere viol consort, will be in concert on Sunday, November 4 at 4:00 PM, performing Music with Her Silver Sound at Corpus Christi Church, 529 West 121st Street in Manhattan.
Parthenia Viol Consort and special guests New World Recorders (Gwyn Roberts, Héloïse Degrugillier, Rainer Beckmann and Tricia van Oers) offer canzonas, ricercars, fantasias, motets and polychoral masterpieces from Italy and England by William Byrd, Peter Phillips, John Ward, Thomas Simpson, Thomas Tomkins, Henry Purcell, Andrea Gabrieli, Girolamo Frescobaldi, Giovanni Priuli, Giovanni Battista Grillo, and Adrian Willaert. The program was named "Music with Her Silver Sound," a line from Shakespeare's Romeo and Juliet, to describe the sweet sound of the viol consort blending with the dulcet tones of the recorders. The audience will delight in the sound of two consorts alone and together playing this music spanning two centuries.
Tickets are $25 reserved seating, $10 with a partially obstructed view. For more information, call 212-866-0468 or visit http://www.gemsny.org/events/parthenia .
Gwyn Roberts, Rainer Beckmann and Héloïse Degrugillier all studied at Utrecht Conservatory in the Netherlands, and Tricia van Oers studied at the Conservatory in Rotterdam. As individual players, they perform with the Boston Early Music Festival Orchestra, Handel and Haydn, the Bach Choir of Bethlehem, Curtis Opera, the Washington Bach Consort, Piffaro, the Renaissance Band, Trinity Wall Street Baroque Orchestra, the Four Nations Ensemble and many more. They teach at the Amherst Early Music Festival, Pinewoods, Mountain Collegium, Peabody Conservatory, the University of Pennsylvania and the Texas Toot, among other places.
Parthenia is a dynamic quartet of viols which animates ancient and contemporary repertoires with a ravishing sound and a remarkable sense of ensemble. Parthenia is presented in concerts and festivals across America including Bargemusic, Music Before 1800, Maverick Concerts, The Rockport Chamber Music Festival, The Metropolitan Museum of Art, The Miller Theatre and the Yale Center for British Art, and in Europe at the Regensburg Tage Alter Musik. The ensemble produces its own concert series in NYC, collaborating regularly with the world's foremost early music specialists including Piffaro, Julianne Baird, Paul O'Dette, Blue Heron and ARTEK. Parthenia actively commissions and premieres works by today's composers including Eleonor Sandresky, Richard Einhorn, Phil Kline, Frances White, Max Lifchitz, Will Ayton, Nicholas Patterson and Kristin Norderval. Parthenia's latest CD Nothing Proved, on the MSR Classics label, features music by Hildegard von Bingen, Frances White, Kristin Norderval, and Tawnie Olson. They are represented by Shirley Hunt, GEMS Live! Director of Booking and Artist Representation.
Parthenia is Beverly Au, Lawrence Lipnik, Rosamund Morley and Lisa Terry. Visit them at http://www.parthenia.org.
Parthenia's concert season is made possible by the New York State Council on the Arts, with the support of Governor Andrew Cuomo and the New York State Legislature. Parthenia is a sponsored organization of the New York Foundation for the Arts, and is a member of Early Music America and Chamber Music America.