Artist Series Concerts of Sarasota Presents IMAGES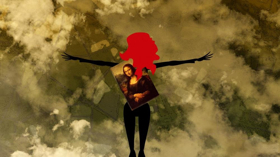 Artists Series Concerts of Sarasota presents "Images," with Alexander Moutouzkine, piano and Edward Alley, narrator, January 12, 7:30 p.m., and January 13, 3:00 p.m., at the Historic Asolo Theater, 5401 Bay Shore Road, Sarasota. Hailed by critics as an artist "poised to join the greats," Russian-American pianist Alexandre Moutouzkine performs his own solo piano transcription of Stravinsky's "Firebird Suite" as the score to Micah Chambers-Goldberg's short animated film "Who Stole the Mona Lisa?," a fantastical story based on the actual theft of the Mona Lisa from the Louvre in which the Firebird herself is involved in the theft. The concert also features Poulenc's "The Story of Babar the Little Elephant," with noted area music critic and arts leader Edward Alley narrating the classic children's story while Moutouzkine plays Poulenc's piano music inspired by the same. Moutouzkine will wrap the program up with a performance of Modest Mussorgsky's masterpiece "Pictures at an Exhibition." Tickets are $25 - $45 and are available online at www.artistseriesconcerts.org or by calling 941-306-1202, Monday - Friday, 10 a.m. - 4 p.m. Student tickets for the concert, priced at $10, are available with current student ID at the door.
"This concert is going to be a feast for the senses," says Artist Series Concerts artistic director Joseph Holt. "In our fast-paced, hi-tech world, we've kind of lost that magical ability to see through our ears and hear through our eyes. This is a perfect way to see a performance unfold before your ears and a wonderful opportunity to introduce young people to a live performance." That opportunity came about with Astral Artists and "Who Stole the Mona Lisa," a silent animated short film commissioned by Astral in 2010. The film, produced and directed by award-winning artist and filmmaker Micah Chambers-Goldberg, is a kicky fantasy loosely based on the actual 1911 theft of the Mona Lisa from the Louvre. For the project Chambers-Goldberg teamed up with Astral laureate Alexandre Moutouzkine, who created his own solo piano transcription of the "Firebird Suite," which he performs live as the score for this film in which the Firebird herself plays a role in the heist. The duo's work premiered to critical acclaim at the 2011 Philadelphia Festival of the Arts with the Philadelphia Inquirer praising Moutouzkine for his "canny transcription" of Stravinsky's music and for the way the music "fit so snugly with a completely different story." Micah Chambers-Goldberg, who is the grandson of area arts supporter Toni Alperin Goldberg, will also be in Sarasota for both performances.
The concert continues with one of composer Francis Poulenc's most popular compositions, "The Story of Babar the Little Elephant." Noted area music critic Edward Alley will narrate the tale of literature's most beloved pachyderm as Moutouzkine plays the piano score that was inspired by Poulenc's eleven young cousins who, one summer afternoon in 1940, implored him to "play" the "Histoire de Babar" on his piano. Poulenc obliged, improvising a score that would become, according to Guy Sacre, "one of the most accomplished works he has given to his instrument".
Moutouzkine wraps up the concert with a performance of Mussorgsky's masterpiece "Pictures at an Exhibition," the composer's most famous piano composition that has become a showpiece for virtuoso pianists. "Alexandre Moutouzkine dazzled audiences with when he appeared at SILL's Music Mondays last season," says Holt. "His astounding piano artistry is the perfect complement to this multi-media concert that has something for audiences of all ages. Come see it and be sure to bring the kids!"
Critics have hailed Alexandre Moutouzkine for his "playing of heart-stopping intimacy and elegance." A laureate of Astral Artists, Moutouzkine has captured top prizes in more than 20 international competitions and has appeared as soloist with the Berliner Philharmoniker, the Cleveland Orchestra, the Radio Television Orchestra of Spain and many others.
Acclaimed for his whimsical imagination and fantastic imagery, filmmaker Micah Chambers-Goldberg's projects include animation for AAA, Coca-Cola, the Philadelphia Orchestra, Warner Music, Little, Brown and Company and many others. He most recently completed Eric Clapton's official Christmas video to "White Christmas."
Edward Alley became conductor of the legendary 7th US Army Symphony at the age of 22, conducting over 100 concerts throughout Western Europe. As principal conductor and manager of the touring Goldovsky Opera Theater, he conducted over 800 performances of opera throughout the United States and Canada. He has served as manager of the New York Philharmonic and as associate director of the Opera Center at the Juilliard School. He currently writes music reviews for The Observer Group, and succeeds his wife, the late June LeBell, as producer-host of Music Mondays.