Yara Shahidi's EighteenX18 Hosts Inaugural #WeVoteNext Summit To Rally...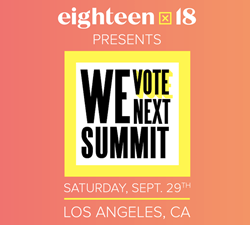 Actress and activist Yara Shahidi hosted the EighteenX18 #WeVoteNext Summit to encourage first time voters to stand up and utilize their power to vote in upcoming mid-terms elections next month. The inaugural event was held under Shahidi's EighteenX18 voter initiative which was announced earlier this year. The #WeVoteNext Summit was held at the TOMS Shoes headquarters in Los Angeles.
The day kicked off with a fiery welcome by Yara Shahidi and The Soze Agency's co-founder Michael Skolnik, followed by Ted-Talk style addresses by a range of activists encouraging attendees to harness power and remain committed in activating their peers to vote and understanding why mid-terms are critical. "We're hoping to begin a unified conversation on policies and issues effect our generation and our greater community," said Grown-ish star. "Our generation is not monolithic in belief, but our care for the world around us should motivate how we choose to vote," Shahidi added.
TOMS opened their headquarters to over 120 EighteenX18 delegates for the inaugural summit. "We have always admired how Yara uses her platform to inspire the next generation to stand up, speak out, and re-imagine the future they want to live in," says TOMS Director of Brand Marketing Katelyn Faith. "We are so honored to host the We Vote Next Summit at TOMS HQ and convene young leaders from across the country as they get educated about the importance of using their voice, vote and platform to fuel positive change - a mission that TOMS has always stood for," Faith continued.
Powered by Yara Shahidi and The Soze Foundation, EighteenX18 solicited submissions for delegates from students ages 17-20 across the country already enacting change in respective communities. A robust delegation of delegates convened to discuss the most critical issues facing the country and determine how elected officials can make the largest impact. Delegates participated in hands-on workshops, interactive panels and grassroots community planning. At the conclusion of the summit, participants walked away with funds to produce content and events across the country to turn out voters for midterms November 6th.
Attended talent included Little Miss Flint Mari Copeny, David Hogg (March for Our Lives Co-Founder), Lauren Jauregui, Tokata Iron Eyes (Standing Rock activist), Jenna Ortega, Auli'I Cravalho, Jamie Margolin (Zero Hour Founder), Megan Lawless, Kodie, Shane, Storm Reid, Shameik Moore, Nadya Okamoto (Period Movement Founder), Emma Kenney, Ziad Ahmed (Juv Consulting), Karan Brar, Winter Minisee (Women's March Youth Empower) and Chandler Kinney.
The summit received generous supported from Toms Shoes, The Filmmaker Fund, Tory Burch and Pop Sockets.
About Eighteenx18:
Founded by Yara Shahidi, Eighteen x18 is platform to engage the Gen-Z generation to speak their truth, get active and vote! Designed to uplift their generation of voters to take action into their own hands and discover the issues that impact them through our own stories and experiences. #WeVoteNext.
Below please find links to photos from the event; https://www.dropbox.com/sh/6qhl3q93s6u17r3/AAB4hZRjhRWfCEqPF8-9WQnza?dl=0
Please credit Emilee McGovern/EighteenX18
Follow EighteenX18
Instagram: @eighteenx18
Facebook: @Eighteenx18
Twitter: @Eighteenx18
Hashtag: #WeVoteNext #EighteenX18
Contact: Erica D Tucker | erica(at)ascendprgroup(dot)com
Related Articles View More Books

Stories
More Hot Stories For You