Writers of the Future Gala to be Held at The MacArthur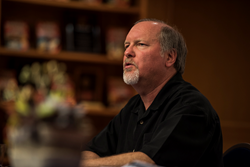 Organizers of the 34th annual L. Ron Hubbard Writers and Illustrators of the Future Achievement Awards announced that the gala event will be held at The MacArthur on Sunday, April 8, with doors opening at 5:30 PM and event starting promptly at 6:30 PM.
The giants of speculative fiction will be on hand to recognize and award the best new Science Fiction and Fantasy writers and artists of 2017.
Those attending will include Writers of the Future contest judges Kevin J. Anderson, Doug Beason, Gregory Benford, David Farland, Eric Flint, Nina Kiriki Hoffman, Nancy Kress, Rebecca Moesta, Larry Niven, Jody Lynn Nye, Tim Powers, Mike Resnick, Brandon Sanderson and Robert J. Sawyer. And Illustrators of the Future contest judges will include Echo and Lazarus Chernik, Larry Elmore, Laura Freas Beraha, Val Lakey Lindahn and Sergey Poyarkov.
New York Times bestselling author Kevin J. Anderson, author of more than 140 books, fifty-six of which have appeared on national or international bestseller lists, and Writers of the Future Contest Judge, noted that, "Science fiction as a genre has always looked to the future and the Writers of the Future looks to the future of science fiction."
As a new author, Anderson was an early Writers of the Future contestant, entering many times before he became a professional author in his own right, and thus ineligible for further submissions.
"When I was starting out," stated Anderson, "the Contest gave me a goal to shoot for: prize money, trophy, recognition and most of all the chance to participate in a marvelous writing workshop. The quarterly deadlines gave me goals, and I improved so much that I started making sales." He concluded, "I am now honored to be one of the judges for the Contest, and I enjoy sharing my knowledge and experience with each year's winners."
Anderson became a guest instructor in 1993 and a judge in 1996.
The L. Ron Hubbard 34th Annual Achievement Awards will be held Sunday, April 8 at The MacArthur. Doors open at 5:30 and event starts promptly at 6:30. Black tie. Parking $8.00. Must RSVP by calling 323-466-3310.
For more information about attending the Writers of the Future Awards ceremony, go to writersofthefuture.com.