WCPE FM Offers Something New at Noon, Every Day in June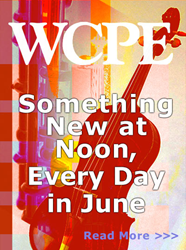 Media Contact:
Curtis Brothers
919.556.5178
curtis(at)TheClassicalStation.org
WCPE FM Offers Something New at Noon, Every Day in June
TheClassicalStation.org Highlights a New or Recent Classical Music CD Release.
WCPE's Music Director William Woltz announces "Something New at Noon, Every Day in June." Join WCPE every day this month at noon (Eastern Time) as it highlights a new or recent Classical music CD release. Classical music is a centuries-old tradition; yet it remains vital today, thanks to each new generation of performers and composers.
"We'll celebrate what's new in Classical music every day this month by featuring selections from recent recordings," offers Woltz. "Hear established performers alongside the best of today's new artists playing symphonic works, chamber music, solo piano, choral works and more."
WCPE will keep the Classical music experience fresh. To satisfy any curiosity that has been piqued, listen to Preview!, the weekly showcase of new releases and arts news airing every Sunday from 6:00 to 9:00 p.m. ET on WCPE, The Classical Station.
"We can't wait to open the mail each day to see what's new from the record companies!" concludes Woltz.
Also the All Request Friday Program on June 30 enables listeners to add their favorite composers and performers to the playlist.
WCPE can be heard worldwide, 24/7, via the Web in multiple streaming formats, including the next generation IPv6. Visit TheClassicalStation.org/internet.shtml to begin listening online.
Across North America, WCPE can be heard through cable television and radio transmission affiliates. For a complete list of affiliates and cable broadcasters, visit TheClassicalStation.org/rebroadcasters.shtml and TheClassicalStation.org/cable.shtml.
In central North Carolina and southern Virginia, WCPE is found on the radio at 89.7 FM.
For more information on WCPE, or to print a downloadable version of Quarter Notes, the WCPE member's magazine, please visit TheClassicalStation.Org.
About WCPE:
With a 38 plus year history, WCPE 89.7 FM is a non-commercial, 100 percent listener-supported, independent station dedicated to excellence in Great Classical Music broadcasting. WCPE is heard worldwide on the Internet in multiple formats, including the next generation IPv6. Because WCPE receives no tax-derived support, the station conducts two on-air fundraising campaigns and two major mail-out campaigns per year to raise needed operating funds. For more information, visit http://www.TheClassicalStation.org or call 919-556-5178.
Related Articles View More Books

Stories
More Hot Stories For You