The Release of Sunday Best by Novelist Ann Lineberger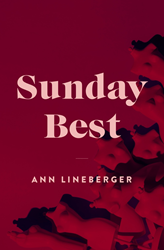 What happens when journalists go undercover to investigate a sex club linked to the murder of their employer, and they discover their mother may have ties to it? SUNDAY BEST (September 21, 2018), an engaging comic mystery by Ann Lineberger, explores the lengths people will go to indulge their fantasies while preserving their secrets.
When publishing mogul Walter Bloom is grotesquely murdered in the postcard-perfect Connecticut town of Longshore, his brother and business partner, Charles, is determined to discover who is responsible. Walter had a public history of sexual harassment and a private involvement with sex clubs. Charles is convinced Walter's murder is related. He enlists the help of his employees—sisters Lauren Mark and Brooke Edwards, Jackie Hunt, and Darren Nottingham—to infiltrate the Swingers' groups Walter favored. Together they discover a comically warped and perverse subculture that is eerily connected to the alternative Unify church that Lauren and Brooke's clairvoyant mother founded in their youth.
Laced with humor and biting social commentary, SUNDAY BEST is an inventive and absorbing novel that offers a satirical glance into the world of sex clubs and alternative religions as a study of the selling of hope in contemporary America.
Fans of Liane Moriarty's Big Little Lies and Gillian Flynn's Sharp Objects will find an intriguing mystery that combines female-driven detective work, tantalizing behind closed-door reveals, and the exploration of female aggression uniquely balanced by a cast of endearingly flawed characters and mystical escapades and near misses that will resonate with fans of Daryl Gregory's Spoonbenders.
Filled with memorable characters—A #MeToo victimizer; a steadfast brother; a '70s guru; a modern-day clairvoyant; a self-absorbed mother; a power-hungry tambourinist, a misguided cast of misfits, and an insightful take on the importance of authenticity—in SUNDAY BEST, Lineberger has deftly weaved a compelling story that touches on one inescapable truth: Contentment must come from within.
ABOUT THE AUTHOR
Ann Lineberger is the author of The Adjustments (Full Fathom Five Digital, 2016) and New Spaces, Old World Charm (McGraw-Hill, 2004). Ann has worked as a reporter, editor, and writer for numerous publications, including Fortune, Entertainment Weekly, Cottages & Gardens, and Home Remodeling. She earned a master's degree in journalism and mass communication from New York University and an associate's degree from the New York School of Interior Design. Her independent studies program undergraduate degree is from Providence College. She enjoys spending time with her family and friends, yoga, running, photography, and escaping to Maine in the summers. In addition to writing, Ann is an interior designer and home stager. She lives in Connecticut with her husband, two daughters, and two ridiculously cute mutts.
Related Articles View More Books

Stories
More Hot Stories For You