#RADDNight Joins The KAABOO Del Mar Discovery Tour Showcasing Top...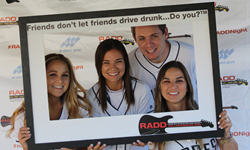 RADD, the Entertainment Industry's Voice For Road Safety, has partnered with KAABOO Del Mar for the KAABOO Del Mar Discovery Tour, showcasing top Southern California breakout bands at four tour stops this summer, including Moonshine Beach, Petco Park, American Comedy Co and Quartyard. Three music acts and one comedian will win the coveted opportunity to perform at KAABOO this September 14 – 16, alongside such talent as Foo Fighters, Imagine Dragons,
Katy Perry
,
Robert Plant
& The Sensational Space Shifters,
Craig Ferguson
, IIiza Shlesinger and more. KAABOO Del Mar will also contribute to RADD's larger mission.
The KAABOO Del Mar Discovery Tour current winners are: Sitting On Stacy (tour stop #1) and Ray Goren (tour stop #2).
Tour Stop #3 – American Comedy Company - Sunday, July 29th, 6:15 pm
Tour Stop #4 – Quartyard – Friday, August 10, 6:00 pm
Comments Jimmy Parker, Project Director, RADD San Diego Task Force: "We are very excited that KAABOO Del Mar has included RADD as a partner to join them at their Discovery Tour stops." Jimmy added, "RADD's reputation in the music industry and it's responsible, "plan ahead" message resonated with them from the very first discussion."
Additionally, KAABOO is pleased to add RADD® as a beneficiary in their charity pass sales program, which includes the featured charities, as well as MusiCares, McKenna Claire Foundation, Pancreatic Cancer Action Network and many more.
In this program, guests who purchase their KABOO Del Mar 2018 passes using this link (http://www.kaaboodelmar.com/radd) will have 20% of the purchase donated back to RADD®.
About RADD®:
RADD® has been partnering with emerging music talent in a peer-to-peer program designed to reduce DUI arrests and fatalities, by encouraging everyone to "plan ahead" with a designated driver, ride share, UBER, Lyft or taxi. RADD's message is "have fun, plan ahead." Drinking and driving is not an option.
RADD's successful DUI Awareness campaign is on more than 47 Southern California college campuses with a combined student population of 1,000,000. The program is backed by a grant from the California Office Of Traffic Safety (OTS), through the National Highway Traffic Safety Administration (NHTSA).
RADD®, producer of the iconic campaign - "Friends Don't Let Friends Drive Drunk" is a two-time recipient of the U.S. Department of Transportation's prestigious Public Service Award and a Governors Highway Safety Association honoree. Additionally, RADD® is the recipient of a 2016 Bulldog Not-For-Profit Awards bronze medal for "Best Issue/Cause Advocacy Campaign." For more information, please visit http://www.collegeisradd.org
#RADDNight is a new, experience-based outreach program that launched last September in Los Angeles to support DUI awareness and road safety. RADD's message is "Have Fun, Plan Ahead" with a designated driver, ride share or alternate form of transportation, because drinking and driving is not an option.
Following are some RADD® artist shout outs from KROQ's Weenie Roast 2018:
Bishop Briggs: https://youtu.be/KorQLDUM71g
Alice Merton: https://youtu.be/gCpK2qGPf0s
Dirty Heads: https://youtu.be/DFZr2uMQRAk
About KAABOO Del Mar:
KAABOO Del Mar is conveniently located at the Del Mar Racetrack and is celebrated as San Diego's largest multi-day, major music and entertainment festival. This year's event is slated for September 14 – 16.
KAABOO was created by music lovers for music lovers. It's an adult escape uniquely curated to appeal to all five of your senses, with world class music, hilarious comedy, inspiring contemporary art, gourmet cuisine, craft libations and personal indulgences. For more info please visit https://kaaboodelmar.com
Contact:
RADD®
Karen Sundell
310/854-8167
ksundell(at)rogersandcowan.com
Lori Lousararian-Hakola
310/854-8104
llousararian(at)rogersandcowan.com
RADD® SD DUI Task Force:
Jimmy Parker
619/432-5727
Jimmy.parker(at)radd.org
KAABOO Discovery Tour:
Emily Byer
303/957-4279
ebyer(at)kaaboollc.com
Related Articles View More Books

Stories
More Hot Stories For You