Pastor and Psychologist Blends Science and Religion to Enhance Prayer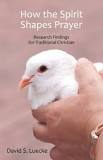 After spending two decades in the academic world, David S. Luecke returned to his first calling of being a minister. Then, he found a way to combine the two.
In "How the Spirit Shapes Prayer: Research Findings for Traditional Christians," Luecke offers a guidebook to a better prayer life, using his Ph.D. in organizational behavior, and his survey research background.
"After surveying a sample of church-going Christians," Luecke said, "I found that half of the sample reported that their prayer is the most satisfying experience in their life, during which they regularly experience God's presence and power. Yet, most do their praying, while doing something else. By becoming more attuned to the Holy Spirit's leading of prayer, we can greatly improve it."
Luecke also reported that personal prayer experiences and miraculous healings were seldom discussed among mainline Protestants.
"Yet, four out of five Lutheran pastors said they had personally experienced or witnessed a miracle, or extraordinary event, for which there is no natural explanation," Luecke said. "Most said they had experienced more than one. We can restore spiritual vitality in our congregations by simply sharing, more openly, what the Spirit is doing in the lives of ordinary Christians."
"How the Spirit Shapes Prayer"
By David S. Luecke
ISBN: 978-1-5127-5744-6
Available at the Westbow Press Online Bookstore and Amazon
About the author
David S. Luecke is a pastor and psychologist, who spent 20 years in academia, as an administrator and professor, before returning to his first calling of ministry. He has been a practicing pastor, since 1990, with a Ph.D. in Organizational Behavior, specializing in research. He obtained his M.Div. from Concordia Seminary in St. Louis. He worked as Vice Chancellor for University Services at Washington and, then, as full Professor for Administrative Sciences at Valparaiso University, before going on to serve as Vice President for Administration at Fuller Theological Seminary. This is Luecke's third book, in a series intended to help Protestants recognize the Holy Spirit working in their lives, while strengthening the spiritual basics for congregational life.
Review Copies & Interview Requests:
LAVIDGE - Indianapolis
Lindsey Gobel
317-435-2116
lgobel(at)lavidge.com
Related Articles View More Books

Stories
More Hot Stories For You