New Memoir Details 'Taxing' Experiences With Revenue Agency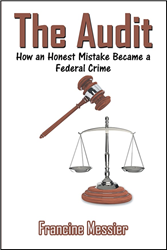 "In this world nothing can be said to be certain, except death and taxes." -
Benjamin Franklin
Canadian accountant Francine Messier made a mistake doing her taxes. "The Audit: How an Honest Mistake Became a Federal Crime" is her true story. Her scary scenario could happen to anyone.
When a routine audit uncovered her honest error, it was investigated illegally, she was charged with tax evasion, was taken to court by the Canada Revenue Agency (CRA), and was convicted.
Her sardonic book tells how the CRA will present or omit only the documentation that supports its cases, and how it is never brought to task for bullying, lying, intimidation, or threats. According to the author, the CRA has the advantage of having endless financial resources (tax dollars) to use against a taxpayer who must often concede due to financial constraints. This whole fiasco took nine years to play out.
And the author warns, "Remember: The same thing can happen with the IRS in America."
Watch the video at: https://youtu.be/ld9xwA-xNkw
Phi Beta Kappa Reviews said: "'The Audit' is both chilling and deeply funny, deftly delving into the horror and absurdity of a corrupt system of exploitation- that is in fact designed to help citizens. Drawing on her own harrowing, humorous, and outright bizarre experiences, author Francine Messier details the pernicious audit she was subject to, the bullies and incompetent bureaucrats she was forced to suffer, and the great financial burden placed on her by CRA- all on account of an honest mistake. Writing with wit, insight, and in-depth knowledge, Ms. Messier both presents a vivid picture of her personal story- utilizing a compelling narrative structure, dramatic action, and evocative details- while as well presenting a nuanced, gripping expose of the nefarious, bumbling machinations of the CRA. 'The Audit' is not only a thrilling and enjoyable read- it is an essential study of the abuses of power, bureaucracy, and the tax system in the West. I highly recommend this book."
About the Author: Now retired, Francine Messier lives in Saskatoon, Saskatchewan, Canada. She says, "As an accountant, I have fought with the CRA for over 30 years protecting my clients, good people who did not deserve the intimidation and threatening tactics by this agency, sometimes actually inciting fear of loss of home and freedoms. People should be more aware how often innocent taxpayers are pursued and harassed, often without cause. I am tired of seeing all this go on without reproach."
"Taxation is usually a dry subject. Not so with this tongue-in-cheek true tale of how the government can take an honest taxpayer to court. Three cheers for the author!" said Robert Fletcher, CEO of Strategic Book Publishing and Rights Agency.
THE AUDIT: HOW AN HONEST MISTAKE BECAME A FEDERAL CRIME (ISBN: 978-1-68181-268-7) is now available for $12.50 and can be ordered through the publisher's website:
http://sbprabooks.com/FrancineMessier or at Amazon.com or Barnesandnoble.com.
WHOLESALERS: This book is distributed by Ingram Books and other wholesale distributors. Contact your representative with the ISBN for purchase. Wholesale purchase for retailers, universities, libraries, and other organizations is also available through the publisher; please email bookorder(at)sbpra(dot)net.
Related Articles View More Books

Stories
More Hot Stories For You