Music & Arts Stores Support Music Education with Free Guitars...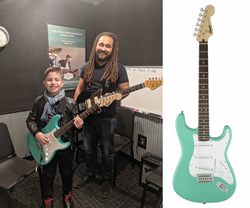 Music & Arts, the nation's largest music lessons provider, continues its mission to share and support the merits of music education with a special event. Students, parents and educators are invited to attend an Open House weekend for free guitar lessons, a free guitar offer, live music and to explore the variety of musical instrument lesson opportunities offered in their studios. The nationwide event will take place the weekend of January 25, 2018, at all locations that offer musical instrument lessons.
Special on-site programs and opportunities will be offered at each location during the event:
All weekend long visitors can tour the lesson studios and meet Music & Arts' university-trained, background-checked instructors. Those who enroll in a month of musical instrument lessons will receive their choice of a free Sea Foam green Fender Stratocaster electric guitar, a Laurel Canyon full-size or ¾ size acoustic guitar, or a Laurel Canyon ukulele, while supplies last.*
Music & Art's Lesson Open House Event has had a positive impact in the past. Luca Latcu, a 9-year-old student from Schaumburg, IL, took advantage of the free guitar offer and it has truly changed his life, helping him to integrate into a new community. His instructor Nick Reuille shares, "Luca and his family are new to Schaumburg from overseas. Since they moved to the area, Luca has been begging his parents to take guitar lessons. Because of our promotion, Luca was able to receive an electric guitar as well as lessons! He's only had a few lessons, but he's already progressing. Luca says he wants to be a rock star when he grows up!"
Friday Jan. 25 from 6-8pm: Musicians will have the opportunity to perform as a soloist or band—or watch local favorites—during the "Take the Stage" open mic night.
Saturday Jan. 26 at 11am and 1pm: Free "Pointers-4-Players" classes will guide beginner guitar players through the first steps of learning guitar, as taught by a professional instructor. No guitar? No problem! Borrow one at no charge for the class.
The events will take place at all Music & Arts locations that offer lessons. To find a convenient location and to RSVP for free online, visit http://www.MusicArts.com/OpenHouse.
Music & Arts teaches over 1.5 million lessons per year, with customized lessons for a variety of musical instruments to fit all levels, ages, and genres of music. Open house weekend is designed to support music education and to encourage new musicians to begin a lifelong relationship with music.
"It's been shown that people who learn a musical instrument do better in other areas of life, too, so we'd like to make it easier than ever before to learn by providing an instrument new students can use to get started," says Renier Fee, Music & Arts marketing director.
*Some restrictions apply. See individual store associates for details.
Related Articles View More Books

Stories
More Hot Stories For You