Mill City Press Announces the June 20, 2017 Launch of A New Union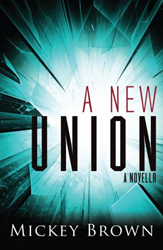 By the mid-twenty-first century, the polar ice caps have melted, a few major corporations rule the global economy, and there is now a one-world government known as the Union. Public information in the Union is strictly controlled, travel is restricted, and the world's population is manipulated by the hierarchy. For Macsen VanBrocklin, however, the most pressing concern is how quickly he can start his weekend getaway with his best friend, Ryan, and their respective girlfriends-a romantic escape to a far sector of the new Union, with an ocean view and unlimited alcohol.
A New Union is a dystopian coming-of-age story set in a futuristic society. Despite the high-tech vehicles, "smarthomes," and implanted chips used for making purchases and obtaining permission to travel, Macsen and his friends face the same timeless issues that young people have ever faced-loyalty to one's friends, having sex, and lost love.
Author Mickey Brown uses flashbacks to reveal Macsen's past in the lower class of this society, underscoring the importance of his friendships and former love interests, and in this way the author creates a protagonist for whom readers will feel genuine empathy. Through clever dialogue and intriguing situations, Brown also deftly captures the essence of navigating adolescence, an enduring conundrum, even as the characters experience a powerful need for change and social justice. A New Union is sure to resonate with readers. The story consists of human universals that take place in a futuristic society. It is a fictional account of what the author think our world may be like; and how no matter what the future holds there will always be issues of friendship, love, and death.
About the Author
Mickey Brown was born and raised in the projects in San Pedro, CA in 1980. He attended the University of California, Santa Barbara and earned a BA in Sociology in 2002. After successfully completing two years of law school, he decided to pursue his passion in writing.
For more information, contact: Mickey.vasquezjr(at)gmail(dot)com
Related Articles View More Books

Stories
More Hot Stories For You