Instapoets Rekindling U.S. Poetry Book Sales, The NPD Group Says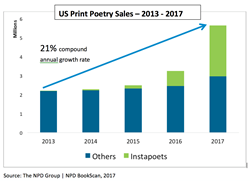 The rising popularity of poetry on social media is driving a resurgence in poetry book sales in the United States. In fact according to global information company
The NPD Group
, twelve of the top 20 bestselling poetry authors in 2017 were "Instapoets," who combine their original poetry with images, creating highly shareable posts on Instagram, Twitter, Tumblr and other social media platforms. In fact, almost half (47 percent) of poetry books sold in the U.S. last year were written by Instapoets. Alongside the rise in Instapoets, the poetry book category in the United States has grown at a compound annual growth rate of 21 percent since 2015, making it one of the fastest growing categories in publishing.
"Social media is allowing poets to share their work with a larger, younger and more diverse audience," said Kristen McLean, books industry analyst for The NPD Group. "Instapoet Rupi Kaur's first collection, 'Milk and Honey' sold more than one million copies last year, making it the bestselling poetry title. While Homer was still the best-selling classical poet, Instapoet star Kaur sold ten times as many books as Homer in 2017. In addition, two of the top 20 poets in 2017, Gabbie Hanna and Atticus, had never been published before last year, but they already had a strong following on Instagram, which gave them an impressive start for newly published authors."
According to the information from NPD Bookscan, the following table lists the top 20 poets, based on unit sales in the U.S., and identifies the poets who are also Instapoets:
Top 20 Bestselling Poets in 2017
Author/Poet    Instapoet
Rupi Kaur    •
R. H. Sin    •
Homer    
Amanda Lovelace    •
Mary Oliver    
Gabbie Hanna    •
Atticus    •
Pablo Neruda    
Robert M. Drake    •
Emily Dickinson    
pleasefindthis (Ian. S. Thomas)    •
Dante Alighieri    
Kahlil Gibran    
Courtney Peppernell    •
Seamus Heaney    
Lang Leav    •
Charles Bukowski    
Pierre Alex Jeanty    •
Tyler Knott Gregson    •
Reyna Biddy    •
Source: The NPD Group | NPD BookScan, 2017
"The resurgence of the poetry genre is a very exciting example of how a traditional form can be completely re-invigorated by a new platform and a new audience," McLean said. "Poetry has gone from being one of the sleepier areas of publishing to one of the most interesting ones to watch. It feels like a whole new generation of fans is discovering how wonderful poetry can be, and that is gratifying to see."
About NPD Bookscan
NPD BookScan is the gold standard in point-of-sale tracking for the publishing market, covering approximately 85 percent of all the print books sold in the U.S. through direct reporting from all major retailers including Amazon, Barnes & Noble, Walmart, Target, independent bookstores, and many others. Each sale of the more than 16 million units tracked on a weekly basis includes geographic information making it possible to identify key markets, map regional sales trends, and index the likelihood of purchase in 200 major metro areas. NPD BookScan is also the exclusive provider of ALR data for Barnes & Noble, Target, Walmart, and Sam's Club to U.S. publishers.
About The NPD Group, Inc.
NPD is the leading global provider of market information and business solutions covering brick-and-mortar, e-commerce, and emerging channels in more than 20 industries. We combine our unique data assets with analytic solutions to help our clients measure performance, predict trends, and improve results, advising them to help drive successful growth. Practice areas include apparel, appliances, automotive, beauty, books, consumer electronics, e-commerce, entertainment, fashion accessories, food consumption, foodservice, footwear, home, juvenile products, mobile, office supplies, retail, sports, technology, toys, travel retail, games, and watches / jewelry. For more information, visit npd.com and npdgroupblog.com. Follow us on Twitter: @npd_entertain