Eminent Blogger Sings Praises of 'Girl Flying Kite: Poems'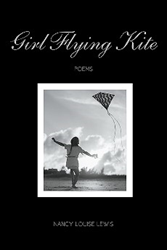 Poignant, powerful, and unforgettable, award-winning author
Louise Lewis
" onclick="linkClick(this.href)" rel="nofollow">Nancy
Louise Lewis
presents 42 stunning poems in her new book of poetry "Girl Flying Kite: Poems."
Blogger and literary critic Jendi Reiter, in her glowing review of this collection, speaks of the author's "distinctive voice and ambitious metaphysical questioning," and applauds the poet as a "great talent." Analyzing the multifarious subjects and literary forms masterfully handled in "Girl Flying Kite," the seasoned commentator admiringly contends that author Nancy Louise Lewis "is most at home in the liminal space between belief and doubt, like the constantly eroding and re-forming shoreline of the ocean that appears in many of these works."
Such high (and well earned) praise bespeaks the poet's literary virtuosity and courageous imagination as she explores topics from Hiroshima to the divine, eschewing easy answers to instead allow her complex language to overtake the quest for a more emotional, kinesthetic form of understanding. Such a sensibility, and such talent, has not only garnered much praise for "Girl Flying Kite," but has also won Ms. Lewis several awards.
About the Author: Now retired, award-winning newspaper journalist and college professor Nancy Louise Lewis was born near Appalachia and now resides in Connecticut. She is CEO of her nonprofit, Legalities, Inc., which helps deserving litigants afford an attorney to access the court system. This is her second book. Her first was her memoir "Daisies Don't Lie: Misadventures in Journalism: The Making of a Feminist."
"This unique poetry by Nancy Louise Lewis offers a kaleidoscope of powerful themes that will capture the imagination. Strategic is thrilled to announce its release," said Robert Fletcher, CEO of Strategic Book Publishing and Rights Agency.
GIRL FLYING KITE: POEMS (ISBN: 978-1-94653-963-2) is now available for $10.95 and can be ordered through the publisher's website: http://sbprabooks.com/NancyLouiseLewis or at Amazon.com or Barnesandnoble.com.
WHOLESALERS: This book is distributed by Ingram Books and other wholesale distributors. Contact your representative with the ISBN for purchase. Wholesale purchase for retailers, universities, libraries, and other organizations is also available through the publisher; please email bookorder@sbpra.net.
Related Articles View More Books

Stories
More Hot Stories For You