Dr. Srini Pillay, Best-Selling Author & Neuroscientist, Studies...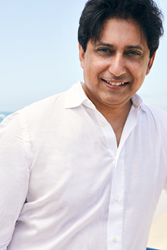 Dr. Srini Pillay
, neuroscientist and best-selling author of
TINKER DABBLE DOODLE TRY
, delves deep into brain science to reveal what people can do to improve the relationships within their lives.
Dr. Pillay believes that brain science can be used by individuals to better perceive, understand, evaluate, and respond to people.
"The somewhat bizarre fact of life," Dr. Pillay explains, "is that people who are in our lives are not simply who they actually are. They are some interesting mix of who they are and what we make of them in our brains. If we understand the ways in which relationships impact our brains, we can change our brains to alter the ways in which we interact with others too."
Transference is the first of two phenomena that Dr. Pillay talks about in relation to this concept. This is when conversational partners activate earlier memories when communicating. These knee-jerk reactions occur due to the brain's tendency to make non-conscious predictions based on earlier life experiences.
The best way to avoid this? Dr. Pillay states that the solution is simple. "Introduce new self-reflections and possibly even points of discussion when you find yourself engaged in a conflict. This can make for an interesting discussion when trying to resolve an argument."
The second phenomenon that Dr. Pillay warns about is emotional contagion. This is when emotions are transferred from one person to another person without them even knowing about it. For example, someone who spends a large amount of time with negative-minded people will grow to view things with a more negative mindset as well.
Dr. Pillay stresses that individuals should be aware of their emotions and what could be causing them in any given situation. "In interactions with friends, colleagues, or romantic partners, be aware that their negative emotions could throw you in a negative state, even if you do not actually feel negative." Dr. Pillay states.
Changing your own brain's automatic reactions can help you navigate relationships more effectively. By knowing when to examine and explore transference and emotional contagion in different situations, relationships have the potential to deepen too.
"While studying, working, and teaching at Harvard," Dr. Pillay concludes, "I have come to believe there's an art and science of possibility—that we can be the architects of our own brains."
Related Articles View More Books

Stories
More Hot Stories For You