Colorado Board Game Designers Launch Ascended Kings on Kickstarter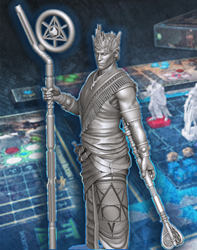 Incarnate Games
today announced the
launch of Ascended Kings on Kickstarter,
a high fantasy board game that sees four combatants in a free-for-all fight to the death for possession of a critical artifact as walls of fire close in on them all. Players will step into the richly detailed fictional world of Empyrnea, which will be the setting of future releases from Incarnate Games.
Items available to Kickstarter backers include:

A Limited Collector's Edition of the Ascended Kings board game from designer Jason M. Allen and featuring graphic designs by Anthony Benedetto of Humble Beast, miniatures by AnDrew Martin of Monster Caesar Studios, and concept/illustrations by Dylan Pierpont from Elder Scrolls Legends and Assassin's Creed Rogue.
Ascended Kings: The Fall of Empyrnea, a 60-page graphic novel that provides backstory for the four Empyrnean kings who meet in the game's arena. The novel is illustrated by Renae De Liz and Ray Dillon (artists from DC Comics' A Game of Thrones and The Legend of Wonder Woman).
A digital copy of The Pocket Guide to Empyrnea, which defines the world and history of Empyrnea. Ascended Kings is the first installment of games and stories to take place within The Omega Mundus Series.
The Ascended Kings Kickstarter campaign closes August 5, 2017. Click here to learn more about the game, companion books, pledge levels and backer rewards.
About Incarnate Games
We are a board game designer founded in Pueblo, Colorado in 2013. Our mission is to create rich game worlds with compelling characters and events that inspire players to inhabit the worlds of their protagonists, meet challenges and, above all, have fun with their friends. Our focus is on constructing detailed universes that make room for multiple games with a shared narrative tapestry. We launched our first title, Ascended Kings, in 2017 - the first entry in the Omega Mundus series, which takes place in the fictional realm of Empyrnea.
Related Articles View More Books

Stories
More Hot Stories For You