Candoni De Zan Releases New eBook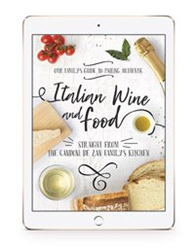 Candoni De Zan, a renowned family of wines out of the Veneto region in Italy, announces the release of its first eBook, "Our Family's Guide to Pairing Authentic Italian Wine and Food." The eBook features excusive family recipes, Italian menu suggestions, wine pairings, and more.
"The eBook isn't just about teaching people how to cook Italian food," explains Barbara Candoni De Zan, Marketing Vice President at Candoni. "It's a guide for really embracing the unique way Italians think about dining and wine from a family who lives it every day!"
The eBook features over a dozen authentic Italian recipes including Bruschetta, Sea Bass Baked in Salt, Fig Cake, and many others. It also offers menu suggestions for various events such as "A Family Feast" or "A Romantic Meal." Hungry readers are treated to wine pairing suggestions for every dish as well as a plethora of additional information on the varietals common to Italy's Veneto region.
"It was important to us to really share our family's story," explains Barbara Candoni De Zan. "We really want people to feel like they're in the kitchen cooking with us, having a glass of Elviana Rosé while we chop vegetables together."
The eBook is available for download now on the wine family's website at https://www.candonidezanwines.com/join-us/. In addition to a download of "Our Family's Guide to Pairing Authentic Italian Wine and Food," wine fans will also receive Candoni De Zan's monthly newsletter which features interesting pieces on wine, food, and more.
"For us, our customers really do feel like family," says Candoni De Zan. "We put our hearts and souls into this wine, and we're just happy to help our extended wine family live la bella vita!"
Candoni De Zan Wines is based in Veneto, Italy with national United States distribution. Specializing in traditional Italian wines, Candoni De Zan produces wine under the labels of Candoni, Carletto, and Polvaro Tenuta.
To download the Guide to Pairing Authentic Italian Wine and Food or to find out where you can buy Candoni De Zan wines in your area, please visit http://www.CandoniDeZanWines.com/join-us/
Related Articles View More Books

Stories
More Hot Stories For You