Breast Cancer Survivor Brings Healing in NEW BOOK 'Miraculous...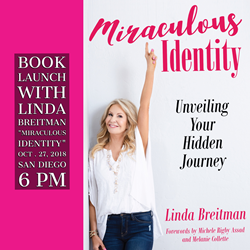 Breast cancer survivor, nationally recognized speaker, and author
Linda Breitman
will be in New York this week, Oct. 10-13, 2018 to meet with women in leadership representing churches and organizations in New York City and the Tri-state area. Breitman will be speaking about her New Book "Miraculous Identity: Unveiling Your Hidden Journey" now available on Amazon.com.
Highlighted in Chapter Six of Miraculous Identity, Breitman talks about the reliance of faith in the Father in any circumstance, but especially with cancer. She writes.."When we go through really tough trials- and it feels like all we can do is hold tight to the hem of His garment and fly through the storm- He is watching... Trust is a decision that no matter what situation you find yourself in, you are determined to believe that God is trustworthy and that He is good. The most meaningful season of our faith is not when answers to prayer are manifesting right and left, but when we continue believing even though we are not yet seeing any fruit."
Breitman continued... "My goal through my new book, "Miraculous Identity" is to unveil the real, the true gift of life we were intended to live. Freedom, healing, adventure, and, nourishment. The Miraculous Identity activation methods will also be featured in the Miraculous Identity Study Guide which is designed to provide a deeper relationship in our faith walk, our families, and our communities."
Breitman concluded, "As we begin this Autumn season together, we will begin to find a reestablishment, a renewal in this new study sequel; the waiting room period in your journey is not a pullover moment but a journey through the moment."
Linda Breitman Ministries, a force behind women's groups, faith-based ministries, and church-based Bible Studies is the author of The Real You and her new book, Miraculous Identity: Unveiling Your Hidden Journey. Miraculous Identity is available on Amazon.com. Breitman's sequel "The Real You" was released in 2013 and endorsed by Graham Cooke and Bill Yount. It has been recognized by churches, women's groups, book clubs, ministries, and schools nationwide. For more information please visit: http://www.lindabreitman.com
OCTOBER BOOK TOUR EVENTS
OCT. 10-12, NEW YORK CITY
OCT. 10, CENTRAL PARK, NEW YORK CITY - FACEBOOK LIVE Q/A
OCT. 11, LIVE RADIO INTERVIEW, MARS HILL NETWORK
OCT. 11, LIVE TV INTERVIEW, IGNITING A NATION
OCT. 11, WOMEN IN LEADERSHIP DINNER
OCT. 12, ATTENDING C3 BROOKLYN DAUGHTERS CONFERENCE
OCT. 27 CLOUD 9 WORSHIP CENTER, BOOK LAUNCH, SAN DIEGO
OCT. 28 CLOUD 9 WORSHIP CENTER, BOOK SIGNING & EVENT
Related Articles View More Books

Stories
More Hot Stories For You