Author's Life Experiences Inspire New Book of Poetry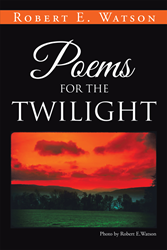 Robert E. Watson has always loved poetry. It wasn't until he took a course at the University of Maryland entitled, "Modern Poetry" with Professor
Rudd Fleming
that he was told he should publish his poems, many of which were written during his association with the professor.
It wouldn't be until many years later that Watson would take the advice his professor gave him, but that work is finally available in the form of his new book, "Poems for the Twilight."
Watson's poems are accompanied by reproductions of some of his commercially available photographs as well as some personal photos that give the reader insight into the people, locations, and timeframes referenced in his poems.
"In my opinion, poetry, of all the arts, is the most powerful and effective medium for communicating ideas, values, and wisdom," Watson said. "Poetry is the combination of two very moving literary devices: dramatic mental pictures through its use of verbal imagery and verbal rhythm and music."
A summary from the publisher on Watson's book said, '"Poems for the Twilight" is a collection of 40 poems which reflect not only on the twilight of civilization, but also a contemplation of the twilight of human life and values with an emphasis on the beauty of it all. The poetry contemplates the myriad aspects of life and values, the difficulties and the joys, the tragic and the wonders."'
In "Poems for the Twilight," readers can find wisdom in the rhythm and language of Watson's poems as they follow him along life's journey.
"Poems for the Twilight"
By: Robert E. Watson
ISBN: 978-1-5245-5397-5 (hc); 978-1-5245-5396-8 (sc); 978-1-5245-5395-1 (e)
Available at the Xlibris Online Bookstore and Amazon
About the Author
Robert Watson was born in West Baltimore in 1940. He attended the University of Maryland, earning a BA degree in 1964. His love of poetry blossomed, and many of his early poems were written during this time. In 1965, he became Associate Editor and later editor and general manager of the Central Maryland News (later the Howard County News). He won nine awards for excellence in journalism from the Maryland-Delaware-DC Press Association's Better Newspaper Contest, including five first place awards. He earned a Master of Arts degree from Johns Hopkins University in its exclusive Writing Seminars Masers Program in 1971. He entered the University of Maryland Law School in 1976, graduating with his Juris Doctorate degree in 1978, and moved to Garrett County, Maryland, where he opened a successful law practice and married his lovely wife, Rita.
Related Articles View More Books

Stories
More Hot Stories For You