Center For Performance Research Announces 2023 Spring Season
The season features performances, workshops, discussion, installations, and exhibitions with CPR Artists-in-Residence and an expansive network of artists.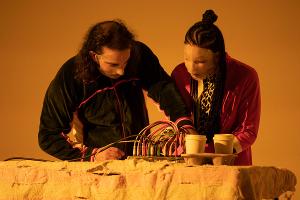 Center for Performance Research, which supports the development and incubation of new work in dance, performance, and time-based art, has announced its 2023 Spring Season.The season features performances, workshops, discussion, installations, and exhibitions with CPR Artists-in-Residence and an expansive network of artists, collectives, organizations, and guest curators.
"This spring at CPR, multimedia and multisensory artists are experimenting with relationships between sound, the body, and language/text/writing, acknowledging their inevitable subjection to translation, and surrendering to the grief and loss that accompany transformation," says Anna Muselmann, CPR Programs Manager. "This season's constellation of programs explores queer intimacies, sonic meditations, healing rituals, and group sculptural events, capturing an emergent longing for intimate community and collective resilience."
With continued focus on providing open-ended platforms and resources for CPR Artists-in-Residence to develop and share their work and practice, 2022 AiRs Ayano Elson and Pioneers Go East Collective and 2023 AiRs Orlando Hernández, LILLETH, Eleanor Kipping, andAlex Romania will share work at various stages of development as part of CPR's resident artist-focused Sunday Salon program.
For Open Studios, guest curators Ethan Philbrick, Benjamin Akio Kimitch, Malcolm-x Betts, and 2023 AiR Beth Gill will organize shared evenings of work-in-development with a focus on critical feedback, expanding CPR's orbit of experimental artists. Maintaining CPR's commitment to creative inquiry and knowledge exchange, Performance Philosophy Reading Group will invite conversations with Subtext: Queer Theory Reading Group, and with CPR 2023 AiRs Raymond Pinto, who will examine the body as a site of reading, and x, who will look at the revolutionary potential between queer/trans performance and abolition. Additional workshops offered by 2023 AiRs include explorations in moving and sonic meditations with LILLETH and a research-based workshop with Beth Gill that plays with visualization and duration to create group sculptural events.
Additional presentations include Barnett Cohen's noposition nolocation, which was originally curated for CPR's Fall Movement in 2022, but canceled due to Covid-19; a multimedia workshop performance of Birdsong by longtime CPR artist Emily Wexler; a co-presentation with The Bushwick Starr, hosting their Starr Reading Series for the second year at CPR; and CPR's fourth co-presentation with ISSUE Project Room to develop work by ISSUE resident artists.
All of CPR's 2023 Spring Season programs are free or 'pay what you can' with a free option, and take place at CPR's fully-accessible venue at 361 Manhattan Avenue in Williamsburg, Brooklyn, aside from two virtual gatherings of Performance Philosophy Reading Group.
CPR's 2023 Spring Season is organized by Alexandra Rosenberg, Executive Director and Anna Muselmann, Programs Manager.
A full calendar of programs as part of CPR's 2023 Spring Season is available at www.cprnyc.org/event-calendar, and all tickets are available on Eventbrite at https://cloud.broadwayworld.com/rec/ticketclick.cfm?fromlink=2222421®id=324&articlelink=https%3A%2F%2Fwww.eventbrite.com%2Fcc%2Fcprs-2023-spring-season-1694139?utm_source=BWW2022&utm_medium=referral&utm_campaign=article&utm_content=bottombuybutton1.