Asian American Arts Alliance and The Museum of Contemporary African Diasporan Arts Announce Inaugural Cohort of New Residency Program
Ten NYC-based artists, educators, change makers, and organizers have been invited to explore and/or develop seven projects over the course of the summer residency.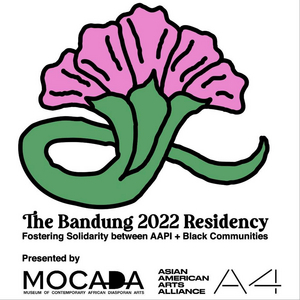 The Asian American Arts Alliance (A4) and The Museum of Contemporary Diasporan Arts (MoCADA) have announced the inaugural cohort of The Bandung 2022 Residency Program, the first NYC-based residency intended to foster understanding and allyship between the Asian American/Pacific Islander (AAPI) and Black communities.
Ten NYC-based artists, educators, change makers, and organizers have been invited to explore and/or develop seven projects over the course of the summer residency, including:
Jess X. Snow & Tatyana Fazlalizadeh: A series of public art pieces (murals and installations) that include portraits of contemporary Black Asian friendships and love;
Hidemi Takagi: A photography installation that upends issues around mixed-race identities;
Rohan Zhou-Lee: The Blasian March, a solidarity action between Black/African, Asian, and mixed Blasian communities;
Alisha Acquaye & Chanel Matsunami Govreau: A photography and interview project that celebrates unique and transformative Black and AAPI alliances;
Jamel Mims: A multi-sensory installation and performance series/tour as MC Tingbudong;
Daphne Lundi & Gloria Lau: A research and storytelling project, plus shared community archive;
Hannah Miao: A new community-sourced portrait collage of New Yorkers of Asian and Black disaporas, exploring the framework of safety, hope, and dreams.

Inspired by recent events that have deeply impacted these communities, as well as the Stop Asian Hate and Black Lives Matter movements, The Bandung 2022 Residency is an opportunity to cultivate a dynamic safe space for changemakers interested in engaging in social justice discourse, restorative healing, location-based cultural activities, and expanding the narrative between communities. To deepen this transformative experience, the 3-month residency will combine facilitated learning exchanges with self-facilitated cohort meetings.
Amy Andrieux, Executive Director of MoCADA, states, "I'm inspired by our collaboration with A4 and what it means for coalition building and community development. While social divides are growing exponentially across our nation, we're making a concerted effort to facilitate change in New York City, to give platform to voices centering our collective humanity, to effectively say, 'Not on our watch.'"
"We hope to empower artists and activists to envision creative solutions for bringing our communities closer together,"says Lisa Gold, A4's Executive Director. "Through peer learning and collaborative discussions, the residents will plant seeds for sowing greater cooperation and mutual care."
To learn more about the residency program, contact: A4 and MoCADA websites.
The Bandung 2022 Residency is named for the first large-scale Asian-African or Afro-Asian Conference, also known as the Bandung Conference, which took place in 1955 in Bandung, Indonesia. The groundbreaking summit brought together leaders from 29 newly independent Asian and African states emerging from colonial rule, with the aim of ending racial discrimination and ensuring collaboration and a peaceful coexistence.
This program is presented by the Asian American Arts Alliance (A4) and The Museum of Contemporary African Diasporan Arts (MoCADA) and made possible through the New York City Council's AAPI Community Support Initiative, the Ford Foundation, and the New York City Department of Cultural Affairs.
The Asian American Arts Alliance (A4) The Asian American Arts Alliance is a nonprofit organization dedicated to ensuring greater representation, equity, and opportunities for Asian American artists and cultural organizations through resource sharing, promotion, and community building. Since 1983, A4 has sought to unify, promote, and represent the artistic and cultural producers of one of New York City's fastest-growing populations. A4 is a diverse alliance of artists, organizations, and arts supporters who believe that working together as a pan-ethnic, multidisciplinary community is essential to nurturing the development of artists and arts groups. A4 serves as a thoughtful convener of the Asian American cultural workforce around issues of race, identity, and artmaking and provides a critical voice for this community. It is the only service organization in the country dedicated to the professional development of Asian American artists in all disciplines.
The Museum of Contemporary African Diasporan Art (MoCADA) was born from the graduate thesis of our founder Laurie Cumbo on the feasibility of an African art museum contributing to the revitalization of its neighboring Black communities. Twenty years later, our mission has grown through three programmatic arms - Exhibitions, Education, and Community - that use art as a vehicle for social change via the celebration of Africa and the diaspora. Through artistic presentation, community conversations, creative expression, interactive learning, and cultural preservation, we amplify "voices" that are central to the upliftment of Black lives, and advocate for equity and access on every level. We reach beyond the walls of our physical museum space to deliver dynamic arts, educational, and social justice programs, including 60+ exhibitions, 500+ public programs, conversations, community gatherings, healing circles, learning opportunities, and more in the gallery, the street, parks, schools, public housing, and beyond. "More than a museum," MoCADA has become a critical tool for welcoming those who are systematically left out, and a sage space for engaging with people across social divides.