Reagle's 50th Summer Continues With ANYTHING GOES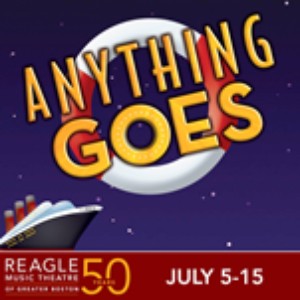 Reagle Music Theatre of Greater Boston continues the company's spectacular 50th Anniversary Summer Season with Anything Goes from July 5-15, 2018. The multiple Tony Award-winning musical will run for 8 performances at the Robinson Theatre, 617 Lexington St., Waltham, MA. Anything Goes is a tap-happy musical comedy following the antics of a nightclub singer, a Public Enemy, a love triangle, stowaways, and more aboard a luxury ocean liner travelling from New York to London! Anything Goes will feature a roster of regional talent starring 2018 Elliot Norton Award Winner Leigh Barrett as "Reno Sweeney," IRNE Award winner Jared Troilo as "Billy Crocker," J.T. Turner as "Moonface Martin," and BroadwayWorld Award winner Mark Linehan as "Evelyn Oakleigh." The production is backed by a full, live orchestra. Produced by Robert J. Eagle; Directed and Choreographed by Eileen Grace; Music Direction by Dan Rodriguez.
Reagle's landmark 50th Anniversary Summer Season concludes with The Music Man (August 2-12), Directed and Choreographed by IRNE Award winner Susan Chebookjian.
Each show in Reagle's 50th Anniversary season runs for 8 performances, with 4 matinees per show. Single adult tickets for each production are $39-$66; discounts apply for seniors, students and groups of 10 or more. Student rush seats at 50% off are available one hour before curtain with a valid college ID. To purchase tickets for any show, visit www.reaglemusictheatre.org, call 781-891-5600, or visit the theater box office at 617 Lexington St, Waltham, MA, 02452. Season Subscribers save 20% off ticket prices.
Music, dance, laughs, and the age-old tale of Boy Meets Girl - no musical puts it on stage better than Anything Goes! While aboard the SS American en route from New York to London, a comically colorful assemblage of passengers meet: Reno Sweeney, a popular nightclub singer and former evangelist, her pal Billy Crocker, a lovelorn Wall Street broker, his beloved Hope Harcourt (who is engaged to another passenger, Sir Evelyn Oakleigh), and a second-rate conman named Moonface Martin, aka "Public Enemy #13." Farcical antics ensue as Reno and Moonface try to help Billy win the love of his life. Wrapped around one of Cole Porter's most magical scores, Anything Goes is Delightful, Delicious, and De-Lovely. Anything Goes debuted in 1934 and ran for 420 performances. The musical's toe-tapping songs include "Anything Goes," "You're the Top," and "I Get a Kick Out of You."
Reagle Music Theatre's 50th Anniversary production of Anything Goes features a full cast of 43 performers from Boston, New York and across the country, starrig 2018 Elliot Norton Award Winner Leigh Barrett as "Reno Sweeney" and Directed and Choreographed by IRNE Award Winner Eileen Grace. *Denotes member of Actors Equity Association